Do you feel that working nonstop is the way to grow your podcast editing agency and that you have to give away all your energy and resources to flourish your business?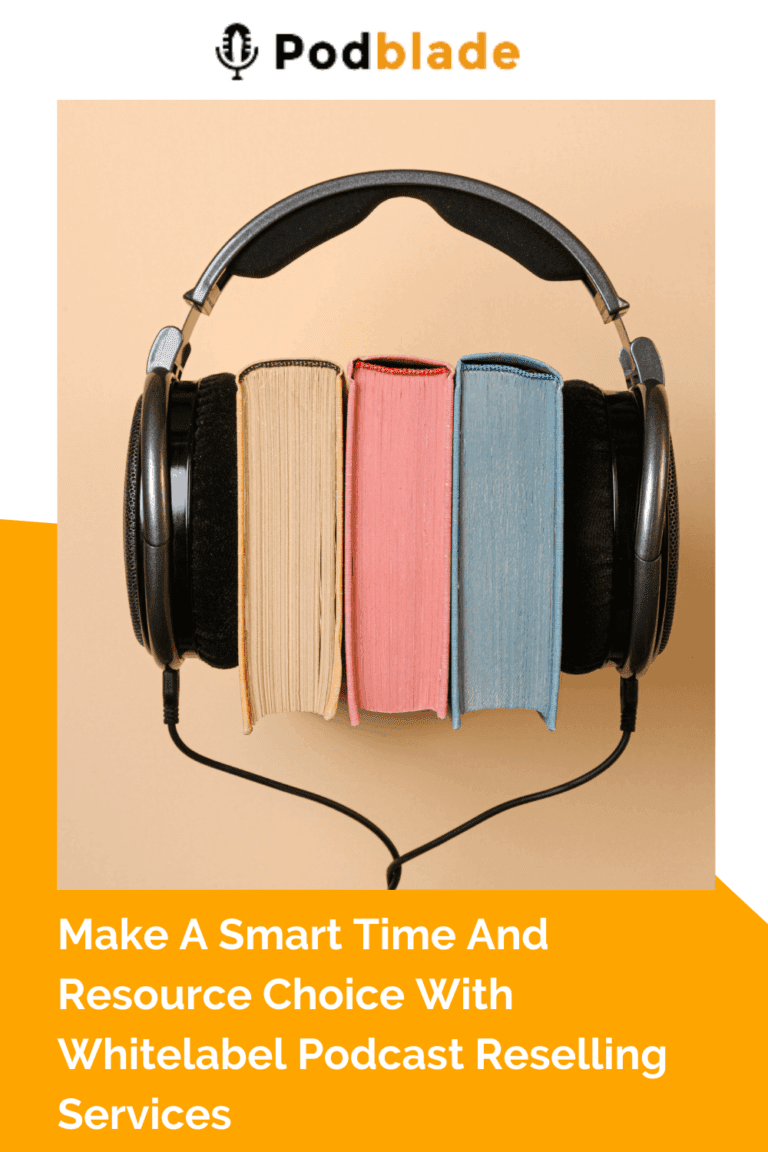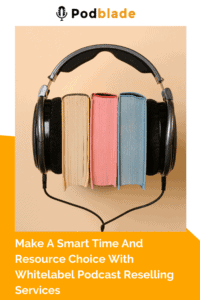 We'd say, don't believe the hype that hustling nonstop is the way to success!
Rather, focus on working smarter. This is especially true when you run your agency with limited time and resources.
Agencies end up spending more time on the operations than the business development aspect because of lack of time and resources, whitelabel podcast editing service helps them here.
Read on to find out how the whitelabel podcast editing can be a savior for your business to thrive even when you lack time, energy, and resources.
The Dilemma Of Lack Of Time And Resources And Its Impact On Business Growth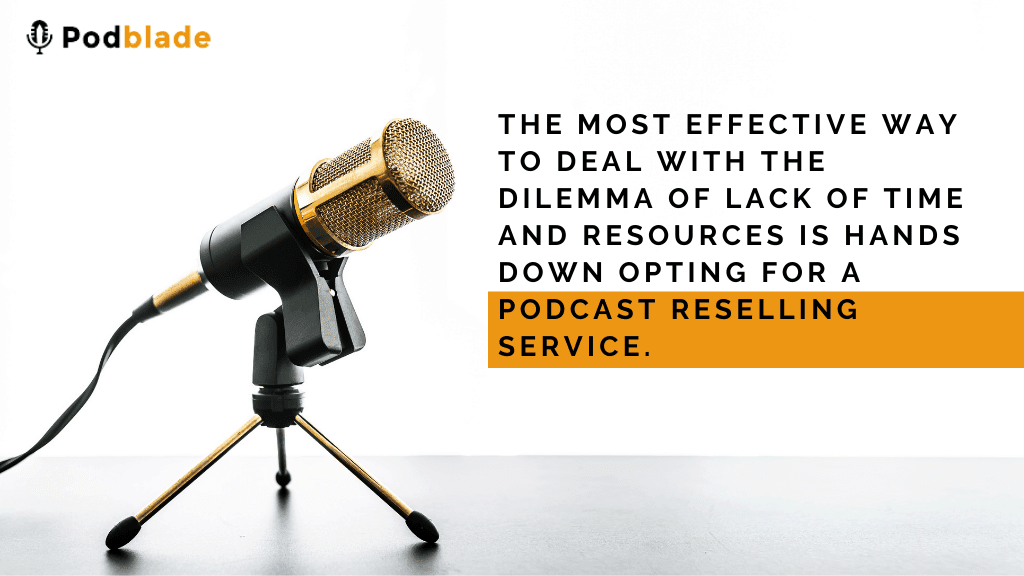 When starting a podcast editing and marketing agency, most business owners do not consider the option of whitelabel podcast editing service and prefer doing everything on their own to save cost. They more or less reflect similar attitude i.e. hustle hard, offer remarkable editing services, sell it for what it's worth, gain more clients and ultimately build a business that can stand the test of time.
And while having complete control of your system and operations may look like a good stance, it cannot be prevailed in the long run, especially in the podcast industry that is growing rapidly day by day.
During the launch phase, it's easy to work without relying on external support like whitelabel podcast editing services, but once your agency begins to grow and you get new clients, which surely you would because podcasting is going mainstream, then it becomes imperative you think about outsourcing.
When your agency grows, you might get caught up in the operational aspects, business growth, social media, and other important factors of the business. This is when editing agency owners begin to feel pressed for time and in the worst-case scenario, if they also lack enough financial backing, they even have to continue to work without additional resources.
The simple, but the most effective way to deal with the dilemma of lack of time and resources is hands down opting for a whitelabel podcast editing service.
When you choose a whitelabel podcast editing service, you no longer have to deal with the operational aspects. Plus, you don't need to have additional resources to cater to your increased clientele. Podcast reselling service creates a strong foundation to manage the growth of your business efficiently even when you lack time and resources.
How To Grow Your Business With A Whitelabel Podcast editing Service Without Spending Unrealistic Time?
The things like thoroughly understanding the client's editing requirements, updating software, and performing editing tasks till wee hours to complete the project are the core operations of your editing agency and they must get done.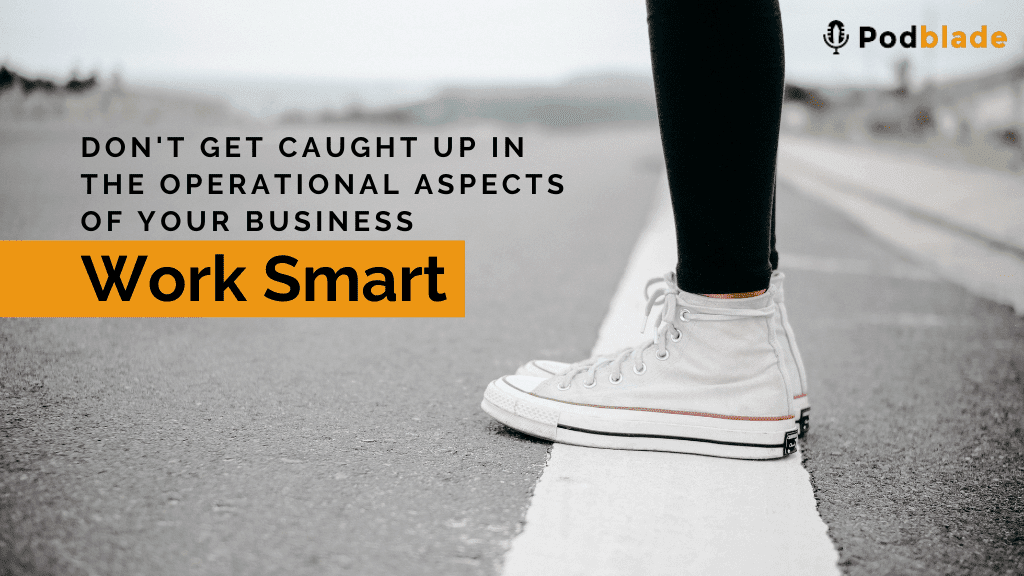 But, maybe not by you, but an expert whitelabel podcast editing agency to make the process effortless for you.
So, if you're thinking how white label podcast editing helps you even when you are constrained by time, read on and you'll find two major ways in which this service frees up your schedule.
Work Smarter, Not Harder
Imagine how would it feel if you never have to sit down and spend hours on editing tasks, communicating with clients, billing them and perform other menial tasks over and over again? All of this while still scaling your business!
It would feel pretty good, right?
You can wipe off these repetitive tasks off your plate if you opt for a whitelabel podcast editing service.
When you lack both time and resources but still want your agency to grow, then the only way to go about it is to work smarter, not harder. Whitelabel podcast editing is a smart choice that you can make.
A dedicated and highly professional team works on your clients' tasks on your behalf, meaning you no longer need to allocate time for the menial and repetitive task of editing. So, you save a lot of your time, which you can spend on devising effective strategies for your agency's growth.
Also, you'd also be able to ease off some burden from your shoulders, which you may think is not an important factor to expand your business, but in reality, it is.
Whitelabel podcast editing service gives you so much ease to have some rest, rejuvenate yourself, and spend some time away from work only to have something greater and valuable to bring back to it.
So, detoxify yourself from the notion of working nonstop and avail the opportunities that the whitelabel podcast editing service provides you.
If it makes complete sense to you, then don't delay any further. Schedule a call with us here and we'll enlighten you with everything that we can do for your agency.
Simplify To Amplify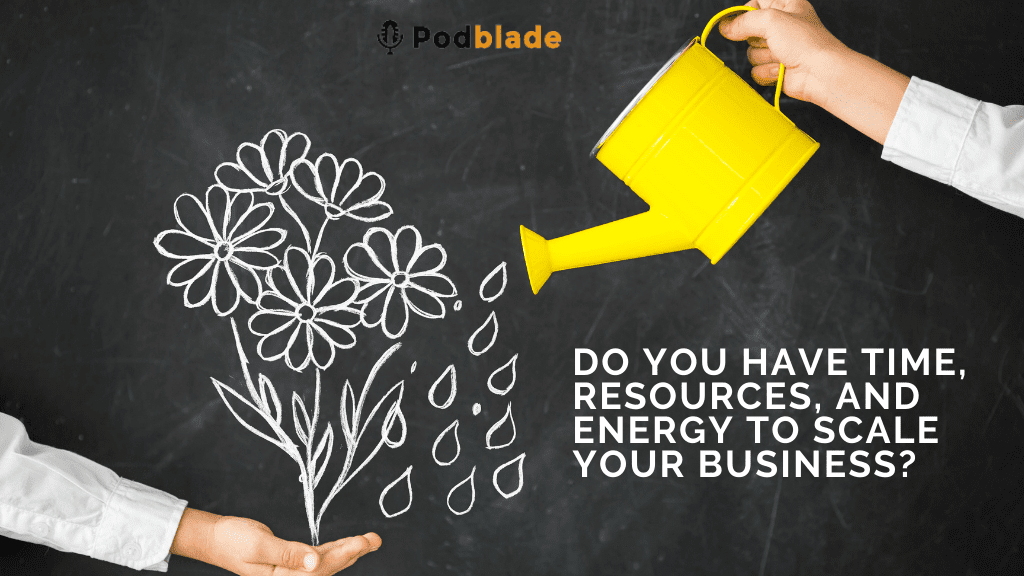 We know that increasing your clientele or accepting more work from existing ones is essential to improve your revenue stream. But, let's be honest here, do you have time, resources, and energy to:
Approach new clients, pitch them, convince them, and finally onboard them?
Sort out different requirements of different clients and then work on offering a diverse assortment of services?
Communicate with clients and respond to all of their queries?
Repeat all of the above every single day?
If your answers to any of the above were "no," then you better look into a whitelabel podcast editing service through which you can achieve all these things without spending time on any of these activities.
Wondering how?
We know that accepting different clients' requests for editing work, understanding their requirements, working on their editing task, sending it back to them, and then billing them for your work is a very complicated process and often includes a never-ending thread of emails.
Whitelabel podcast editing service simplifies this whole process. With Podblade, for example, you get an exclusive portal that is designed following your branding theme and is integrated into your website. This potent source acts as a great all-in-one centralized service portal to grow your business, all work, communication, and billing take place on this single portal.
How To Expand Your Podcast Editing Agency With A Whitelabel Podcast editing Service Even When You Lack Resources?
In the business of podcast editing agency, resources usually mean one of the following things:
Financial backing
Skilled employees or editors
Software, tools, and equipment
Knowledge, know-how, and understanding
If you own a podcast editing agency, we assume that you'd have some level of expertise and know-how about the subject matter. Also, with free tutorials on YouTube, mastering the usage of software and tools is not a big problem. This leaves you with skilled employees and financial backing as the two major resources the lack of which can hinder the growth of your podcast editing agency.
With whitelabel podcast editing service even these two major hindrances cannot impede your business growth. Let's see how this amazing service lets your business grow even when you have limited resources.
Maximize Your Margins
When you don't have enough funds to invest in your business or to hire additional resources, it may seem to you that you cannot take your editing agency to the next level.
But, that is not true.
When you consider white label podcast editing to scale your business big, you cannot only expand your business easily, but you can even maximize your margins.
We all know that numbers matter in business. When we talk about profit, we often keep our focus on sales. This leads us to believe that the more we sell our service of editing, the more profit we are going to make.
But, the reality is that to cater to more clients, you'd need additional resources. And apparently, more resources mean additional expenses, which brings you back to square one.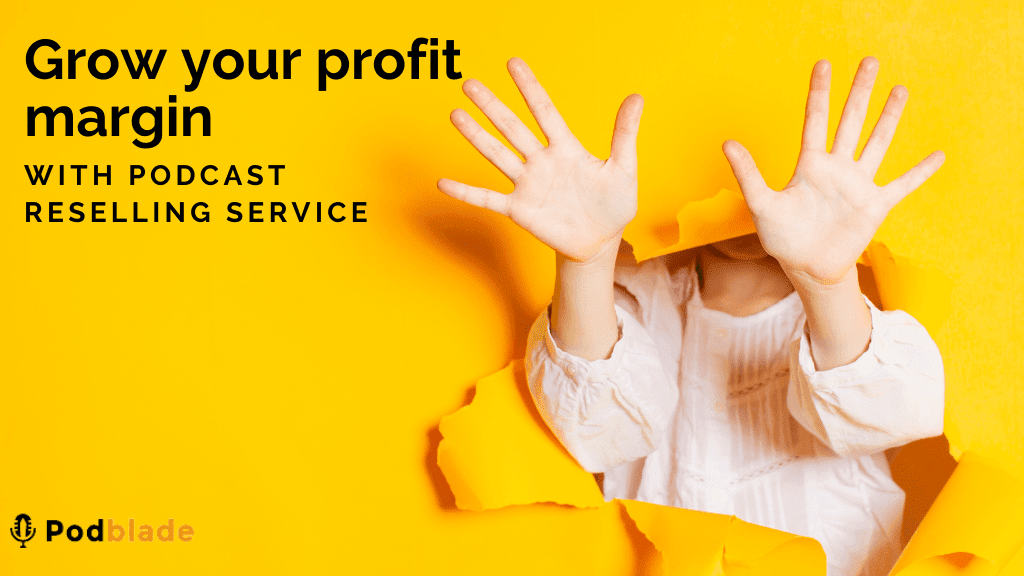 So, it is wise to look at the gross margin rather than focusing only on sales. Margins provide you insight into the health of your business. When you don't have enough margins, you'd never be able to pay yourself or take your business to the next level.
The whitelabel podcast editing service works in such a way that it takes care of all your operational aspects, charges a flat rate from agencies, and allows them to bill their clients as much as they want.
For instance, at Podblade, we charge a flat rate from agencies while allowing them to charge whatever amount they wish to charge from their clients.
Say for example, if you charge $1000 from your client and we offer our whitelabel podcast editing service to you at a flat rate of $200, then we'll just cut our fees from $1000 and the rest will go to your pocket, giving you ample margins.
This means that a whitelabel podcast editing service is a surefire way to maximize your margins. When you have good margins on your services, you can pay yourself well and you'd have more money to invest in marketing and promoting your agency.
No Need For An Army Of Editors
Increasing the roaster of your clients only means hiring a well-qualified squad of editors so that they can do all the additional work with perfection. But, it also means incurring additional expenditures in terms of salaries, employee insurance, benefits, perks, office supplies, and equipment. If you have limited resources and financial backing, you may not consider hiring new employees. This will eventually affect your decision of expanding your business portfolio as it will bind you in terms of capacity. On the other hand, outsourcing from a whitelabel podcast editing service provider doesn't only enable you to continue ongoing operations but to be confident to take more projects onboard.
So, What's The Alternative?
When you opt for the whitelabel podcast editing, a highly skilled team of professionals with great audio chops and editorial sensibilities do your clients work on your behalf. This means you won't be doing any editorial tasks on your own, plus you'd be able to save recurring salary expenses.
The icing on the cake is that with whitelabel podcast editing service, not only that skilled resources make your service offerings better with high-quality deliverables but you can also decrease the lead time it takes for you to hand over a project. Thus, you will be faster in getting your service delivered to your clients. This way, you'll have enough saved resources, time, and energy to make value-added propositions as well as work on formulating and implementing strategies to attract new clients.
Final Thoughts
We know that as an owner of your agency, you put your heart and soul into your business, and seeing it grow is your utmost desire, but lack of time and resources can come in your way of success. You see how using whitelabel podcast editing services can provide a strong foundation for your business to bloom.
Leveraging whitelabel podcast editing service and making the most of it will give your podcast editing agency a prime position. As a result, you won't have to worry about operational aspects, you will be motivated and most importantly, you will be making a lot more profit than you ever thought possible. Also, you will find more hours in your days and weeks to devote to what you need to be doing to scale your agency bigger.
Remember, taking a strong stance is the basis of success and we hope you'd take the stance of availing whitelabel podcast editing service to rock your business.
Schedule a call with our team to get an in-depth understanding of whitelabel podcast editing services and to know how you can make the most of it.
If you are interested in learning more about different aspects of podcast editing agencies, do check out our other blog posts. We have many thorough and well-researched articles that go deeper into the concept of whitelabel podcast editing as well as various other business aspects that will help you in more ways than one.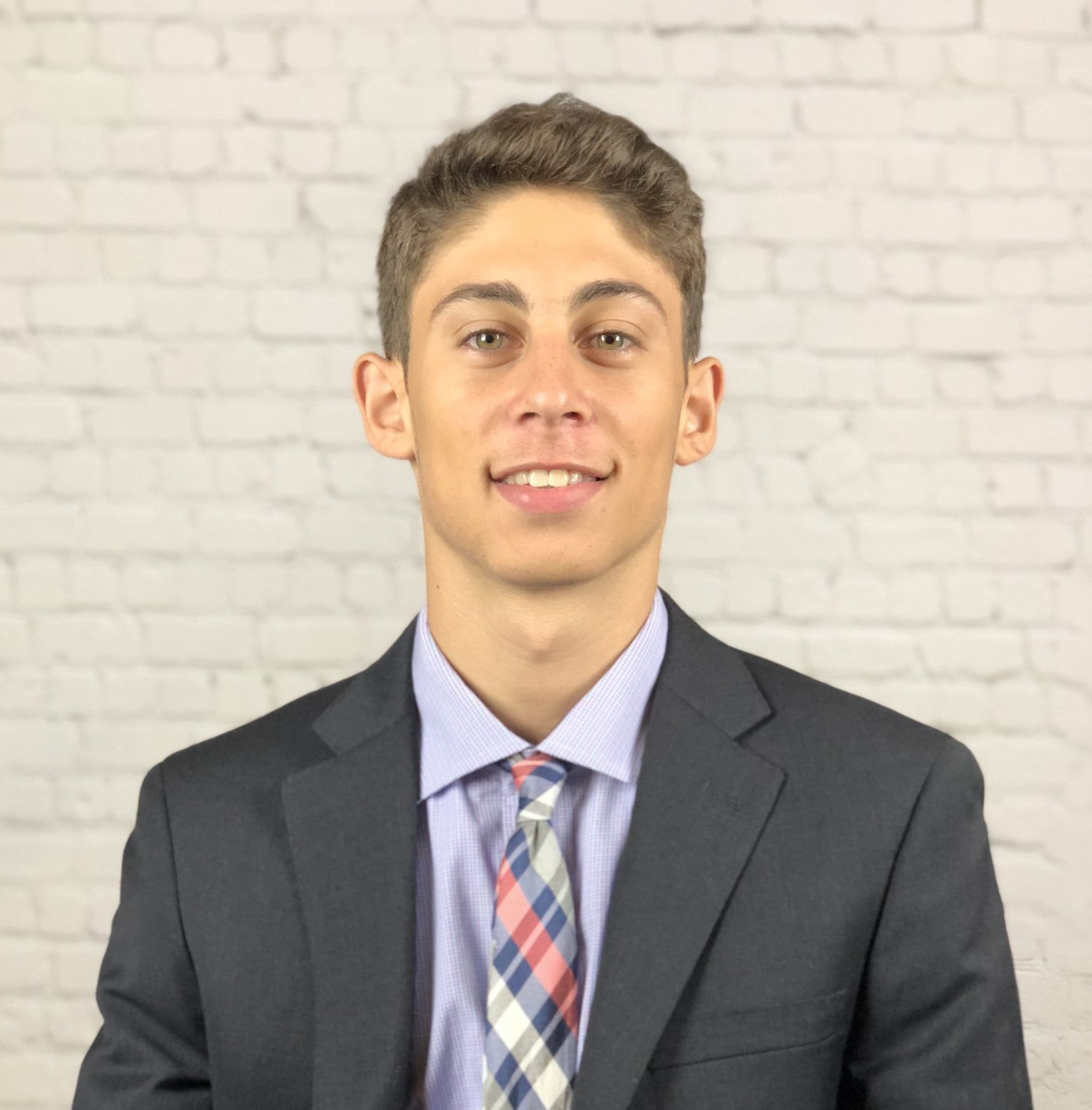 Rom is a podcasting specialist, ranking his show in the top 100 for all business podcasts in only his first 6 months since launching. He is also the co-founder of Podblade, creating an affordable yet professional editing solution for podcasters. When he isn't working, you can find him watching his favorite soccer team (Tottenham Hotspur) in action.