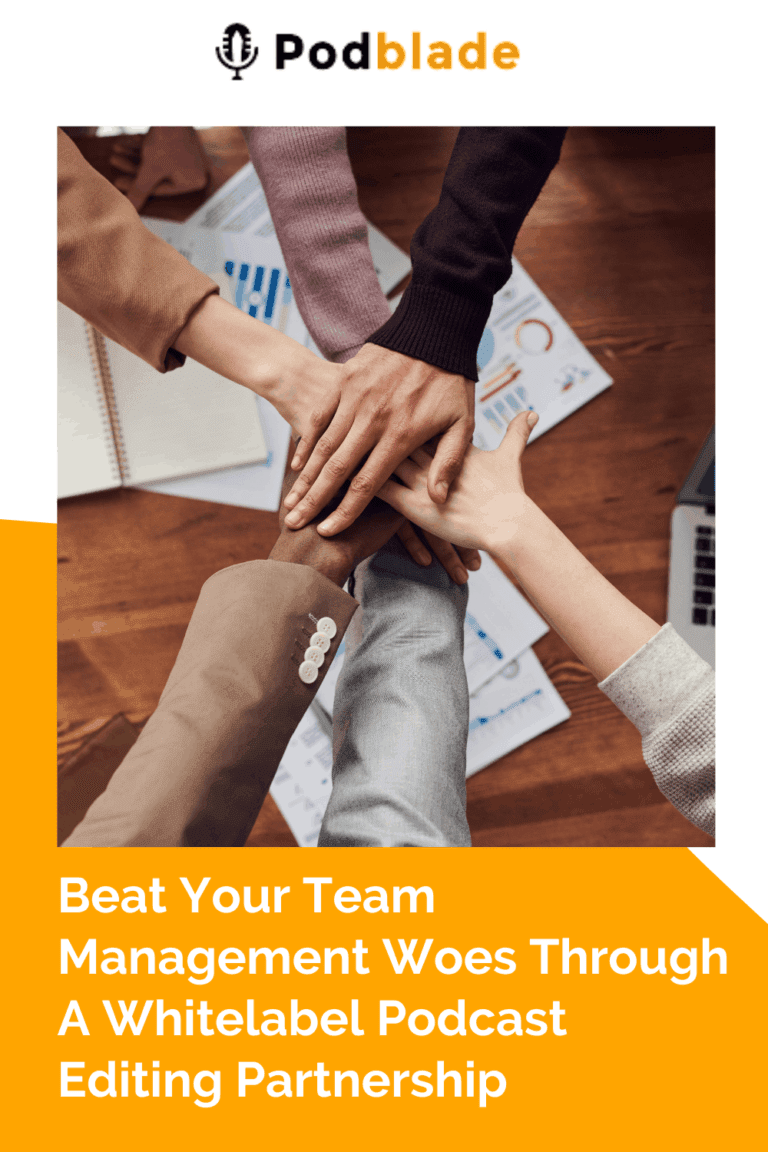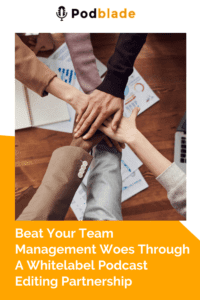 Team management can be a nightmare if done incorrectly; which quite often can be the case when you are managing countless projects at the same time. Even if the person in charge like the brand or product manager, is extremely accomplished; it all comes down to how effective the team collaboration, and if all the team members are on the same page about deliverables. For wide-scale projects or a heavy clients' portfolio, team management becomes absolutely challenging calling for as minimum glitches as possible!
Podcast agencies can benefit greatly by partnering with a Whitelabel podcast editing partnership as offered by Podblade. But before we get to the reason why, let's discuss some of the issues that you may usually stumble upon when handling multiple projects simultaneously.
The Team Management Issues Your Agency May Often Face
The biggest problem that can be faced is something not specifically related to team management, but it still impacts the agency in a major way; this problem is known as the agency problem.
The Agency Problem
The world of business is cruel and unforgiving, so it's no surprise that there is a lot of uncertainty, especially when it comes to employee loyalty, and this brings us to the agency problem. The agency problem is essentially the manifestation of an inner conundrum of the employee, where the employee chooses their best interests over the reputation and well-being of the company. The biggest example of this problem was the Enron scandal that shook the United States of America and was the premise behind the development of so many new laws regarding corporate espionage, insider trading, and a lot more.
This problem is not easy to deal with, and especially in an atmosphere of high stress, things can go sideways very quickly, unless handled by an expert team manager.
How Does A Whitealbel Podcast Editing Partnership Solve This Problem?
The agency problem doesn't exists in the first place if you are opting for podcast editing partnerships from a trustworthy platform like Podblade. Agencies like Podblade grow when you do, the more clients you bring in, the more revenue they can generate. It is essentially a symbiotic relationship where both parties are mutually dependant on each other for their growth. So essentially, it is in the best interests of a Whitelabel Podcast editing agency like Podblade to help you grow.
Hiring The Right Team For The Job
Hiring the right people for your podcast agency is perhaps the biggest problem most agency owners face while attempting to grow, and scale their company. To differentiate from other brands in the market that are essentially providing the same kind of service that you are, you have to do something out of the ordinary. Without the 'wow' factor, it is very difficult to get more clients in a market that has become oversaturated.
That's not all, growing your clientele list is one story, keeping your current clients happy, and satisfied is a task on its own. And this is a task that can become increasingly difficult to perform as the pressure of deadlines increase. Moreover, the fact that clients demand perfection in the work every single time doesn't help the cause either.
In addition to this, once the right team has been hired after spending a lot of hours in the hiring process, the next worry for podcast agency owners is employee retention. Since a business like this has a high employee turnover rate, and unless employees are kept satisfied, this hiring process will become seemingly never-ending, as you'll constantly be looking to replace employees, which again affects the timeline and delivery of the client's work.
Want to know about whitelabel podcast editing partnerships? Get in touch here

How A Whitelabel Podcast Editing Partnership Can Potentially Solve These Hiring Related Issues
Whitelabel Podcast Editing services like Podblade offer partnerships to podcasting agencies and coaches and the services they offer can potentially solve all of the above-mentioned hiring-related issues.
The biggest advantage that Whitelabel Podcast Editing platforms have is that they have an in-house team of experts that are constantly given quality-related assessments to ensure that the work they're creating is top-notch. So basically, all you have to do is tell them your business use case, and they will create a custom customer portal for you that can be integrated with your website with little to no hassle.
All you have to do is focus on finding new clients and earning more revenue. Every single issue related to hiring the right team, keeping current clients satisfied by providing quality content, and retaining the right people is handled by the Whitelabel podcast editing partnership. Leaving you with all the right kind of worries like wondering how to scale your business, and get more revenue by attracting more clients.
Invoice Management From Scratch For Multiple Clients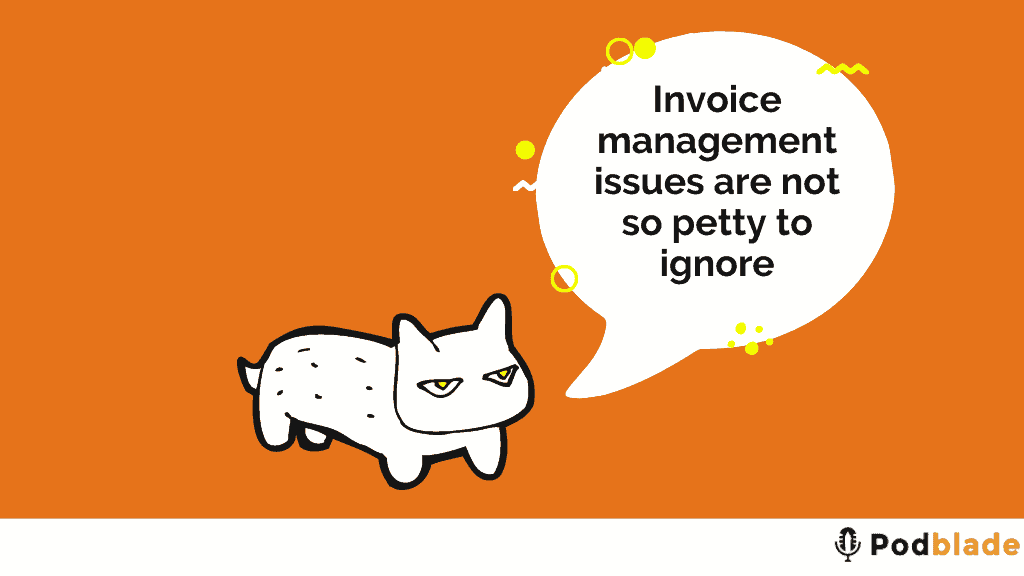 A huge issue faced by Podcast Agency owners, and professional podcasters is related to logistics and invoice management.
This might seem like a petty problem, but in the legal context, this can become a substantial factor if the invoices and books are not in order, the audit implications can be quite challenging.
Moreover, most agencies face a lot more invoice-related issues that can be seemingly disastrous if not dealt with effectively like complicated payment processes, skipping basic invoice components, no confirmation of receipt of invoice, and so on.
Handling invoicing for one client is difficult enough, but handling them for multiple clients all at the same time can blow up in your face very quickly if not handled efficiently by experts.
How A Whitelabel Podcast Editing Partnership Can Solve Invoice Issues For You
A Whitelabel Podcast editing service like Podblade can handle most of the logistical issues that you might face as a podcast agency owner.
Specifically, the problem of creating multiple invoices from scratch for every transaction of each client; is handled effectively by Podblade's team. The process is not only fast, but automated as well, so from the time the client comes onboard, an arbitrary invoice is already generated and stored in the system. This invoice is then edited and finalized with details of the project as it proceeds, so there is no discrepancy in the system.
Not only does this save you a lot of hassle, but it also makes the entire process a lot more smoother so that all you need to focus on is the growth of your company!
Long Working Hours And Short Deadlines Along With A Stressful Environment Can Lead To A Burnout
The biggest worry for podcast agency owners is the fact that the constant stress can get the better of employees and this can lead to dire consequences, especially when high stake clients are involved.
Podcast agencies, especially small agencies that have just a couple of clients on board and are struggling to keep things afloat, just can not afford to make a client unhappy as that can signal a catastrophe for the business.
Ever since COVID-19 took over the world, a lot of people have lost their livelihoods and mental health is at an all-time low. According to a recent survey by Deloitte, 77% of private company employees feel an increasing level of burnout which is an alarming jump from previous statistics.
How Can A Whitelabel Podcast Agency Fix This?
Every Whitelabel Podcast editing agency operates differently. Podblade, however; is a cut above the rest. Podblade's entire work process is automated, so that you have to do a minimal amount of work, and can just focus on widening your network, getting numerous clients, and in essence scaling your venture exponentially by bringing in more revenue.

Podblade has a large team of experienced individuals that are constantly vetted and examined to ensure that a certain quality level is maintained. However, with that being said; Podblade cares about its employees. When you bring in a client, one individual is assigned to that client. This person is responsible for everything related to that client.

So rather than having to juggle multiple clients, they can just focus on giving quality service to one project at hand.
Not only does this create consistency in the style, but also adds a personal touch that you seek. This personal touch is simply not possible in traditional podcast agency setups where multiple people are constantly juggling different clients.
Not Being Able To Handle The Constant Technical Issues
Running a Podcast agency is not for the faint-hearted. You have to be a jack of all trades that is well versed with a lot of aspects related to businesses. One of these aspects is technology.
Let's face it. It's 2021, and if a business is lagging in the technology department, then it will be left behind, trod upon, and forgotten. The market is already oversaturated, and to stand out, businesses need to do something out of the ordinary. But before they can do that, they need to fulfill the bare minimum.
According to the recent research report by CompTIA, the global technology industry is forecasted to get to $5 trillion in 2021 which signifies a growth rate of 4.2%. Moreover, the USA is the largest tech market by a fair margin ( 33%), so it makes sense that a lot more companies based in the USA are adopting technology.
Podcast agencies are not immune to this trend, and to provide a good experience to clients and stand out of the crowd, they have shifted to offering non-static web portals that add to the experience of the client, automated workflows that make the entire ordering process easier, and AI-Powered chatbots that are constantly available to deal with the issues that clients face.
So where's the problem?
The problem is that all of this is not easy to accomplish. It takes time, money, and very experienced resources. All of which are not always in the reach of every Podcast agency owner.
Let's assume that you have all three of these, and develop a state-of-the-art system that impresses clients. The next step is maintenance, which brings with it, its own set of problems, and costs too. The server costs are separate, the hosting costs are also there, and then the debugging costs in case any component of code goes haywire is an entirely different story. All in all, it's a lot of hassle, that sometimes feels like it is not worth the time and effort that you put in.
How A Whitelabel Podcast Editing Agency Partnership Can Solve This Issue For You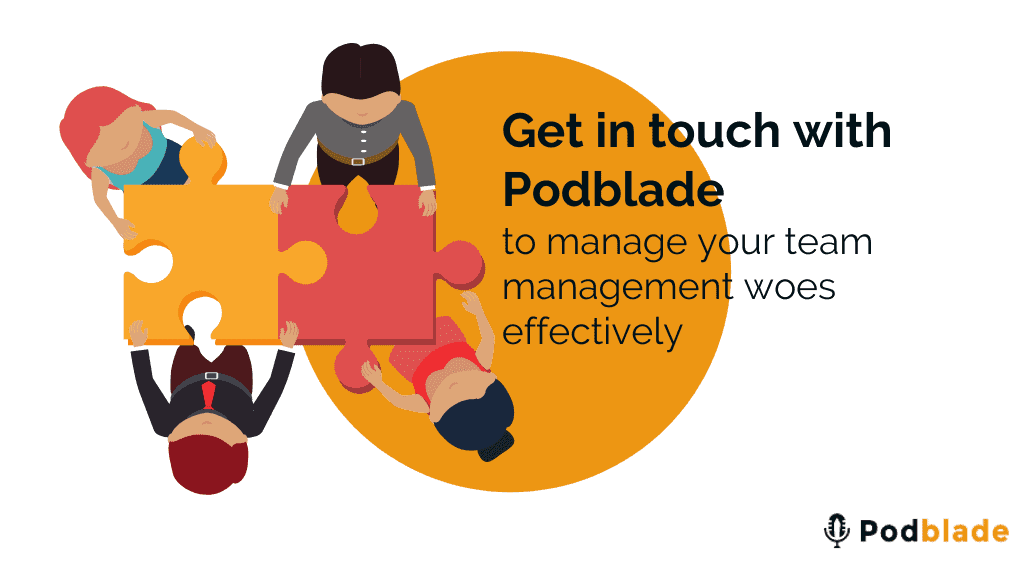 Whitelbale Podcast editing agencies like Podblade pride themselves on providing a seamless technological experience that rivals all other competitors, and more importantly; make your clients happy and satisfied.
Podblade designs a custom portal for your business, based on your specifications, and then everything from integration to maintenance is under the helm of the experienced Podblade team, so all you need to do is sit back and relax while Podblade automates your workflow for you.

Moreover, Pdoblades's assistance team is available 24/7 in case of any queries, which is a bonus that can be offered to clients.
In a nutshell
What is the end goal of creating and running a podcast agency? The answer is making revenue, and scaling so that you can even have more profits in your pocket.

A whitelabel podcast editing partnership allows you to do this, as it takes away all the worries you have regarding team management, hiring, logistics, technology, and much more. So that all you have to focus on is growing your clientele, and as a result; growing your podcast agency.
Remember that a successful business is the result of smart work! Let us know on the comments below what team management issues your agency faces and how would you like us to assist you with that. If you want to know how to be our whitelabel podcast editing partner, feel free to get in touch here. Don't forget to check out other informative posts and guides all about podcasts here: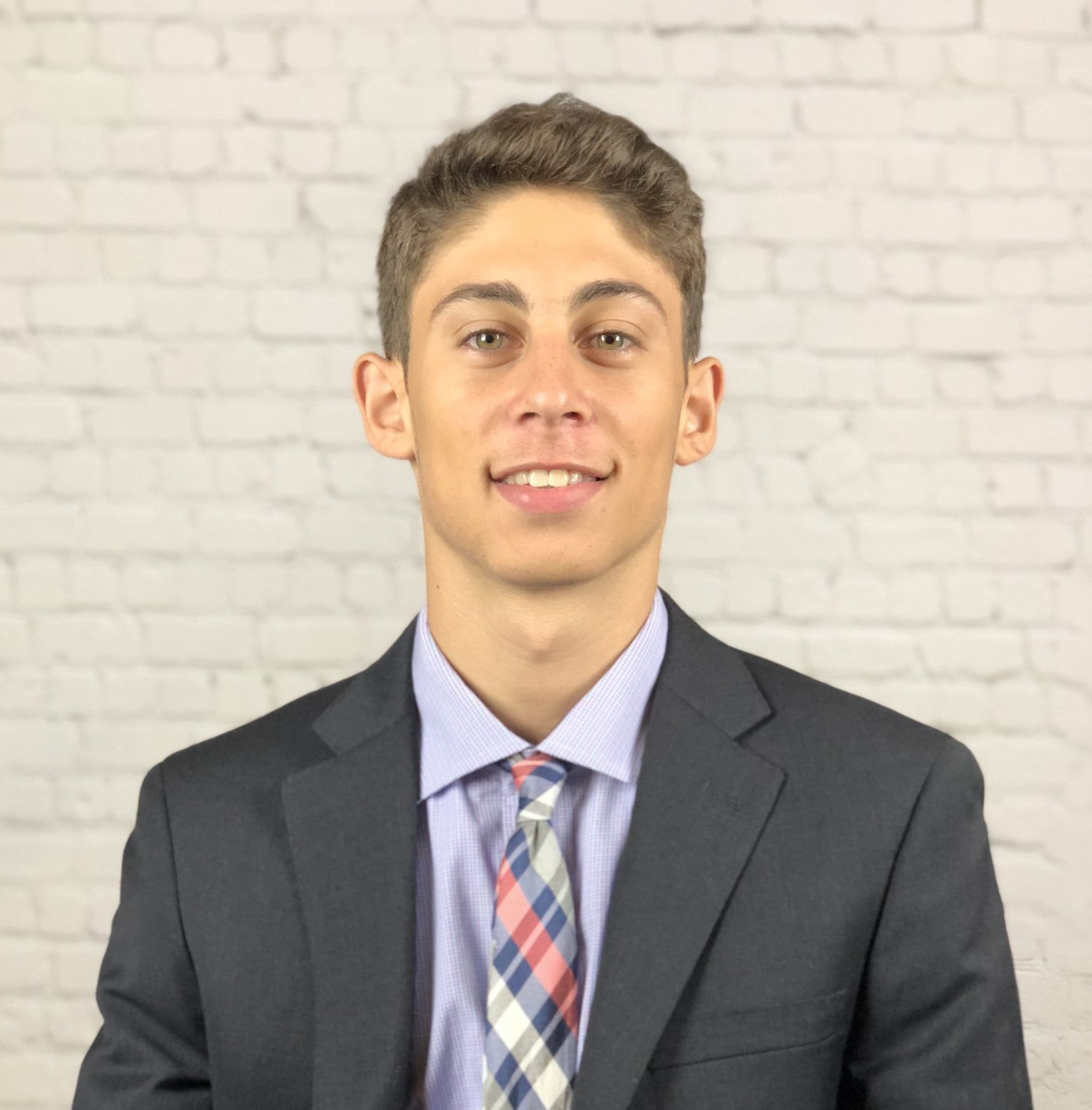 Rom is a podcasting specialist, ranking his show in the top 100 for all business podcasts in only his first 6 months since launching. He is also the co-founder of Podblade, creating an affordable yet professional editing solution for podcasters. When he isn't working, you can find him watching his favorite soccer team (Tottenham Hotspur) in action.