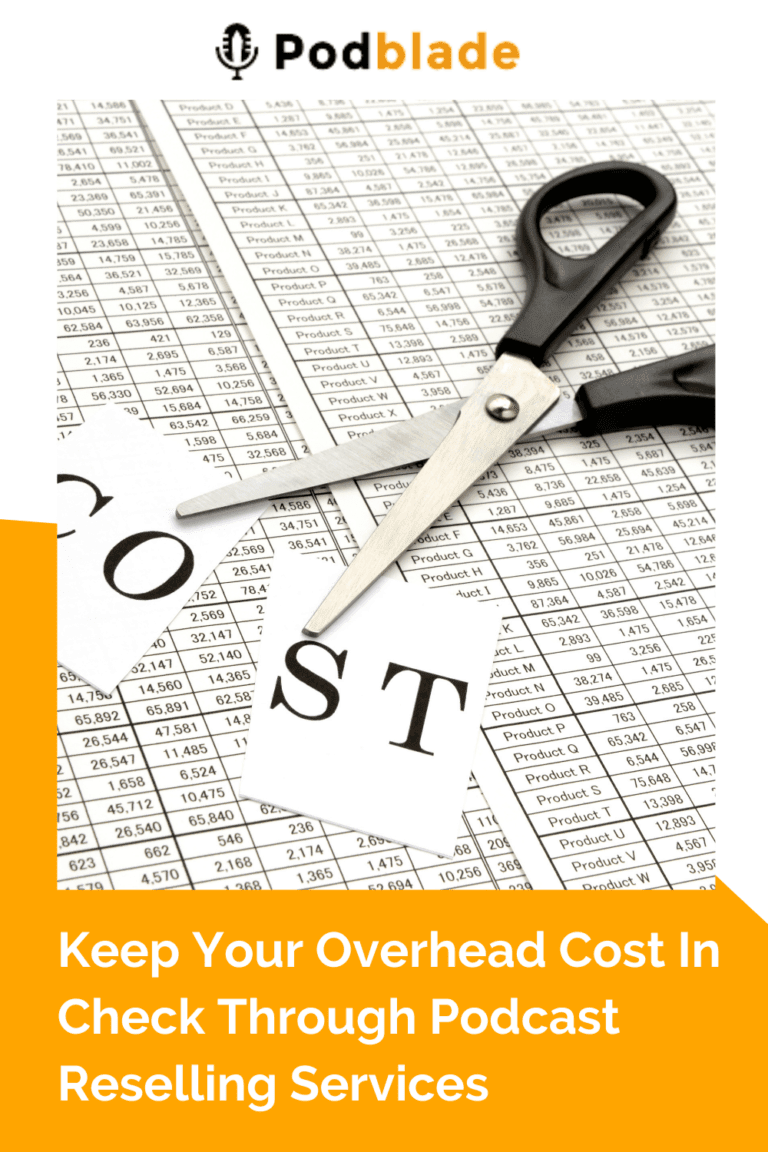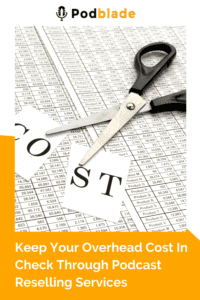 Here is a quick question for you!

What are your ultimate business goals for your agency?

We are sure, you'd be thinking about the lucrative operation, business growth, and a brand value that has a long-lasting recall.

But, is it so simple to achieve? Well, it can be if you work smart! We will see how later in this article.

Commonly, cutting off cost overheads is one of the preferred methods to ensure a stringent check on your cost and increase profit.
In the podcast industry, we see that for podcast editing service providers, this formula of keeping overhead costs in check may seem difficult. This is because, when the business of a podcast editing agency grows, it only means incurring more cost in terms of new hiring and system upgrades.

In such a scenario, partnering up with a Whitelabel editing service is one of the most recommended methods to decrease overhead costs. By availing Whitelabel editing services, you can rebrand and resell your services to your clients without much hassle.

Let's talk about the different ways in which Whitelabel editing services can help you improve your bottleneck and save a huge amount of money by availing this service.
How To Keep Overhead Cost In Check With Whitelabel Editing Service?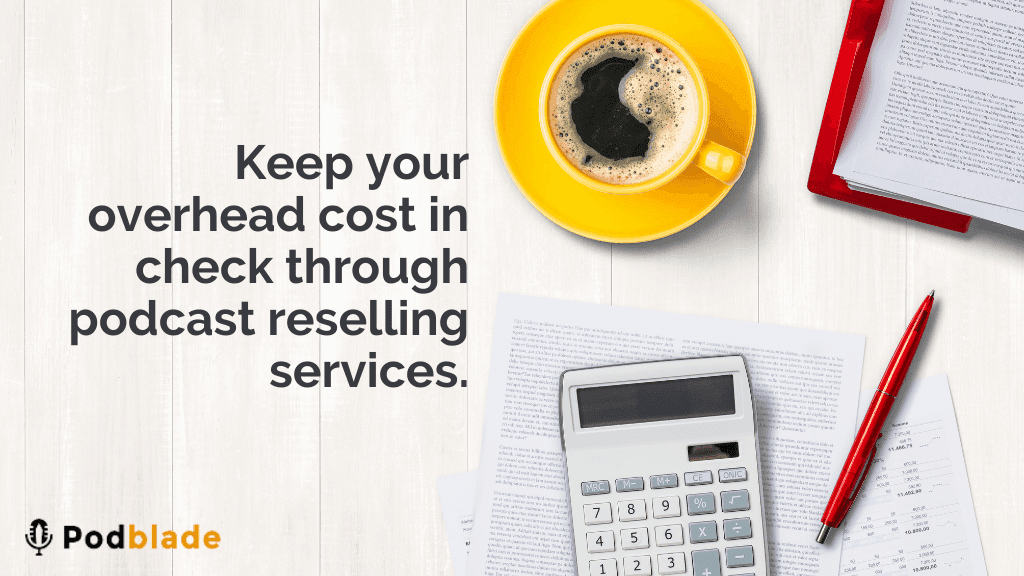 We truly understand that for podcast editing agencies, keeping a check on overhead costs can be a daunting task. When you start off as an editing service provider, you want to be the jack of all trades and do everything on your own to keep operational costs low.

As your clientele increases, it might become challenging to cater to editing work on your own and you are pushed to hire freelance editors. Eventually, you tend to add more resources to your payroll. On-boarding a team of editors to cater to the increased demand of work and the entire operational process can cost you an arm and a leg.

You may think that in such a scenario, avoiding labor costs is next to impossible. But a reliable Whitelabel editing service provider like Podblade makes the process less overwhelming for you through an all-in-one centralized service portal.
The better and cost-effective way to minimize the operational cost is to opt for an existing solution like a Whitelabel editing service rather than developing your operational department from the scratch. By partnering up with a reputable white label firm like Podblade, you can avoid hitches, huge costs, and bottlenecks. So, why waste money, time, and resources when benefits abound when you opt for a whitelabel editing service.

There are more than one ways in which white labeling can allow your agency to minimize operational costs. Here we are highlighting some of the obvious as well as some mind-blowing ways in which you can keep your overhead cost in check through Whitelabel editing serviceS.
Reduce In House Salary Expenses
This one is a no-brainer! When you decide to get the white label podcast editing service for your editing agency, you save yourself from paying to your editorial crew or incurring an additional human resource cost for large-scale projects.

Whitelabel editing service is the smartest way to keep the overhead cost to a minimum so much so that you can reduce your salary expense with a pretty great margin.

Having a team of in-house and full-time editors may seem a viable option for your agency, but it is quite expensive. In addition to a competitive salary, you also have to provide fringe benefits, insurance, and other facilities too that can incur a lot of costs. Whitelabel editing service is way cheaper than having a roaster of full-time professionals on your payroll.

Not only that you can save a huge amount of money through podcast whitelabel editing service that you otherwise have to pay to your editors, but you can also save paying to customer service staff. This means that you can totally skip two major departments from your operational activities and save a huge chunk of money.

If you are confused by this idea, then let us fill you in with how white label editing can make you omit customer service department expenses.
If you avail podcast whitelabel editing service of Podblade, you will get a complete package. We create a portal for your clients and they put up their requests for work, their requirements, and even revisions on that same portal.

Whether you have 5 or 500 clients, you'd still be able to scale this without bringing in any middle agent or account executives to manage communication. At Podblade, we have designed our system in such a way that you don't have to worry about a thing and all your clients' tasks get done right on time with supreme quality.

Isn't it a great way to reduce cost? We are sure that this awesome benefit of whitelabel editing service is convincing enough. If you're willing to avail this service and reduce your salary expenses, then schedule a call with us here. Our team will be happy to assist you and fill you in with even greater benefits of the white label whitelabel editing service partnership.

No Need To Subscribe To Or Buy Software To Get Your Operations Going
We all know that the podcast industry is growing at full throttle. To cater to the need of the time, we also get to see so many new applications and software getting launched right, left, and center. If you are an avid fan of podcasts, we won't be surprised to see a few podcast apps on your mobile device.
These different applications are not only for the audience but are considered as the main resource for podcasters and editing agencies.

When you do all the editing work or even hire a team of in-house editors, you are bound to invest in various audio editing software and apps to do the job. Not only that you need to purchase different software and apps but you also continue to spend money on its maintenance, upgrades, and other things. This is an overhead cost that you as an agency have to incur in addition to the huge amount of salaries that you give to your team of editors.

You won't need to subscribe to these apps or software if you choose to work with a whitelabel editing service provider. You can save all the money that you spend on this software and apps; instead, you can get top-notch quality editing done by experts at a fraction of a charge. Also, you can also cut the cost of training your employees to use these software and applications.

The cherry on top is that if you decide to avail our whitelabel editing service, you will get a number of services related to podcast editing. While working on your projects, we employ top-notch software, processes, methodologies, and applications, delivering the best quality work by using efficient resources. Podcast whitelabel editing service takes care of your fulfillment and operational process without you spending a dime on the resources.
Reduce The Cost Of Business Expansion
Here is an unexpected and most interesting way to save some bucks and exploit great opportunities through whitelabel editing service.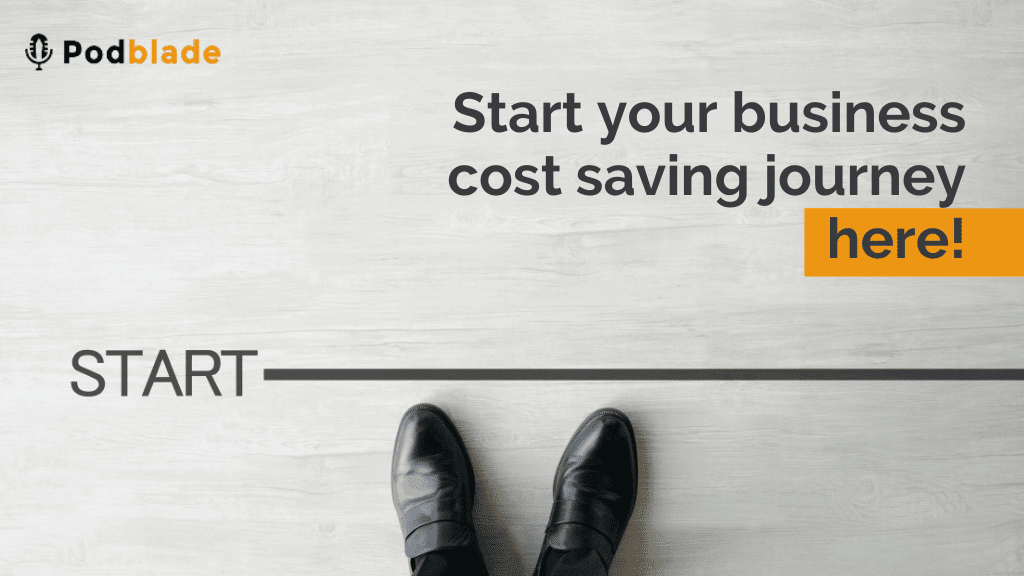 When editing agency owners try to do everything on their own and wear many hats, it is inevitable for them to hit a rock bottom eventually. This usually happens when agency owners prefer to do everything on their own so that they can save some money for the purpose of reinvesting in the business growth. But in reality, they end up incurring more costs due to lost efficiency.

However, when podcast editing agency owners decide to opt for whitelabel editing service, they can save operational cost, charge more money from clients for providing the best quality service, and attract more clients through referral programs. All these benefits will not only allow agency owners capital to reinvest in the business but also provide moral support and confidence to take their business to the next level.

Every business owner's ultimate goal is to expand their business and it is an undeniable thing that the more time you plan to expand your business, the more cost you are going to incur in terms of utilizing resources. By availing whitelabel editing service, you can reduce this cost and in fact, you can expand your business quite earlier than otherwise. We all know that it's boom time for podcasts, and if you don't make the right choices, your agency may lag behind.

Also, there's another way to look at reducing the cost of expansion. If the growth of your editing agency results in an increased need for office space, then the option of whitelabel editing service is an ideal option rather than moving to a new location. White label editing service is less costly than the price of expansion; plus, this option is more efficient.

There are also instances, where editing agencies delay expansion and growth because hiring new employees or moving to a new location is not possible for them. In this case also, whitelabel editing service can do wonders and allow your agency to grow without incurring any extra expenses. If you keep on delaying the expansion of your business due to limited resources, you will incur an opportunity cost. With a white label whitelabel editing service, you will have the freedom to take on board as many clients as you want that too without having to hire new employees or move to a new location.
Cost Containment By Eliminating Physical Overheads Of Maintaining Staff, Equipment & Other Expenses
If you think that is all, we know one more way to reduce your overhead cost. This is by reducing the cost of maintaining an in-house staff, office space, equipment, bills, and other overheads.

In simple words, you can save a lot of money and scale your business big by eliminating these miscellaneous heads. Most of the time, editing agency owners consider these expenses trivial
and don't pay much heed to them. However, if you don't have to pay for these things, you will be surprised to notice that you can actually save a lot of money.

If you think that the salary you give to your employees is the only major expense, then we urge you to think again. Because that's not the case!

There are so many hidden costs behind every employee you hire. When you have a staff, you have to obviously look into the in-house resource costs. These are all the things that cost a lot of recurring money.

As a small editing agency owner, you know that the things and equipment each new resource needs will add up at least several thousand dollars. Not to mention money for the lights, office chair, and furniture.
Final Words
In a rapidly growing business, controlling costs can be very challenging. Plus, keeping a track of every major, minor and underlying expense is an arduous task. Instead of keeping and analyzing each head separately, you can opt for a simple solution like a white label whitelabel editing service. Here we see how whitelabel editing service can really help you in minimizing overhead costs in different ways. Cost-savings that you achieve that way can provide you capital to invest in other facets of your business.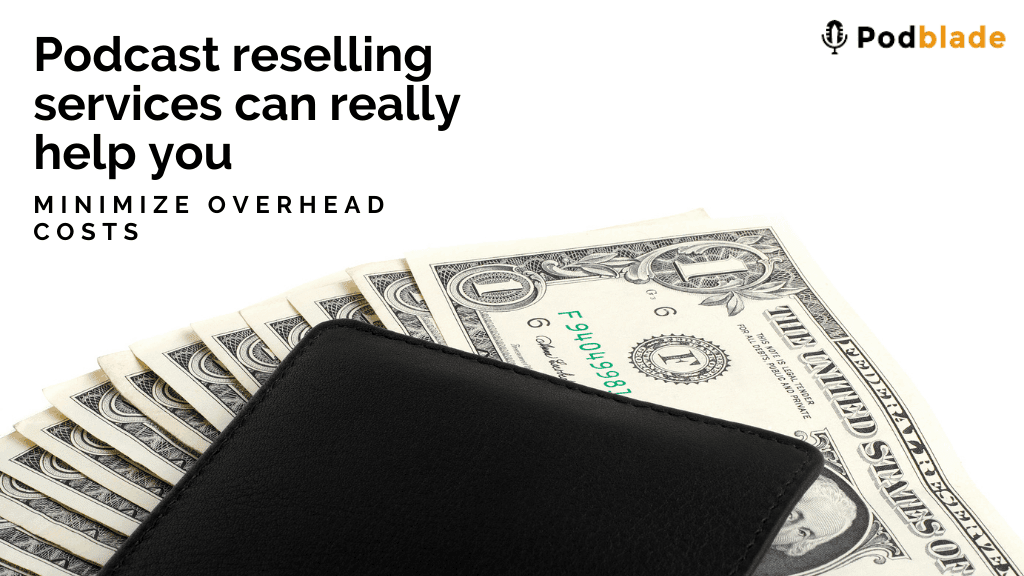 With a whitelabel editing service, you can create an impressive portfolio and carve out a reputation for your podcast agency. As a result of the growth of the bottom-line of your agency, you will be able to scale your business and acquire high-value projects.

Podblade is a number one podcast whitelabel editing service agency that provides a range of services. Partner with us and witness your business grow and flourish. Schedule a call with us here to get to know more.


If you are interested in learning more about the podcast agency business and its various aspects, you can check out our other blogs.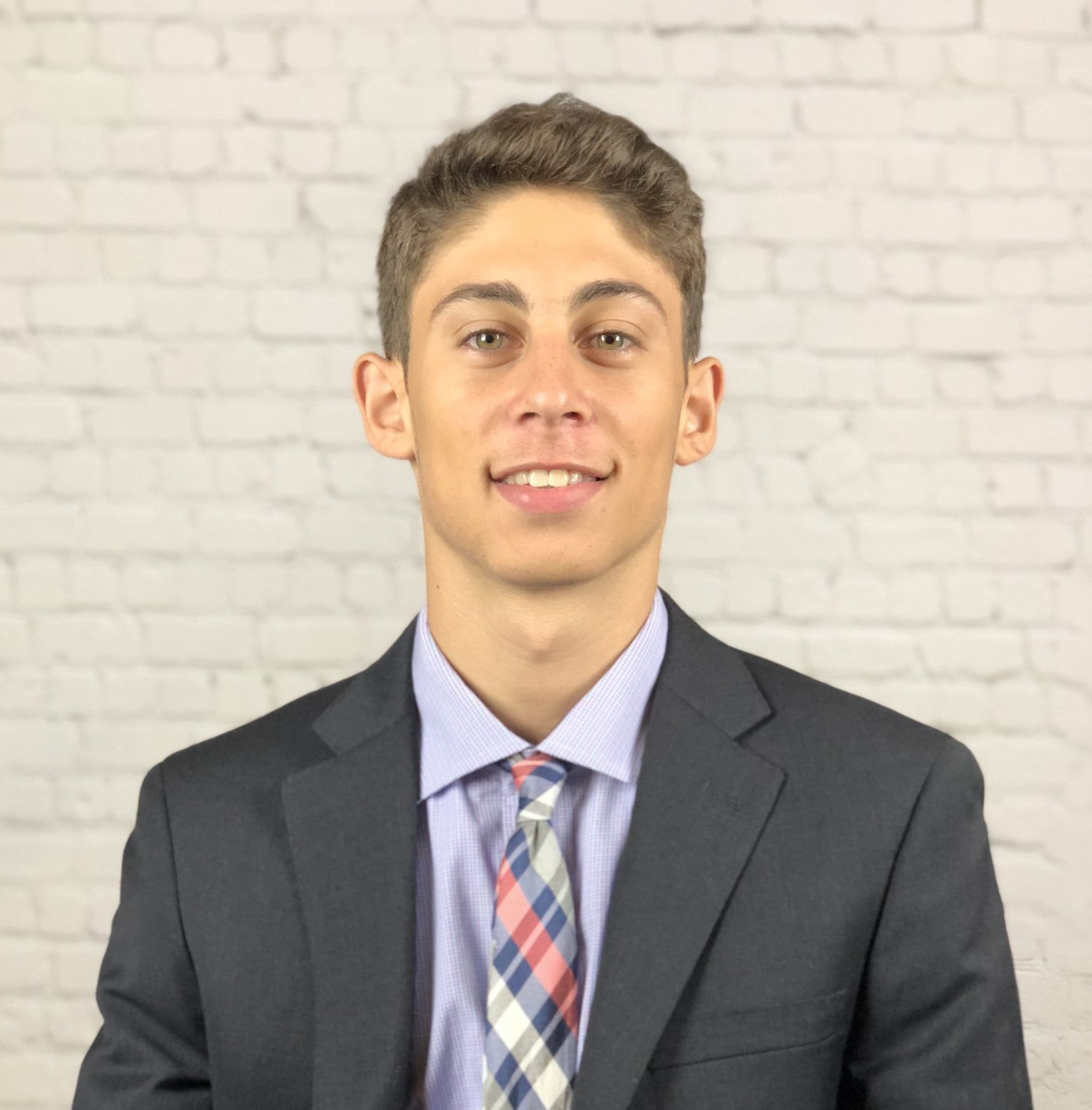 Rom is a podcasting specialist, ranking his show in the top 100 for all business podcasts in only his first 6 months since launching. He is also the co-founder of Podblade, creating an affordable yet professional editing solution for podcasters. When he isn't working, you can find him watching his favorite soccer team (Tottenham Hotspur) in action.