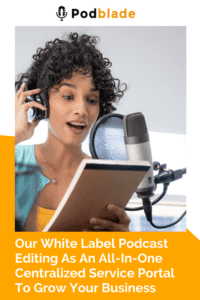 Ever thought about availing a Whitelabel editing service?
You run a podcast editing service agency and continuously strive to meet the demands of different clients; while everything looks good as your client portfolio grows but you notice the repeated menial editing task has been quite frustrating for your team. How can you turn this situation around in your favor?
This is exactly where a Whitelabel editing service comes into the picture which enables you to bid farewell to the time-consuming task of editing and instead of reinventing the wheel every time, you successfully attract new clients.
Read on to find out all about the importance of the whitelabel editing service as a centralized service portal, what makes it an all-in-one platform, and many benefits your agency can reap from it.
The Greatest All-In-One Editing Platform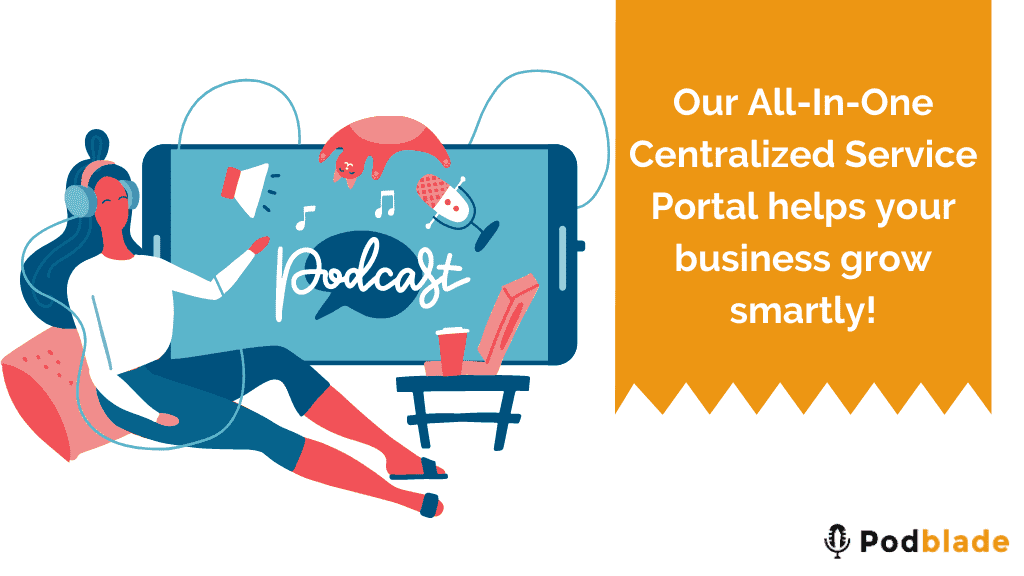 There is this popular belief that in order to grow your business, you need to be ruthless and make sacrifices. But, we know a better and a smarter way around it. The one that is good for both the bottom line of your business as well as your clients, a way that gives you enough time to focus on business aspects that matter the most, and makes it super easy for you to offer podcast editing services. We launched Podblade to help you run your business effortlessly without the usual overwhelm you might experience as your business grows.
A whitelabel podcast editing solution is easier than building your own portal and it is the smartest, most intuitive choice for your editing agency. It provides you with the right editing solutions and lets you cater to your clientele's diverse needs. The whitelabel editing service is designed so that it makes all your operational business chaos disappear. All you have to do is just sign up with us and you are ready to witness dramatic growth in your business that too without making any effort.
Our whitelabel editing service portal is definitely a key to simplifying & scaling your business. Undoubtedly, our smart all-in-one service allows you to cater to a myriad of clients with varied demands and tasks. If you are looking to streamline your business' operational aspect with one system that does it all – this is for you!
We built Podblade's whitelabel editing service to be the most comprehensive yet affordable podcast editing platform on the market. Agencies who are currently on board with us optimize their operations with our all-in-one solution. From mixing to flawless editing, cutting, and assembling content, we have got all possible editing services that you can think of. Our services are customized according to your clients' needs that too with superior quality, giving you more power and time to concentrate on what matters the most i.e. scaling your businesses.
As soon as you come on board with us, we set up a portal for your client and that is all you need to keep your operations rolling. You will share the link of the portal with your client, which will allow them to request the type of editing they require and all the details of the tasks. When we receive a request, we take it from there and fulfill the order without you having to carry out any task.
What Makes Whitelabel Editing Service A Centralized Service?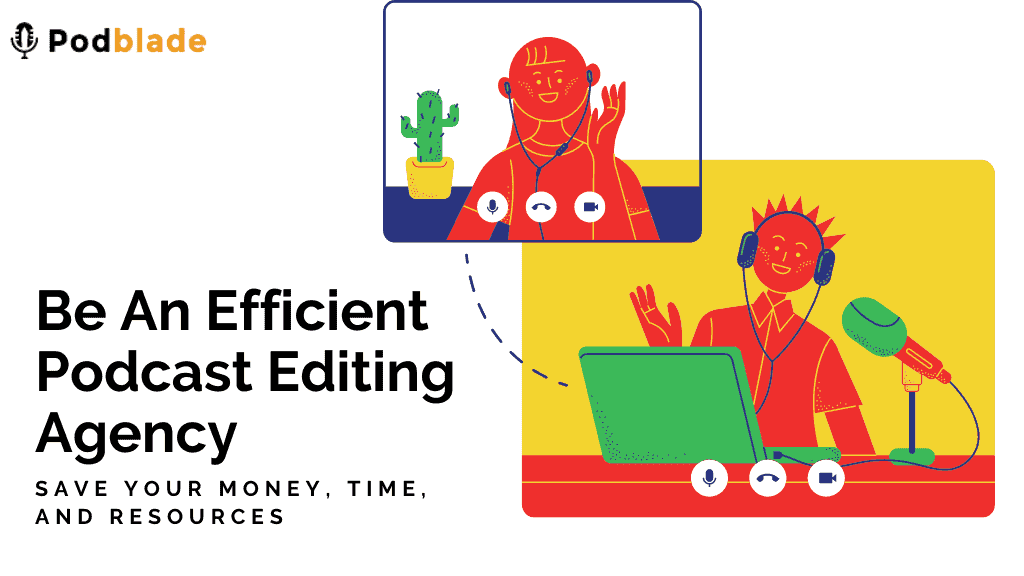 Podblade helps editing agencies do big things, with the right solutions to meet their project's needs. Our whitelabel editing service platform acts as a centralized and all-in-one service in a way that lets you cater to all sorts of editing tasks without you having to design a client portal from scratch, hiring a new resource, or hopping from one software to another.
With this service, instead of using various software and wasting a lot of your time, you will just use one platform that will do all the tasks for you, resulting in saving a lot of your time and convenience. The real money saver is that you no longer need to hire additional resources to meet the scope of your projects. Our team of professional and expert editors does it all for you, so everything is done for you straight out of the box. We understand how passionate you are about growing your agency so instead of investing painfully long hours in sifting through software and working with numerous editors, just grab a cup of coffee and outsource your podcast editing project to Podblade.
Another way that makes podcast whitelabel editing service platform a centralized system is that it allows you to scale your services, including your offerings, cost, and more importantly your revenue. This means that by utilizing this service, you will not only be able to run your business smoothly, but your business will also grow by leaps and bounds. You know how they say: time is money, and we aim to save you a lot of both to let your business grow. Our platform is built to help podcast editing agencies to carve out a reputation and keep their business growth because we render impeccable services on a timely basis without compromising on quality. All you have to do is sign up with us, sit back and just watch the results roll in.
Another aspect that makes our whitelabel editing service a centralized system is its convenience and hassle-free usage. You as an agency no longer need to constantly check your dropbox or keep a track of email threads with our all-in-one centralized portal system. All files, payments, and messaging happen right in the portal.
Also, this is a centralized portal for all your editing needs because it is designed by adopting a proven methodology. Over the years, we have perfected a platform that's helped many editing agencies grow. Never get stuck in the nitty-gritty of editing because our team of experts is on–hand with editing sensibilities, as well as tips, tricks, and editing, hacks to help you stand out from the crowd.
Interested in trying out our services or want to get more details? Schedule a call with us here and our team will guide you.

The Need Of Centralized Editing Platform
As a result of the podcast revolution, people are increasingly launching their podcasts, hence the podcast editing and marketing business is rapidly growing. As an editing agency matures and begins to get new clients frequently, it needs tools that can efficiently perform its operations and enable them to scale big. Our whitelabel editing service provides just that.
When an editing agency has an enriching pool of clients, who seek a bunch of different solutions, then catering to these tasks requires agencies to have different software, expertise, and systems in place. In short, to offer a diverse range of services, agencies must have systems that must be duct-taped together, which often leads to frustrating situations and results. For instance, there would be a client, who only wants noise cancellation, then there will be a client who wants to adjust noise, some other project might require you to make only the first cut available and of course, there will be a client who would want it all. This means that for every project, your agency will be doing the same task repeatedly but by developing a system for each client differently from scratch. Going back and forth between software and using different skills and expertise can be a very painstaking and time-consuming job.
To put an end to this frustrating situation, we have this whitelabel editing service that does it all for your clients and gives you peace of mind. No matter what your client requires, our team of professionals can do the job for you, while giving you full control over your clients. All you have to do is just avail this service and say goodbye to the frustration of performing basic tedious tasks repeatedly. We promise the matchless quality of our service, which means that you will not only be able to deliver all sorts of editing services to your clients seamlessly, but you can also guarantee them 100% satisfaction. That is the power of our platform that offers everything to you under a synchronized umbrella.
Who Should Sign Up For Our Whitelabel Editing Service?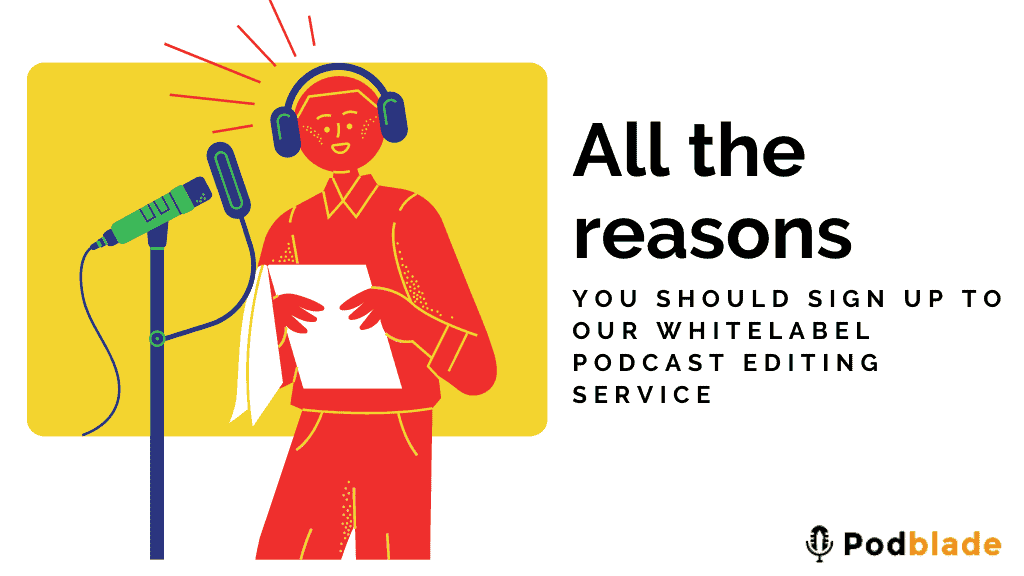 One of the Podblade's main strength is that it is equally great for both beginners as well as seasoned agencies. Our service is for all those agencies who:
Renders the service of podcast editing and wants to supercharge their service delivery process on autopilot.
Wants to overcome the struggle of rewinding and reinventing the whole editing system every time a new client signs up.
Wants to save time and money that's invested in each project.
Want to expand their service offering from editing to more (for instance marketing).
Wants to stand out from others and gain new clients.
Wants polished, captivating, and flawless editing done by professionals in the field.
If any of the above resonates with you, then welcome! Because our whitelabel editing service is a solution for you that is going to rock your business.
Some Benefits Of Using Our Centralized Whitelabel Editing Service
If you are a podcast editing agency, then you can witness the wonders of the whitelabel podcast editing partnership. Here we are highlighting some of the most amazing benefits that you can get from utilizing our services.
Get Instant Access To All Sorts of Editing Services
Our whitelabel editing service render instant access to a portal that does all sorts of editing. This solution has been created to give you a smooth and seamless operation. Once you sign up with us, all your clients' work will be done on autopilot and will simplify your project execution.
Money Making Mantra
Utilizing whitelabel editing service saves a lot of money. You can get the most bang for your buck from a whitelabel podcast editing solution. Don't believe us? Let's do some math.
At Podblade, we charge a flat rate from agencies while allowing them to charge whatever amount they wish from their clients. For instance, if you charge $1000 from your client and we offer our whitelabel editing service to you at a flat rate of $200, then we'll just cut our fees from $1000 that you charge from your client and the rest will go to your pocket.
Sigh of Relief For Your Business
Can you imagine how it feels to execute all your projects without much hassle? Let us fill you in.
Have a huge sigh of relief and save time every time on your podcast editing projects while we carry out the work for you.
See the needle shift on your sales because of better and quickest service delivery.
Feel pride and confidence knowing that you attract an audience that connects with you, avails your services, and is super satisfied.
Imagine that feeling of joy, success, and freedom by having your client's podcast editing tasks done right on time without unnecessary delays.
Other Benefits
The above-mentioned advantages are some of the best things that you can get from using a whitelabel editing service. Besides these, there are many other benefits that you can reap such as: avoiding the hassle of managing a team, saving time, less work pressure, etc.
Why Should You Trust Our Service?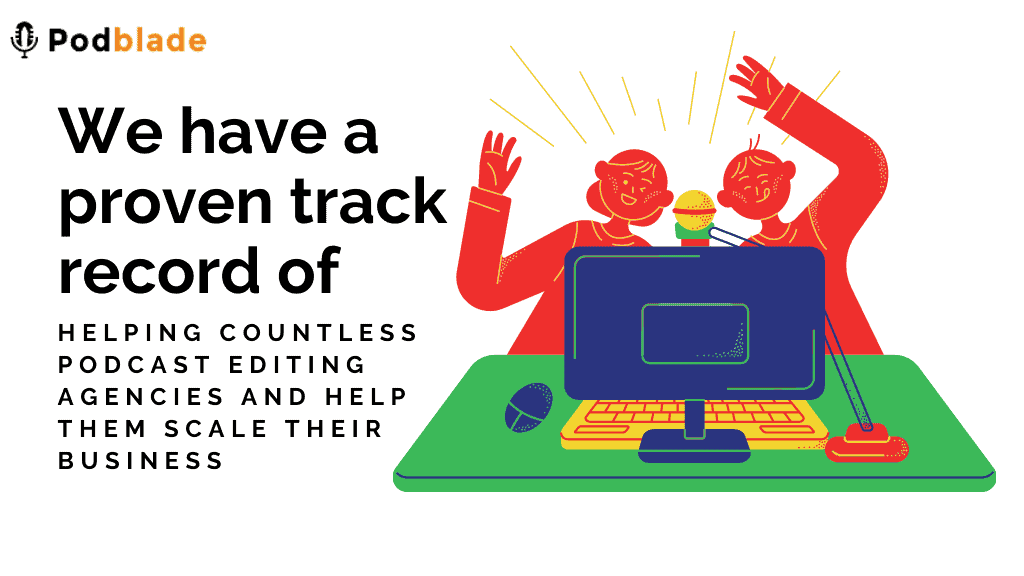 If all these benefits intrigue you much but you are still confused and question why you should trust us to be the side-kick for your client's projects. Then be assured that we have a proven track record of helping many agencies and independent editing service providers. Every day, we help agencies to harness the power of a quick and flawless editing service. It is our passion, purpose, and privilege to serve you.
To Sum It Up
So, you see how Podblade provides a unified suite that caters to all the minor and major, simple or complex editing tasks for your clients. Not to mention other benefits that you can utilize by using our whitelabel editing service. Don't waste time and get in touch with us to avail our all-in-one whitelabel editing service platform.
Discover more and get to know about detailed information and guides on how to boost up your editing agency business through our informative posts here: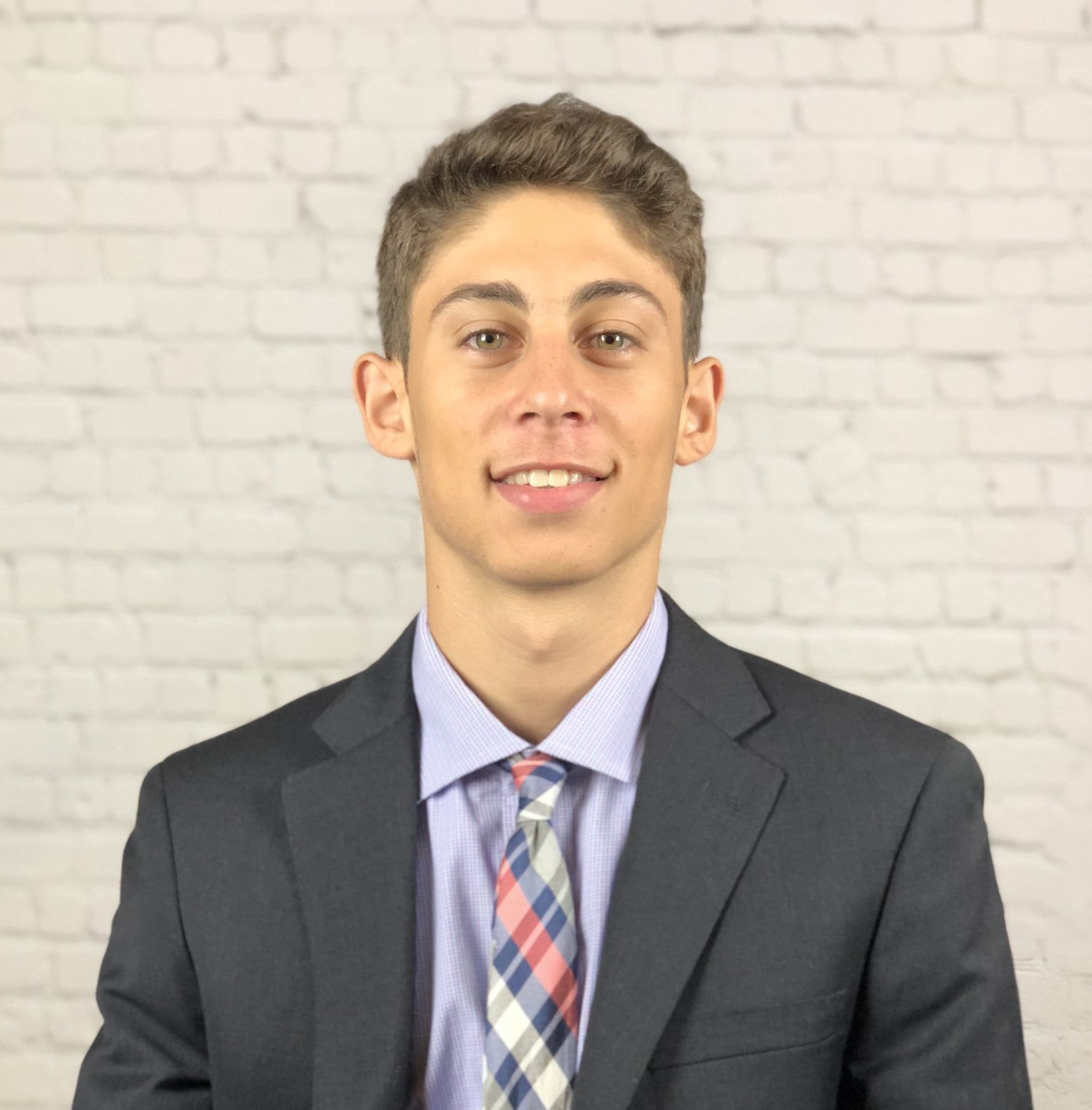 Rom is a podcasting specialist, ranking his show in the top 100 for all business podcasts in only his first 6 months since launching. He is also the co-founder of Podblade, creating an affordable yet professional editing solution for podcasters. When he isn't working, you can find him watching his favorite soccer team (Tottenham Hotspur) in action.