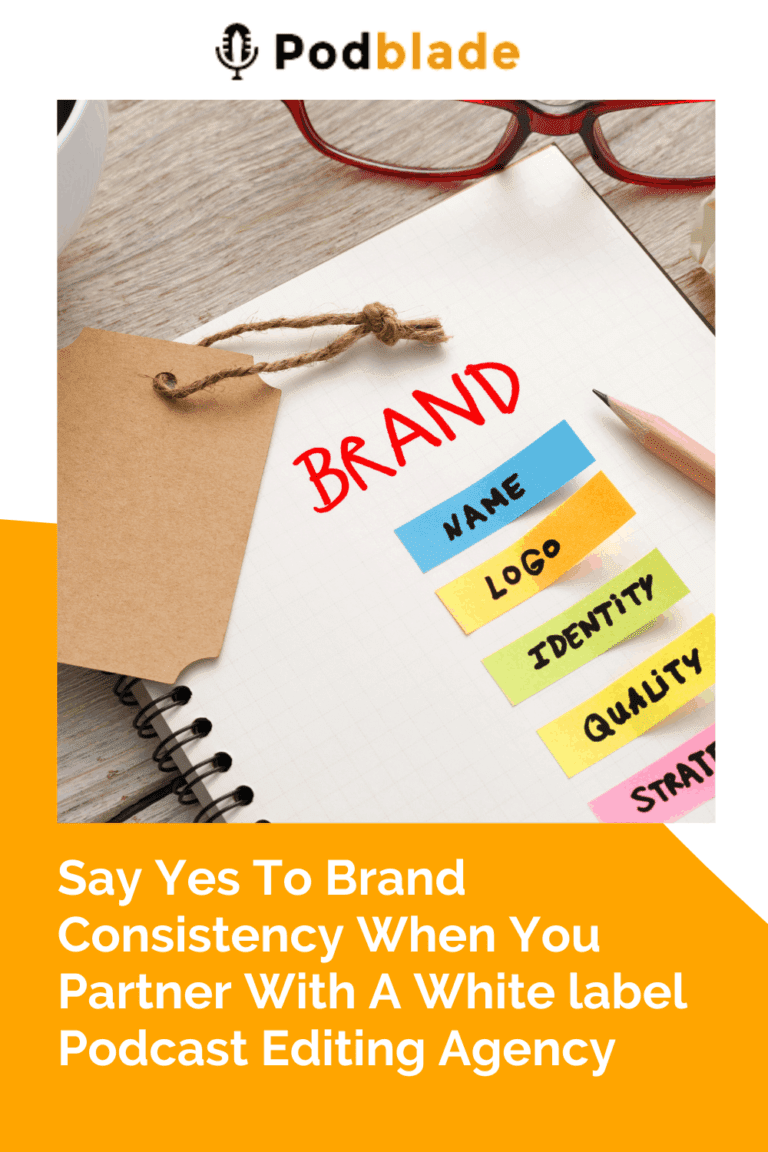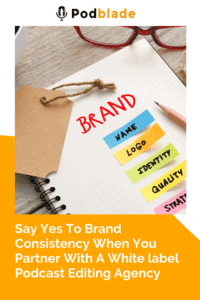 Do you wonder, how to build a podcast editing agency business that is different from all others? Or how to be a podcast coach who stands out?

Just remember one phrase: Whitelabel editing partner.

Yes, an inspiring, impressive, and consistent brand voice creates trust among your clients, provides you an edge over other editing agencies, and most importantly, gives you a loyal customer base.

What's the problem then you ask?
Agencies and coaches have to spend quite a lot of time, energy, and resources ensuring that their branding is on-point and consistent in every project.

The simple solution to this is opting for a whitelabel editing partner that gives them a branded and ready-to-use portal.

Want to know more about how whitelabel editing partner can help agencies and coaches in creating a consistent and strong brand?

Read on as we are covering every aspect of how the whitelabel editing partner can be a great helping hand in creating a consistent brand voice.
What Is Brand Consistency?
First things first, let's grab a quick idea about what is brand consistency?
Consistency is a strong aspect that dramatically affects usability and learning in all systems, including branding and identity.

Brand consistency encapsulates a lot and is more than just your brand color palette and fonts. It is about delivering branding elements, messages, and even the core product or service following uniform guiding principles.

Whether you decide to partner up with a white label podcast service provider or not, it is indispensable for you to ensure that all representations of your name such as logos, colors, fonts, content, voice, and messaging are on the same page and reflect a clear identity for every client.

While you scrutinize benefits and considerations before jumping into the white label podcast services, you must take into account this amazing benefit of brand consistency that you can gain through this partnership.
Problems Podcast Editing Agencies Face In Achieving Brand Consistency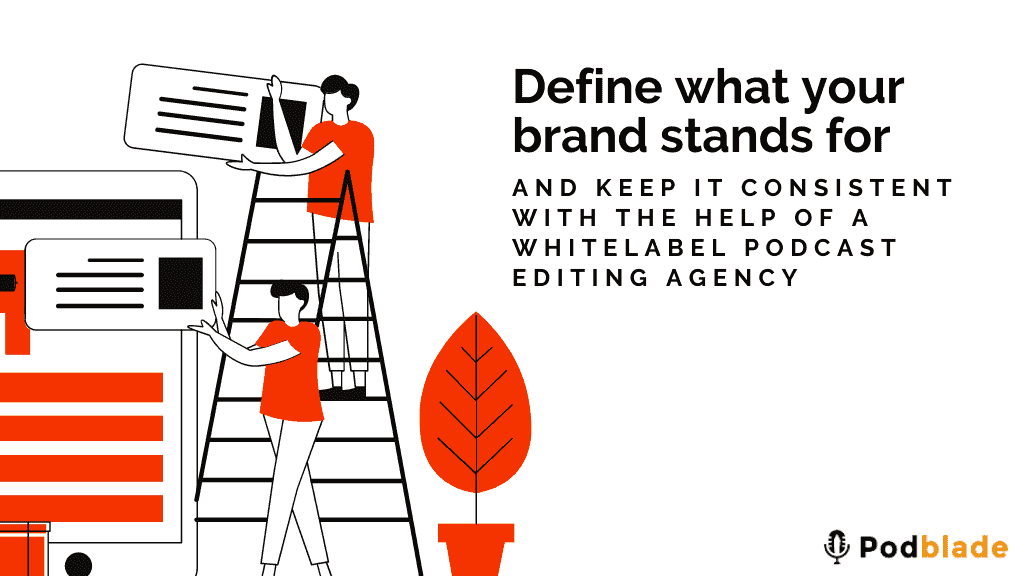 It's no wonder that your podcast strategy should include a well-planned branding blueprint,
but we cannot deny that maintaining brand image and consistency is something that requires a great deal of time, resources, and efforts. And, that is where podcast editing agencies and coaches face the problem.

Attaining brand consistency may not be that difficult at the start, but as agencies begin to onboard more clients, achieving it for every project may become overwhelming, time-consuming, and frustrating. Not to mention, spending so much time, money, and resources on just branding often keeps agencies from focusing on other important matters of the business.

White label podcast service providers can solve this major issue. By working with a whitelabel editing partner you will get a personalized portal in complete alignment with your brand image. This portal becomes a part of your brand so that there is no inconsistency in appearance, visual appeal, branding elements, voice, tone, and communication.

This designed-just-for-you portal is the major resource that a whitelabel editing partner can give to you and take away all the struggles of branding from scratch for every project.
How Can You Achieve Brand Consistency Through A Whitelabel Editing Partner
If you decide to partner up with a white label podcast service provider like Podblade, your branding will always be right on point that too without you making any effort.

So, how does it happen?

When a podcast editing agency decides to partner up with Podblade, our team conducts a meeting with the agency to grasp a clear and complete understanding of the agency and its offerings. After that, our designers work to create a customized and ready-to-use portal for that agency.

The portal is designed in a way that it just feels like an integral part of the agency. From brand colors to fonts, every aspect of this exclusive portal remains cohesive with the agency's core branding elements. This portal acts as a central resource for all the clients of an agency, so the agency remains consistent in its message – no matter who the client is and what service they are interested in availing.

Podblade is the best example of a whitelabel editing partner that create branded portals to editing agencies and podcast coaches. This customized portal matches the agency's branding and is integrated with the website so that when the clients log in to the portal, its look and feel reflect the rest of the agency's website.

The icing on the cake is that you get all these benefits without spending exorbitant money, time, effort, and resources. With this user-friendly portal, your branding is on-point, plus you'll always be able to own your customers and brand.

If these aspects are compelling you to try out whitelabel editing partner services, we suggest, do not think twice.

Advantages Of Achieving Brand Consistency Through Whitelabel Editing Partner Services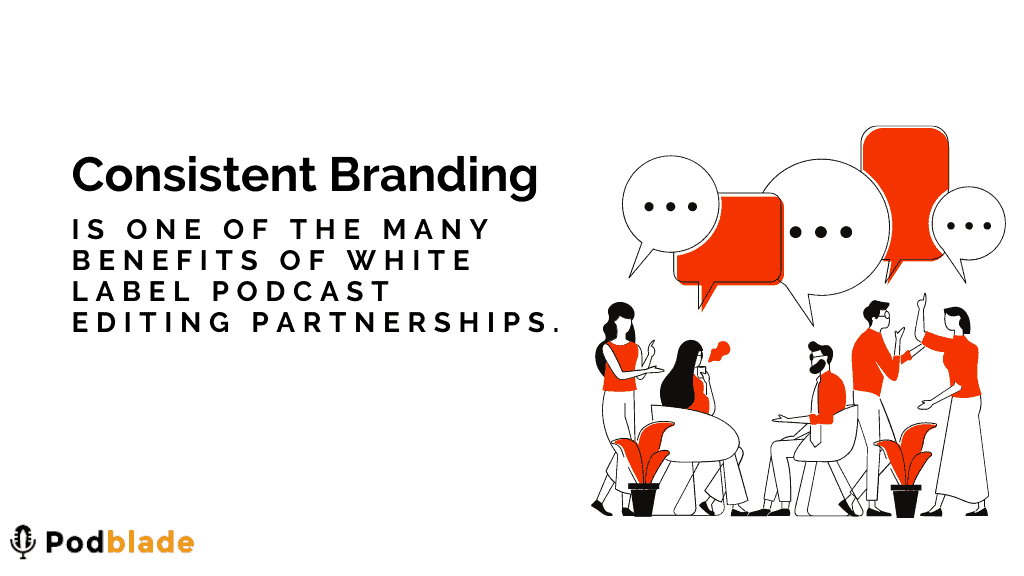 Consistent branding is one of the top 10 benefits of white label podcast editing partnerships.
A whitelabel editing partner ensures that your branding is consistent in every way. The biggest and the most important benefit that you reap from achieving consistent branding is that you can save a mammoth amount of money, time, and effort. Not only that, but it offers other advantages as well.

Let's have a look at some benefits of getting consistent branding through the whitelabel editing partner service.
Look Professional & Polished
When we talk about a brand and its consistency, the number one and the most important advantage that podcast editing agencies and coaches can gain through whitelabel editing partner is that they can easily portray and maintain a professional look.

Having everything branded in the same way looks a lot more professional and creates credibility in users' eyes.

You can make an in-house branded and customized portal, but every time, you onboard a client, you will have to send a separately designed menu of your services, rate cards, contract, and bill.

Working on creating different collaterals for different clients is a time-consuming task. Plus, there is also a huge risk of deviating from your brand personality, voice, tone, and elements.

You no longer need to work on creating different designs and collateral for your clients if you choose to partner with a reputable whitelabel editing partner like Podblade.

The branded and ready-to-use portal is super convenient no matter how many clients you have and it always makes your agency look highly professional as it always shows tone, voice, and branding elements that are synonymous with your brand.
Set up a call with us here and let us explain many other benefits of podcast reselling service.

Minimal Investment, Great Returns
In business, an option that requires minimal investment and gives maximum returns is every business owner's dream.

Building a brand identity and achieving consistency in all your communications, and services can be a very costly process. Luckily, with a whitelabel editing partner service, branding consistency can be attained with minimum investment and the returns it provides in creating overall business value is remarkable.

When you sign up for whitelabel editing partner editing service, you get a personalized branded portal as an agency or a coach. Your clients use this portal for communication and the exchange of work. You continue with the same portal no matter how extensive your clientele gets or the number of services you have in your offering.

You don't have to spend a dime and put your efforts into visualizing, designing, and creating a branded portal for your clients from scratch every time. If you use Podblade as your whitelabel editing partner, your portal is designed exclusively for you by our team members.
Flexibility To Grow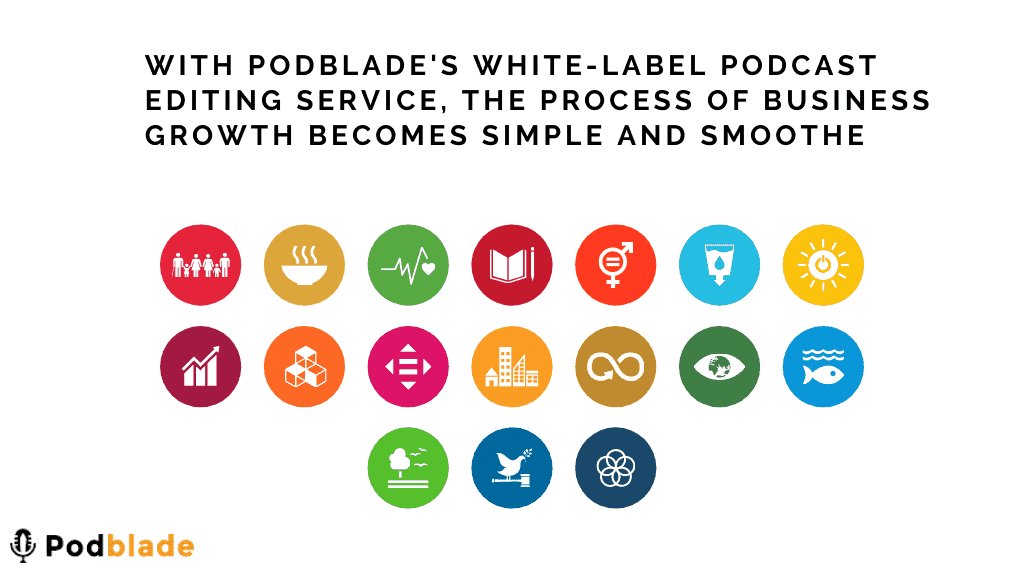 We know that growth and expansion always remain the top priority of business owners. When podcast editing agencies have a tight grip over the core understanding of their brand, it is easier for them to be benefited from new opportunities.

Wondering how?

With Podblade's white-label podcast editing service, the whole process of growth becomes even simpler and smoother.

Your portal already gets set up with your branding, and initial services offering, so when you decide to increase the roaster of your services, you simply have to add it to your existing portal. All you have to do is associate your new services or proposed actions with familiar business goals and values.

Since your agency has been consistent in the past, launching new services in alignment with your brand image helps your clients understand that this is just another step in your journey as an agency.

Your white-label podcast editing service provider will take care of your newly launched services. From the provision of actual service to integrate it in the existing portal, everything gets taken care of without you having to do a thing.

This means that you'll have all the time to expand your business and because with whitelabel editing partner service, the process is so simple and easy, you can seize every possible opportunity to scale your business.
Legal Protection
White-label podcast editing service not only helps you in attaining brand consistency but you can also gain legal protection with that strong and consistent brand image.

Yes, that's true.

See, we all know that imagery is regarded as the most significant aspect of your brand consistency toolkit. whitelabel editing partner service providers like Podblade ensure that they create a customized branded portal, where all the communication with your clients takes place.

If you partner up with us, use our whitelabel editing partner service, you will be using a branded portal for all your communication including exchange of work and billing. It keeps everything safe and official. It also conveys the idea to clients that they are associated with a legitimate agency that has everything integrated into one place.

On the other hand, if you don't have a portal and all communication takes place over the email, there is a chance that you may end up sending non-branded content or something gets lost in the translation or you may lose the track of a long thread. All these aspects are inconvenient, time-consuming, and may affect your consistent brand image. Your competitors or even your clients can take an advantage of this loophole and may try to copy you or use your services.

Why take that risk?
You can avoid all these issues with Podblade's white-label podcast editing services. Because here at Podblade, we work in the complete alignment of your brand philosophy and act as an integral part of your agency.

This consistency gives you increased legal safety for your brand when another company attempts to imitate or copy your work or style.
Closing Thoughts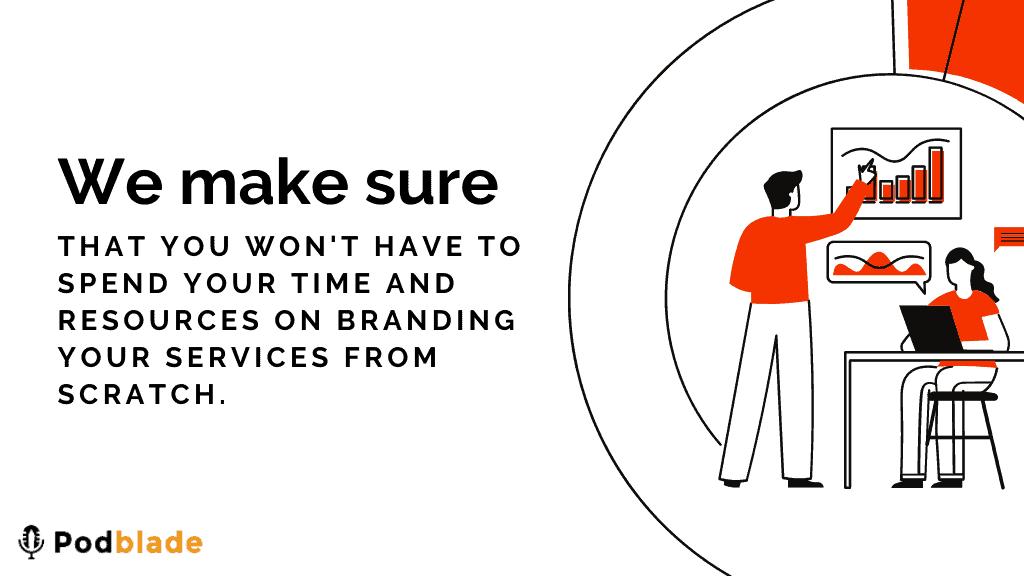 Whether you are a podcast agency or a coach, your branding can affect your reputation. White label podcast partnership can provide the best services to you without you having to worry about branding or doing anything. With whitelabel editing partner services, you won't have to spend your time and resources on branding your services from scratch.

In addition to getting a branded and ready-to-use portal, you can gain many other benefits as well such as legal protection, flexibility to grow, and always look professional.

With all these benefits and convenience, there's no way to ignore such a miraculous invention of whitelabel editing partner services.

If you run a podcast editing agency and dealing with the struggle of branding, we urge you to check out our whitelabel editing partner services.

To get to know more about the podcast business and have some useful tips and tricks, do check out our other blog posts.
Feel free to let us know in the comments below the issues your agency is facing at the moment. If you have any questions and want clarification about anything, schedule a call with us and our team will be delighted to guide you.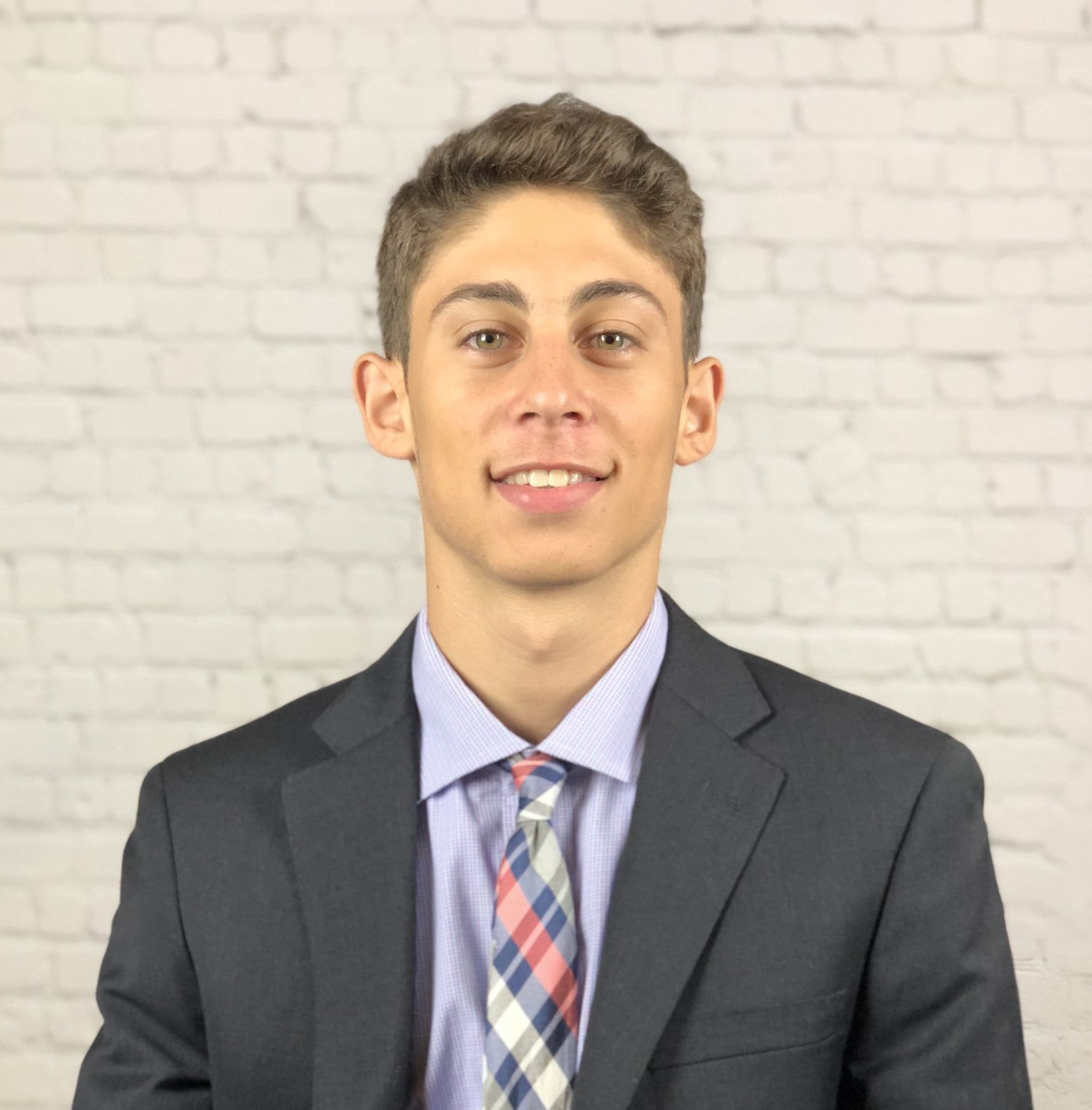 Rom is a podcasting specialist, ranking his show in the top 100 for all business podcasts in only his first 6 months since launching. He is also the co-founder of Podblade, creating an affordable yet professional editing solution for podcasters. When he isn't working, you can find him watching his favorite soccer team (Tottenham Hotspur) in action.