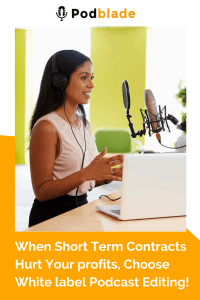 Do you often rely on contractual resources for your agency's projects?
Would you pick a white label podcast editing over freelance outsourcing?
Keep on reading and you will know why partnering with a white label podcast editing agency is better than a short-term contractual resource!
The ever-growing gig economy is altering the status quo for business owners. Working with freelancers and contractual workers might be a challenge for some agencies especially at the stage of scaling their operations.
When it comes to the podcast editing and marketing industry, hiring freelancers is gradually becoming a usual part of it. Many podcast editing agencies utilize the services of freelancers instead of keeping a full-time and in-house team.
Though working with freelancers can be great for the business at its nascent stage as the outlook on the podcasting global market suggests that the industry is growing rapidly, relying on short-term contractual employees can do more damage than good.
If you cannot afford a full-time team and at the same time do not want to risk your business by hiring freelancers, you are not powerless here. Podcast editing agencies have the opportunity to utilize white label podcast editing to drive better results for the business.
Read on to find out how short-term employees can hurt your agency's profit and how white label podcast editing can do wonders for your business.
How Short-Term Contracts Hurt Your Agency's Profit?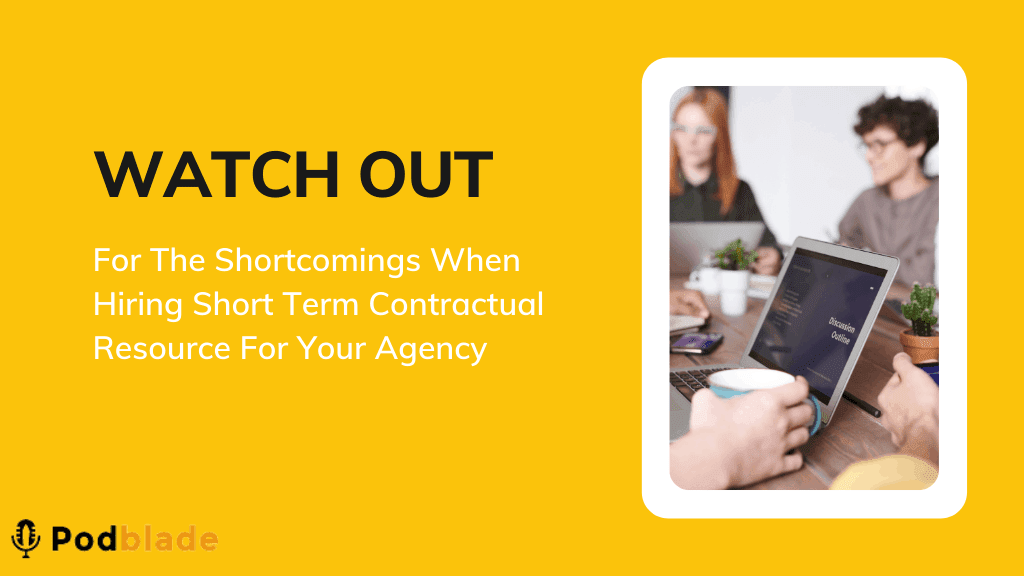 So, you nabbed a few freelancers for your podcast agency, who have got awe-inspiring portfolios and got all the impressive skill set. Their work is great, and they do the job well. You can see that they can keep your clients satisfied with their work and that they can have a strong impact on your agency's growth.
But there's just one problem.
These freelancers are your short-term employees, and your contract can expire with them at any time.
There are many hitches involved in working with short-term contracts and these can have grave repercussions for the growth of the agency's business.
Let's look into this picture clearly below!
Hunting & Recruiting Freelancers
Tell us if this story seems familiar to you: Availing the white label podcast editing service is not currently on the cards; rather, you are looking for some freelancers for your podcast business. You know well what to consider before hiring freelancers and now you are perusing the internet to get some leads. You got some impressive profiles, scanned them, and after the conventional recruitment process got those freelancers onboard only to realize that they are not available for your next project. Now you have to repeat the entire process.
Seems familiar, right?
We knew it because we founded our white label podcast editing agency to mitigate this issue and keep agency owners away from such hassle. We invest a lot to onboard and retain a super reliable and efficient team.
Undeniably, carrying out the strenuous and time-consuming task of hunting and recruiting freelancers is one of the biggest problems that agency owners face. Besides bringing frustration to the agency owners, the struggle of working with different freelancers also affects the timely delivery of work as well as impact quality. The best way is to make a smart time and resource choice with white label podcast editing services.
Inconsistent Quality
When it comes to business, the quality of your product or service can make or break the deal.
But, inconsistent quality can be inevitable when podcast agency owners do not opt for the white label podcast editing service and get the work done via short-term contracts.
Lack of consistent brand voice not only frustrates podcast editing service providers and podcast coaches but also impacts brand value negatively. Consequently, you begin to lose clients due to inconsistent quality work.
When an agency owner does not opt for a smart option i.e a white label podcast editing service and keeps juggling with the employees working on short-term contracts, the difference in the quality of work leaves clients unsatisfied and they are likely to bail out from the project.
Going From One Short Term Resource To Another
The remote workers or virtual assistants typically work on multiple projects at the same time. There is a chance that some of them won't be able to give their complete attention to your client's work.
You must also consider that just like the client who brings you more work and pays you more is important to you; similarly, the client who pays more to your freelancers is important to them. It's natural for them to pay more emphasis and attention to high-paid projects, which can ultimately be costly for you to outsource projects on a short-term basis.
Lack Of Trust, Authority & Ownership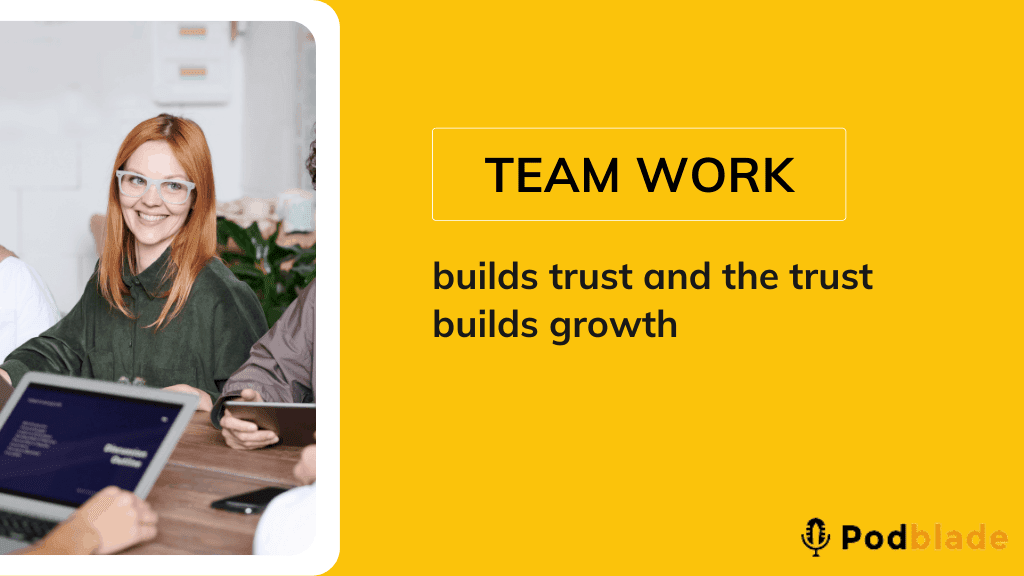 We bet that every business owner, manager, and leader would agree that: Team building is a tough task. Just factor in geographical proximity and the task of building a solid team becomes even toughest.
When podcast agency owners work with different freelancers located in different places, forming a strong connection and team becomes challenging for both. This lack of team spirit casts its impact on the performance and quality of work.
Also, factors of authority and ownership are very hard to nurture while working with short-term contract employees. All these factors affect work and performance in one way or the other, which in turn affects the profitability of the business.
For instance, if a solo editor or a freelancer does not cater to the requirements and does a mediocre job, the agency owner has no authority, where he can complain about it or register the point that the resource needs to be more trained and polished in their field. This is how a podcast editing agency can lose its clients as well as the money they pay to freelancers.
Whereas, in the case of white label podcast editing partnership, podcasters or editing service providers can reach out to their account managers in case something goes wrong.
The same goes for the ownership. If freelancers don't have a slot for more work for you, they might simply decline your request for further project extinction.
Rethink the idea of spending so much time and energy on contractual resources; rather, avail the white label podcast editing service. To get more information about our remarkable services, schedule a call here.
How White Label Podcast Editing Solves All These Issues?
Contrary to short-term contract employees and freelancers, opting for a white label podcast editing service offers everything in a smooth, systematic, and seamless way that too without you having to make any effort.
The white label podcast editing service can be a miraculous aid for your agency as it can easily be regarded as an all-in-one centralized service portal to grow your business.
If you are wondering how a white label podcast editing service can help your podcast agency business, then don't stress about it anymore because we are highlighting the effective mechanism of the system and some of its key benefits.
A Systematic Workflow Without You Having To Pay For Any In House Or Freelance Resource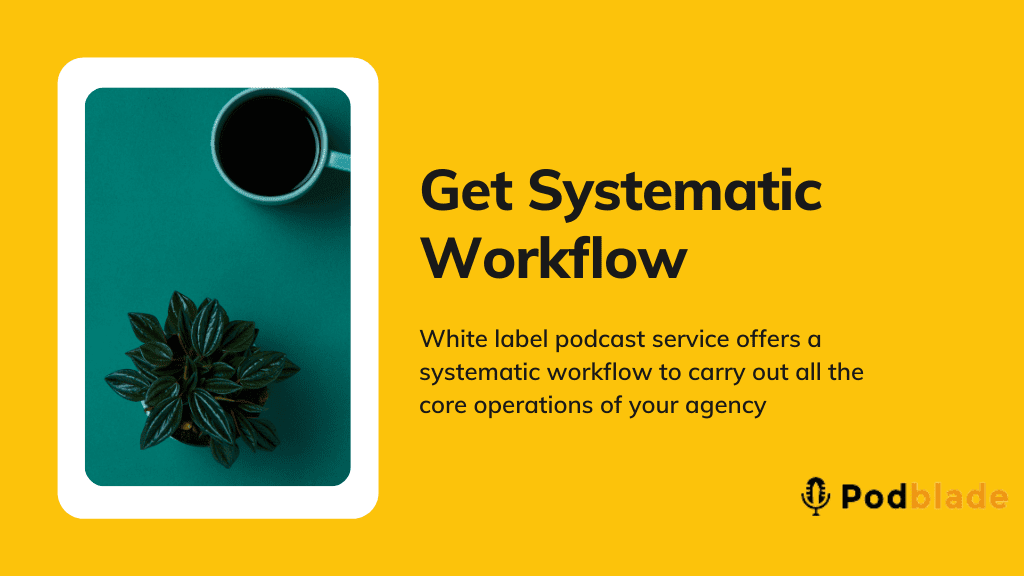 White label podcast editing service offers a systematic workflow to carry out all the core operations of your agency. It is an all-in-one service portal for podcast agency owners and coaches who want to save time and grow their businesses.
Opting for the white label podcast editing service is not just about availing of editing services, but reputable agencies like Podblade provide more than that. It's a holistic and thoughtful system that not only allows you to get your editing work done but also gives you the tools and facility to offer more services. In addition to editing podcasts, you can also offer social media content management and graphic designing for your clients. Even managing writing transcripts for podcast episodes is possible through a white label podcast editing service.
Forget The Hassle Of Managing Team And Freelancers
Managing your podcast agency involves the hassle of chasing and running after freelancers and employees who work for you on short-term contracts.
The white label podcast editing service works in such a way that it allows you to get all the tasks done without having to manage a team of freelancers. With the white label podcast editing service, you can beat your team management woes and focus on things that matter the most for the growth of your business.
One of the greatest benefits that you can reap by opting for a white label podcast editing agency is to use their in-house, full-time team of experts and professionals. Yes, that's the focal purpose of a white label podcast editing agency, but the ones with good rapport ensure top-notch quality of work through constant quality control methods. At Podblade, for example, every employee's work is assessed by the quality control team periodically and our team also gets training to bring finesse to their work.
So basically, all of this suggests that all you have to do is form a partnership with a white label podcast editing firm and forget about all the issues that come along with the gig workers and with the employees working on short-term contracts.
A Dedicated White Label Podcast Editing Team
Say goodbye to all those short-term employees and gig workers with the white label podcast editing service. Rather, get access to a dedicated team that goes above and beyond the job description to exceed your clients' expectations. Not to mention, you'll get this committed team of experts to work for your clients without being on your payroll and without you being involved in their recruitment, development, and management.
Great white label podcast editing service providers spend a humongous amount of time, energy, and money to assign you a team that delivers upbeat quality work. So, when you sign up with a white label podcast editing agency, you just don't simply get a team who has learned the ropes; rather, you get a team who over-performs, steps up its professional game, and makes you wonder how you ever functioned without them. Yes, we are that confident about it!
Additional Benefits Without Additional Staff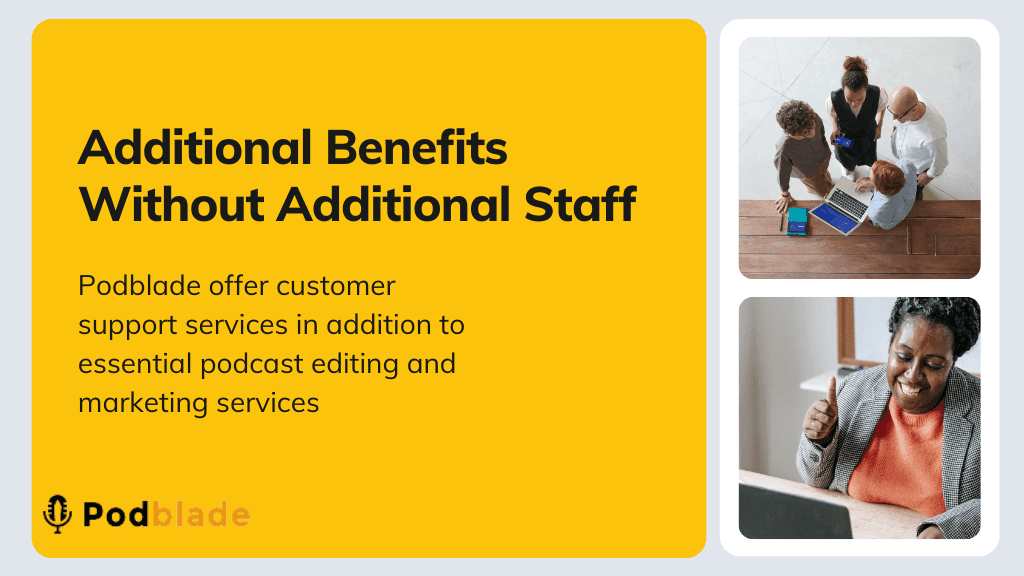 You probably would be thinking what could be better than getting all the editing tasks done without spending any dime or energy on managing freelancers. But, that's not all. With the white label podcast editing service, the benefits are unlimited.
In addition to the editing task, reputable agencies also offer additional benefits and support. For instance, here at Podblade, we also offer customer support services. This means that if your agency signs up with Podblade to avail of the white label podcast editing service, then all the queries, concerns, and communication with your clients will be done by our customer support team.
This way, you are not only able to avoid managing and paying to freelance or short-term editing teams but you can also totally skip the customer support department. Isn't it a perfect example of killing two birds with one stone? We surely think, it is.
Wrapping Up
This single but strong and strategic stance of forming a white label podcast editing partnership can keep you away from all the hassles that short-term contractual employees bring to you. Also, you can expand your business with the money that you'd otherwise spend on hiring and retaining freelancers.
The white label podcast editing service saves you from the struggle of finding the best resource at an affordable cost as well as helps you in keeping your capital to focus on things that matter the most for the growth of your business.
If you'd like to see your podcast agency grow and want to give a try to the white label podcast editing service, schedule a call with us and we'll show how beneficial this partnership can be for your business.
If you liked this article and would like to gain more information about white label podcast editing, check out our blog.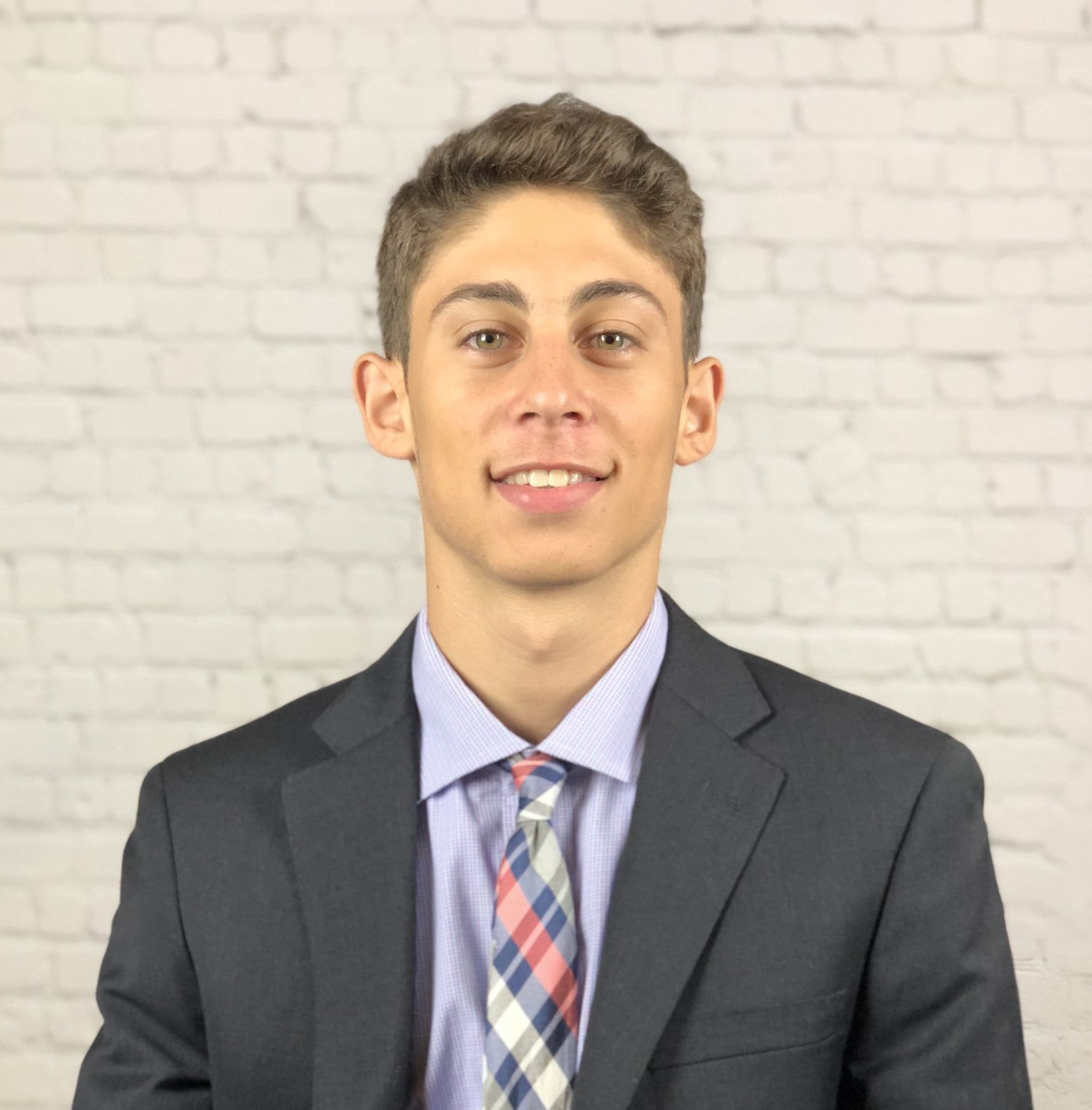 Rom is a podcasting specialist, ranking his show in the top 100 for all business podcasts in only his first 6 months since launching. He is also the co-founder of Podblade, creating an affordable yet professional editing solution for podcasters. When he isn't working, you can find him watching his favorite soccer team (Tottenham Hotspur) in action.