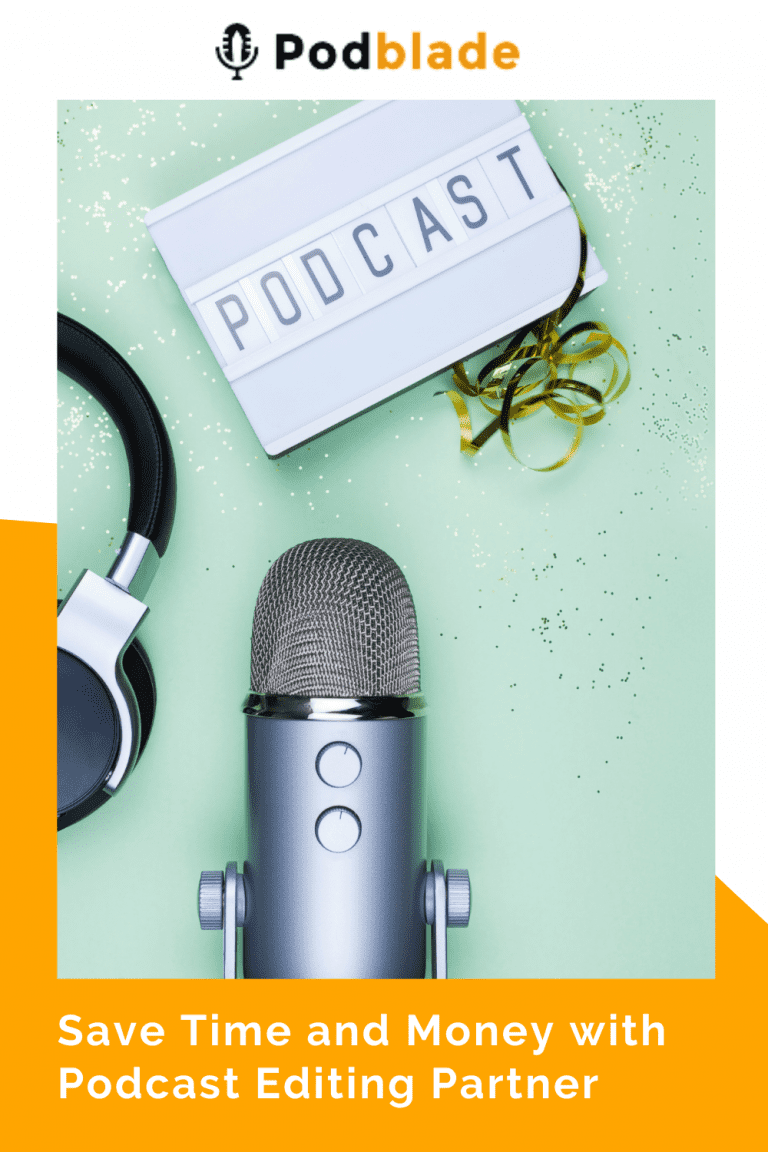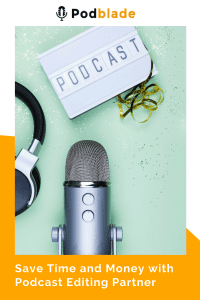 If you are not sure if a podcast editing partner is giving worth giving a shot, this article will walk you through why it is important!
Both time and money are crucial for your podcast and take it to the new heights of success. Almost every decision you make for your podcast involves time and money in some way or another.
In this post, we are sharing how you can save both time and money by having a podcast editing partner.
Keep reading to find out how you can reap different benefits by saving your time and money simply by having a podcast editing partner by your side.
Time Saving Benefits of Podcast Editing Partner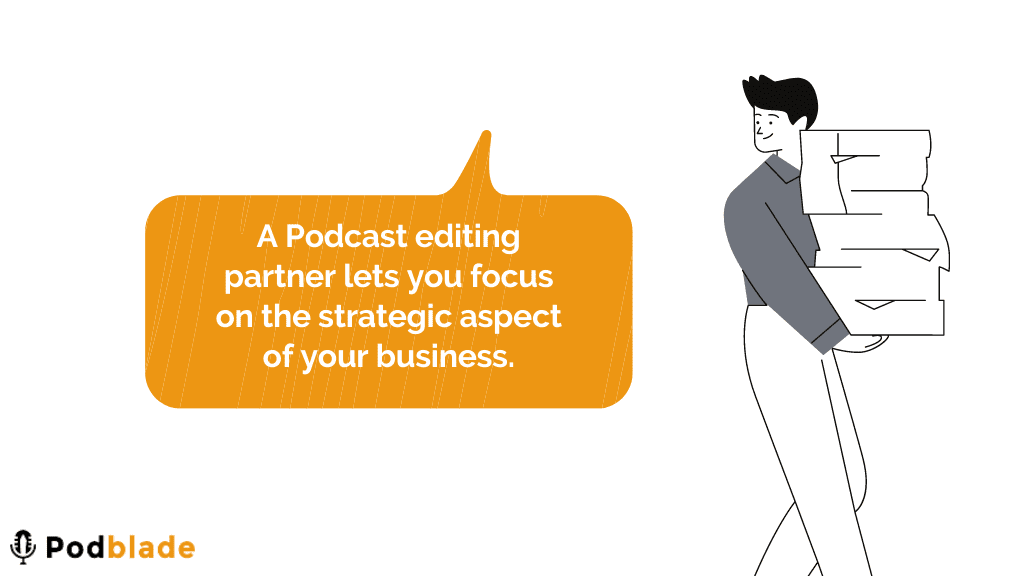 Like any business owner and passionate professional, you also feel the urge to accelerate your business growth. You have so many plans, strategies, and new ideas to try that can boost the success of your podcast.
So, what's the hurdle on the way?
It is time!
You just cannot find some time to do all that and take your business to the next level.
In such a scenario, a podcast editing partner can be your best bet. This partnership will serve you in many ways and would give you a lot of time to focus on the strategic work of your business.
Here are some of the major time-saving benefits that you can gain if you opt for a podcast editing partner.
Don't overstretch yourself doing the same menial tasks for hours
When you choose to edit your podcast on your own or even get it done by your in-house staff, you are required to spend a considerable time on its planning and then on performing the task. Then you review the editing and if something is not up to the mark, you are back to square one.
Want to save yourself from moving back and forth in this menial and repetitive task? Schedule a call with us to know about how we can help you here
Opt for a podcast editing partner!
When you form this partnership with a reputable white label podcast editing service provider, all you are required to do is hand over your requirements and explain your style, tone and personality once and they take care of everything. The process is fast, simple, and time-saving.
Save time by letting professionals do their job
Many podcasters outsource podcast production to professionals because they take less time to do their job.
When you have a podcast editing partner, you get the services of these professionals. With this, you not only save your time but the turnaround time of edited episodes will also reduce. Meaning, you will be able to publish episodes more frequently.
Opting for a podcast editing partner does not only save time but it gives you far-reaching benefits for your podcast.
Invest your time in growing your podcast
Growth is an inevitable factor that remains on top of every podcaster's agenda. Whether you have a podcast as an extension of your business, you use it as a marketing medium, or just into it as a hobby, we all seek growth, expansion, and visibility.
But, the big question is how you are going to get it if you keep yourself indulged in repetitive and menial tasks like editing.
The answer lies in partnering up with a podcast editing provider!
This will wipe off one of the time-consuming tasks from your plate and you will have ample time in your hands to focus on business-critical tasks.
Aren't these benefits great? Get Podblade as your podcast editing partner to save time and money and get your job done impeccably. Schedule a call to know more about our services.
Money-saving benefits of having a podcast editing partner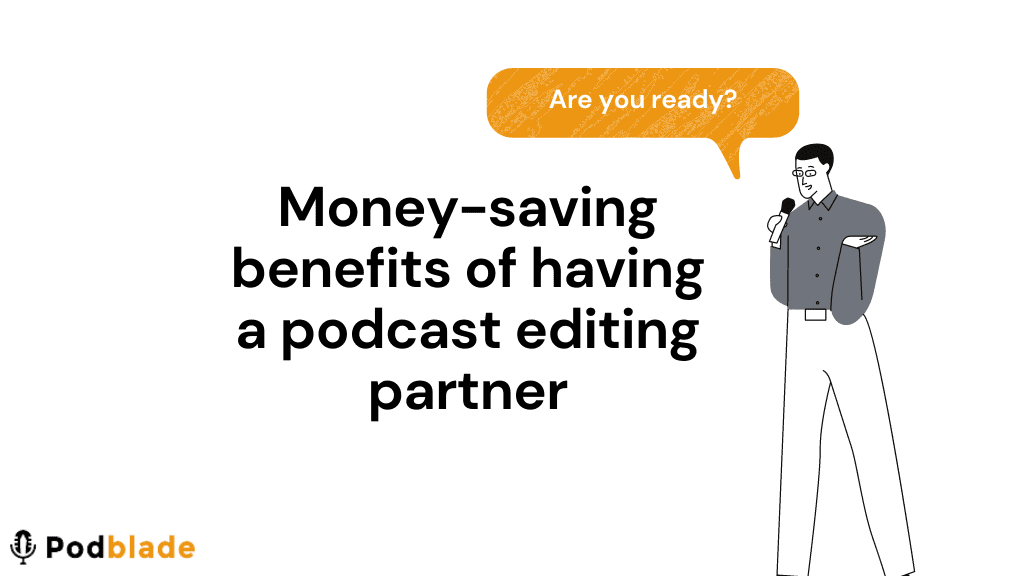 Slashing your cost down is the top reason why you should consider a podcast editing partner.
Save salary expenses
When we talk about cost reduction in your podcast business, salary overhead comes first to mind. With a podcast editing partner, you can save a lot of money by eliminating this overhead. When you avail the service of a podcast editing provider, you only pay when you need the service. This strategy is far more cost-effective than having a full-time employee.
Opt for a flat rate editing provider to save money
A flat rate system is another winning proposition that a podcast editing partner can offer you and it will save a lot of money for you.
Wondering how?
Let us shed some light on that.
No matter how extensive your editing task is and no matter how many clients you have, you will be required to pay a flat rate fee for each editing task.
For instance, here at Podblade, we charge a flat rate for all our clients. Suppose our flat rate is $200 and you have 15 podcasts to edit, we'd charge that standard rate of $200 for all 15 podcasts.
Simply put, with a standard rate system, the charges do not increase as the work increases. On the contrary, when you avail the services of a freelancer, they usually charge based on per hour and their bill shoots up as you assign kore work. So, if you want to save money, a podcast editing partner with a flat rate is an ideal choice for you.
Save resources, tools, equipment, and software expenses
When you decide to edit your podcast on your own or have an in-house resource to do the job, you should keep in mind that you are bound to incur a lot of expenses. First, you have to get different software and tools to carry out the task. That's not all, you will continue to spend money on subscription renewals and updates. If you prefer to have an in-house staff, there would be even more expenses such as the cost of training your employee, utility bills, office maintenance, refreshment and tea, and miscellaneous overheads that simply skyrocket your expense column in your balance sheet.
You can save money in your business by simply choosing a reliable and trustworthy podcast editing partner. This way, you can get your job done that too without any extra expenses. You are just required to pay the charges of the services you are availing of and nothing else.
Wrapping Up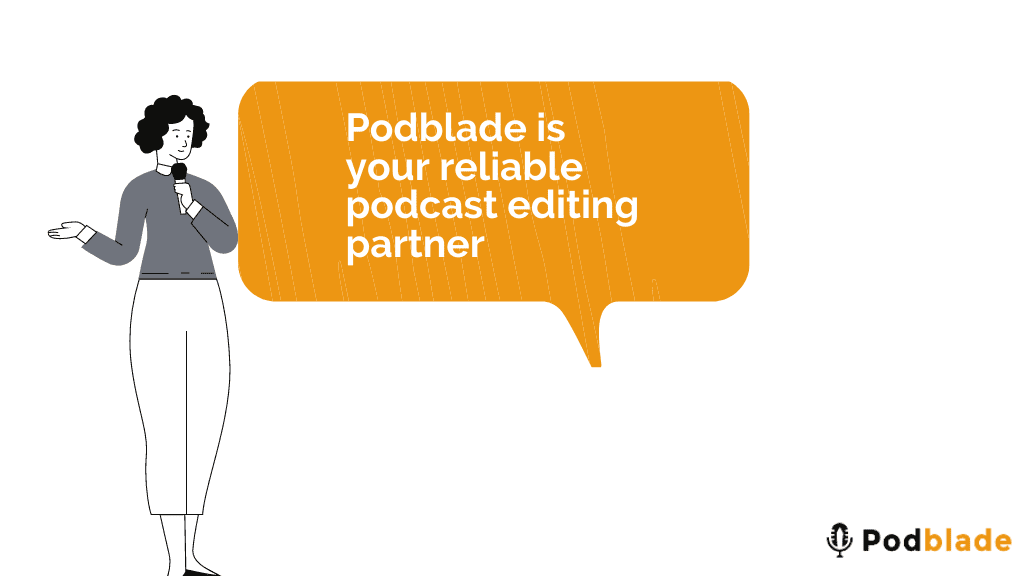 Whether you are on a mission of slacking costs or just want to avail optimal professional services, allying with a podcast editing partner can be fruitful for your podcast in more ways than one. It will save both money and time and you'd be able to focus on the growth of your business.
If you are looking for a reliable podcast editing partner, then keep Podblade in your mind. We are a full-spectrum podcast service provider as well as render customized services. Schedule a call with us and our team will answer all your queries.
Check out our other blog posts covering different aspects of podcasts.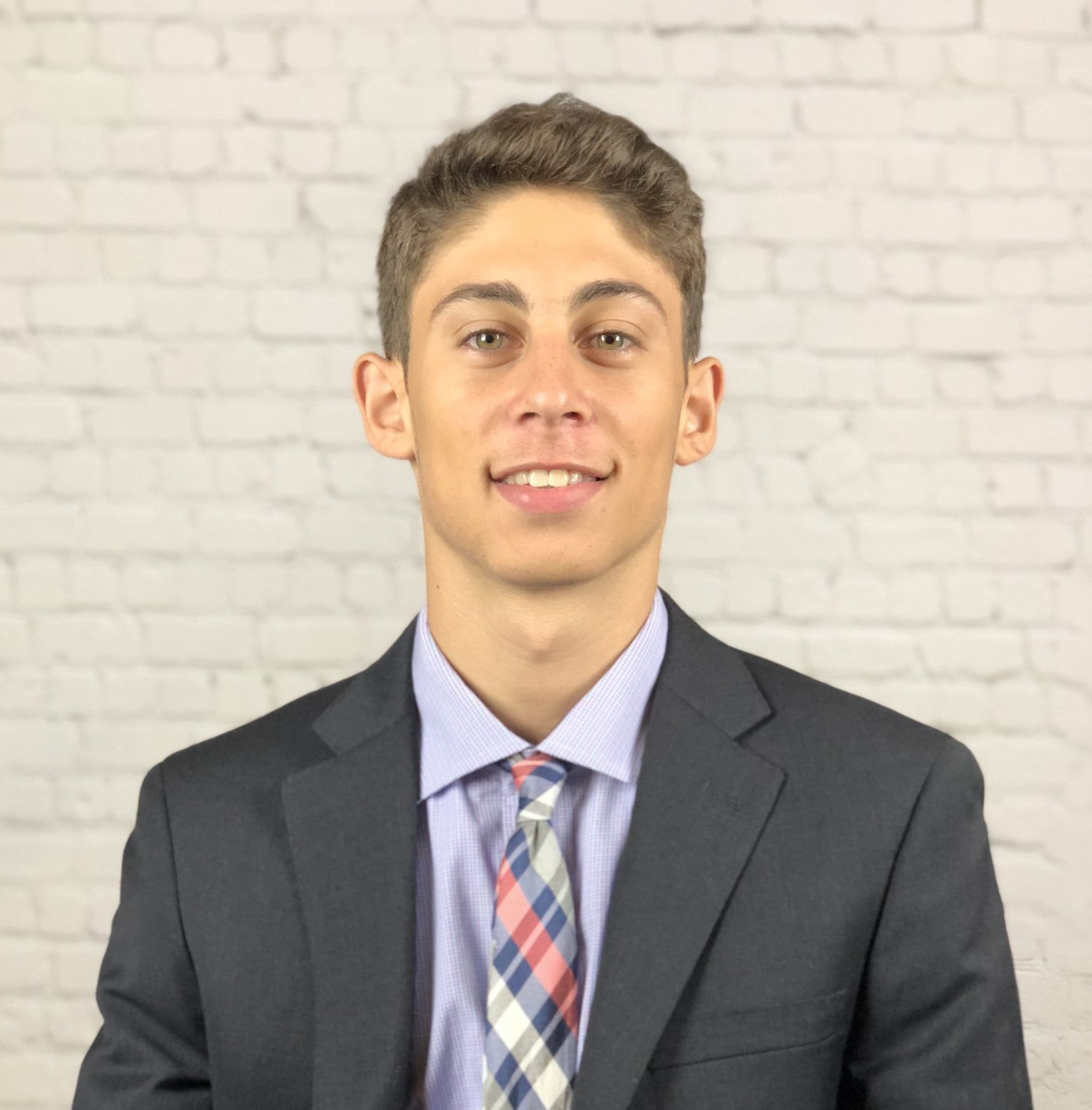 Rom is a podcasting specialist, ranking his show in the top 100 for all business podcasts in only his first 6 months since launching. He is also the co-founder of Podblade, creating an affordable yet professional editing solution for podcasters. When he isn't working, you can find him watching his favorite soccer team (Tottenham Hotspur) in action.