Let's face it, you're not a superhero!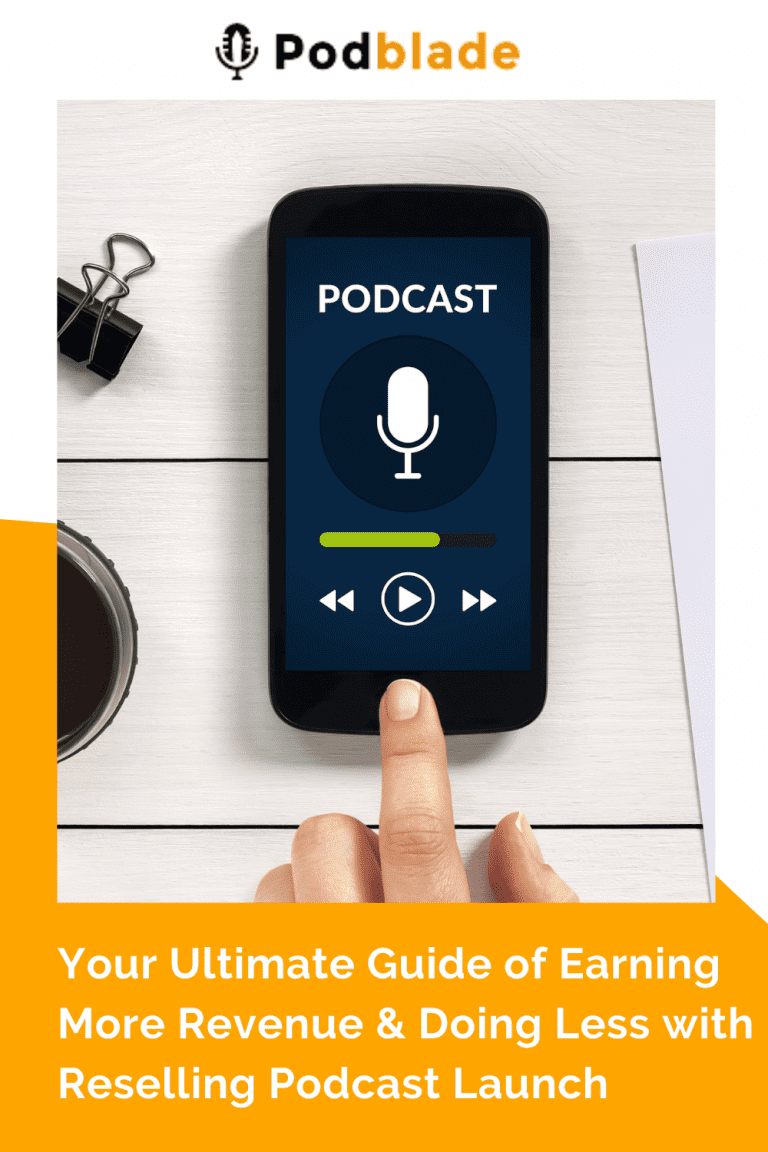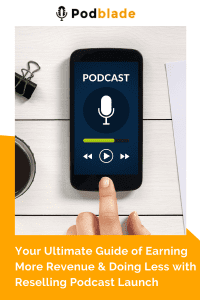 No matter how many tasks you can juggle daily or how many hats you wear, you simply can't do everything.
Well, honestly, no one can.
Podcast agency owners go the extra mile and are ready to do anything just for one thing: the success and growth of their agency. Scaling is a universal phenomenon. Every business wants to scale, be it revenue, clientele, resources, growth, or in any other area. Yet, there is always something or the other that can impede your way to expansion and growth. Time, resources, capital, knowledge are some of the factors that can play an integral part in the growth and expansion of your agency.
So, the real question is how do you break through all the restraining factors and expand the business of your agency?
The answer is reselling podcast launch service.
Reselling podcast launch service can be an effective strategy for your agency that allows you to scale your revenues without doing a lot.
Want to know how is it possible?
Read on and discover how this miraculous phenomenon of reselling can eliminate your work while gives you ample opportunities to maximize your revenues.
Reselling Podcast Launch Service: A Ticket to More Money While Doing Less Work
More and more organizations and businesses are leaning towards third parties to cater to the fulfillment part of their business. The trend is also prevalent in the podcast industry. Podcasting is booming and the overall industry is growing by leaps and bounds. As businesses and brands are launching their podcasts, the business of podcast editing and other service provider is also increasing. To meet this ever-increasing demand, many agencies are adopting podcast reselling services.
Reselling podcast launch is an innovative option that you should start thinking about. It is especially a sound strategy for those who are trying out their hands for the first time on entrepreneurship. But of course, it does not mean that the strategy of reselling podcast launch cannot work for agency pros. It is equally good for them too as it allows them to expand their business.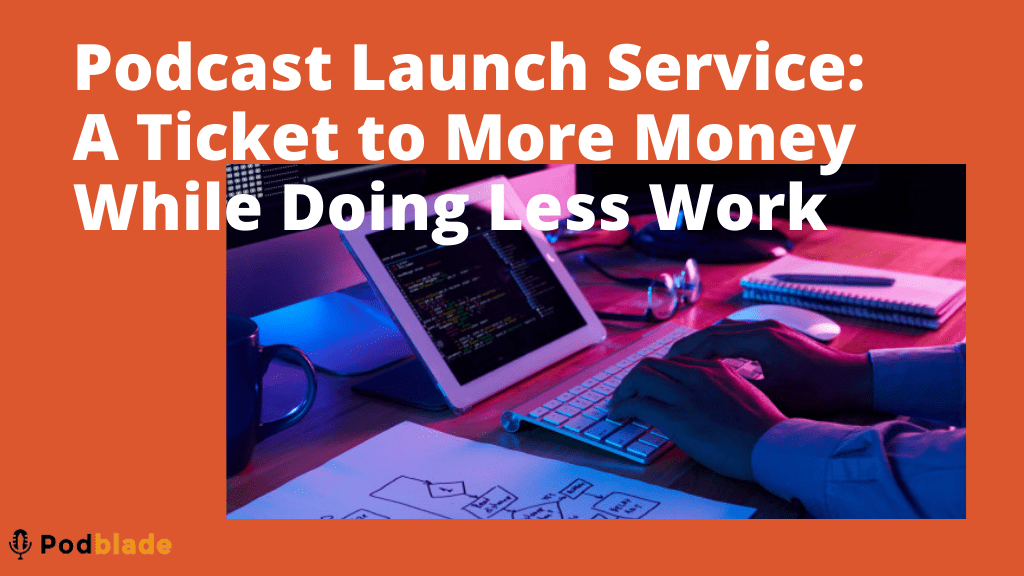 Both Newbies, as well as experienced podcast agency owners, can take advantage by reselling podcast launch service. There are myriad ways in which this reselling service can positively transform your business.
The two major aspects that we are discussing in this post are:
How availing reselling podcast launch service can make you do less work?
How can this service make you earn more revenue?
So, without further ado, let's delve into the key discussion.
How Reselling Podcast Launch Reduces Your Work Burden
When we talk about business and its success, growth, and expansion, we naturally begin to think about hard work, pushing boundaries, and going beyond our limits.
But, here at Podblade, we believe that is not the case always. You can also win the game by playing smart and not hard.
Reselling podcast launch can be the smart choice for your business that can guarantee you success and growth of your podcast agency that too without putting any effort. From A to Z, your reselling podcast launch service provider will do everything for you. Let us explain to you how your white label agency can fulfill all your tasks through the work processes of our very own agency, Podblade.
Discovery Call: First of all, our team gets to know you, your agency's philosophy, and your clients through a discovery call. We also address all your concerns and answer all the questions that you raise.
Setting Up: Once you are on board with us. The next step is to set up your portal. Our team design a customized branded portal for you that we integrate on your website and then everything from the exchange of files to billing happens on this portal.
Periodically Reporting: We also provide full reports of ROI so that you can see how beneficial your investment is. You can also see statistics and data related to your clients and work through our portal.
Now you have an idea how an agency that resells podcast launch can completely take off all the responsibilities from your shoulders. If you still need clarification, let's discuss generally how reselling podcast launch service can reduce your workload.
Here are some ways in which reselling podcast launch can wipe off all the work from your plate.
Save Time Through A Fully Automated Platform
How much time do you think a typical agency owner spends on:
In communicating service offerings and pricing to prospect, clients,
In drafting and writing emails
In core operational tasks such as editing, writing podcast scripts, etc.
In receiving and giving feedback
In billing clients
And finally,
How much time do you think it takes from receiving an order to its completion?
All these things take an insane amount of time. And, not only time but energy, resources, and capital as well.
Wouldn't it be better to opt for reselling podcast launch service?
We think, it definitely would.
Reselling podcast launch service works by following a fully automated system. Opting for this reselling service not only saves your time but you can also respond to your clients quickly. This ensures that there are no missed sale opportunities.
Another advantage of working through an automated system is that there are fewer chances of errors. For instance, there is a possibility of human error while billing a client, but when it is done through an automated system, each client is billed for the exact services he availed.
No Fulfilment & Operational Work Processes
In a podcast editing agency, managing operations is the key to providing podcast editing services to clients. No matter what the size of the agency is, managing core operations is the core aspect of managing the agency's business.
Operations management encompasses managing employees, tools and equipment, technology, information, and other resources that make delivery of service possible.
As an operation department is the most significant department of a podcast editing agency, it requires immense attention, an insane amount of time commitment, and a lot of work to keep the wheels of your business turning.
But, for an agency owner, the real dilemma is if he looks after operations of the agency all the time, then when should he focus on the growth and expansion of the business.
Therefore, many agency owners opt for reselling podcast launch services.
The phenomenon of reselling podcast launch is so powerful that it eliminates all the operational tasks. The system of reselling podcast launch is designed in such a way that your clients remain your clients, you charge them, but all their requirements are fulfilled by the agency who you partner up with to resell podcast editing.
All the core operations from start to end are looked after by your partner agency. From initially communicating with your clients, understanding their requirements, accepting their work requests, working on their projects, handing over the job completed, receiving feedback from the client, and even billing the client; all these tasks or any other work imaginable is done by your white label podcast agency that too under your brand name.
This means that you don't have to worry about even a single thing about managing the operations of your business.
As stated above operations management is the lifeblood of any business, therefore, an agency owner's concern is not merely to get the things done but get them done impeccably with finesse quality. If we analyze the role of a white label agency from the perspective of quality even then you won't be disappointed with the strategy of reselling podcast launch service. All you have to do is make sure that you ally with a reputable agency whose work and portfolio speak volumes about their work.
No Headache of Managing A Team
Beat your team management woes through a white label podcast editing partnership. You don't need to indulge in strenuous activities of managing HR processes such as hiring, training, and development. Not only that you can avoid all these tasks altogether but you can also save a lot of money that you'd otherwise invest in recruiting and retaining your employees. By utilizing the reselling podcast launch service, you can get rid of all the problems of recruiting an in-house team yet you can avail all the benefits of working with a competent and highly qualified team.
With a reselling podcast launch service, you just have to pay a flat rate and you can avail services of a highly professional and dedicated team.
No Need to Have Other Departments Too
When you opt for reselling podcast launch service, you not only save yourself from operational aspects, but you also don't need other departments.
Yes, that's true. Reselling podcast launch service can also eliminate the need for other departments like customer service and billing departments. Your reselling partner doesn't merely perform fulfillment tasks but they also provide other services such as customer service and they also do billing for you.
Reputable agencies that provide reselling podcast launch services have a holistic and systematic process in place. For instance, at Podblade, our reselling podcast launch service includes everything. As soon as you sign up with us, we design your customized portal and then integrate it with your website. It is this portal, where all communication, exchange of work, and billing takes place. This means that you don't have to worry about a thing.
What Would Be Your Role Then?
As a podcast agency owner, the only thing that you have to do is receiving the billed amount and devising expansion strategies. When you opt for reselling podcast launch services, your white label agency does it all for you. From accepting work to fulfillment and billing, every core operation is managed by your dedicated white label podcast agency. It is super convenient to onboard a client and to have your white label agency take care of everything. From a business owner's point of you, this whole setting is like a dream. It allows you to take as much work as you can without any hindrance and extra money and effort.
If you are convinced already after reading how reselling podcast launch can significantly reduce your workload, you can schedule a call with us to avail our reselling services here. Our team will provide insights into how this whole system works.
How Can You Earn More with Reselling Podcast Launch
Most entrepreneurs and business owners believe that to earn more, they must give up their habits and social life to spend that extra time on acquiring new clients. And, even when you get new clients on board, you have to give up even more and crush yourself to cater to their work.
If these things are not a cup of your tea, then how can you earn more revenue, expand your agency and keep your center?
There's a way that requires you to be a little focused and smart. Reselling podcast launch service is the way to increase your revenue potential without sacrificing your life.
With reselling podcast launch service, you can earn more or if you don't have a podcast agency yet, you can easily consider starting one and earn.
Below, we are highlighting some of the ways through which reselling podcast launch can help you in increasing your revenue.
Earn More by Pricing Your Services Right
The number one way through which you can earn more through reselling podcast launch service is by pricing your services rightly.
Not getting what we are saying? Don't worry, we are explaining everything.
When you opt for reselling podcast launch services, you get the freedom to set your prices. You can choose the podcast service or services that you want to offer to your clients, pay a flat rate to your white label podcast agency, and then sell it at your price to ensure profitability.
A white label podcast agency usually does not have a say in how much you charge your clients. If you want to partner up with Podblade to render reselling podcast launch services, you get full freedom to set your prices. The higher you'd price your service, the more would be your earnings. All you have to do is set a pricing strategy by carefully scrutinizing your clients' profiles. This ensures that no matter what price you charge, your clients should have the potential and power to pay. This flexibility to set your prices gives you control over your finances and empowers you to maneuverer your profit margin according to your business figures and calculations. Isn't it a strong reason to resell podcast launch and grow your profit margins?
Quick & Easy Expansion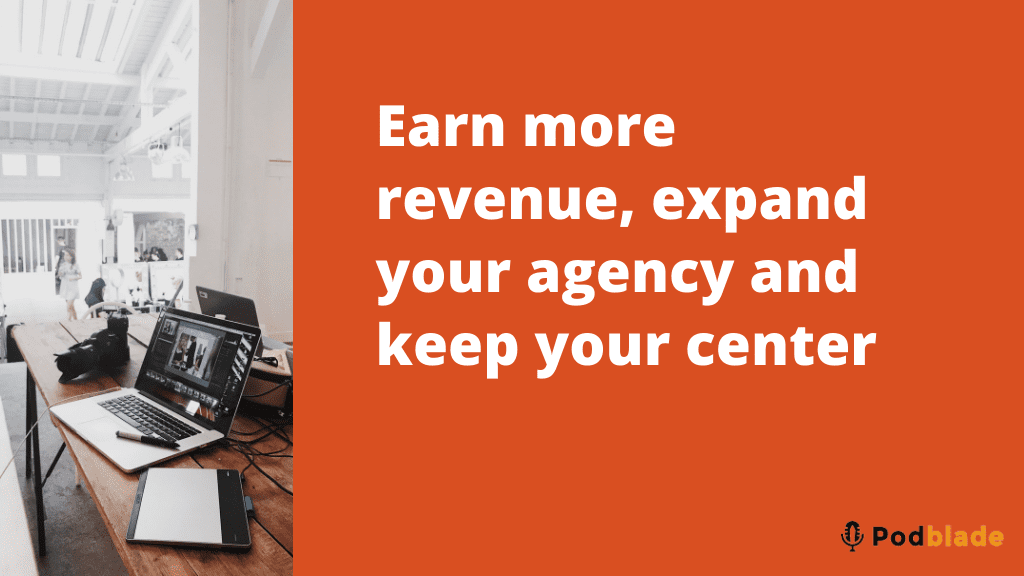 Who doesn't want his business to grow, flourish and expand? We certainly don't know any person who wouldn't want to.
The option of reselling podcast launch can allow you to expand your business real fast and in an easy way. And, when you expand your business, the revenue stream of your business also increases.
First of all, as you don't have to worry about the operations, you get ample time in your hand to devise an effective expansion strategy. In most instances, agency owners get an immensely positive response from their clients and look forward to expanding their business, but they couldn't, merely because they are too occupied with overseeing and managing current operational affairs. Reselling podcast launch gives you this opportunity to expand your business easily and quickly.
Secondly, you can easily expand your service offerings without worrying about how you are going to manage the operational aspects. For instance, you don't have to think about hiring an additional resource to cater to additional work and similar facets of that nature. Opting for reselling podcast launch service means you can sell any of the services of your white label partner to your clients straight away.
Reselling podcast launch is a strategy that can be super beneficial for you when you want to take your agency business to the next level. All the work is done by your white label podcast agency without adding extra burden or work on your shoulders. You work on managing and growing your relationship with your clients and your reselling podcast agency will take care of all the work by being behind the scene.
Low Overhead Cost
Reducing overhead costs remains every business's top priority.
Do you know why?
Lower overhead cost automatically increases your revenue. Therefore, this is another way in which reselling podcast launch enables you to increase your revenue.
Podcast agencies consider their white label podcast partners as the key to their growth.
According to the global outsourcing survey, cutting costs is the number one reason why agencies choose to outsource.
It's not hard to see how reselling podcast launch can reduce overhead costs and eventually lets you maximize your profit. There are more than one ways in which white labeling can allow your agency to minimize operational costs. As an agency, you don't have to invest in additional staff, tools a d equipment as your white label partner does all the tasks for you, leading to keep your overhead cost minimum and hence maximize profit margins.
One of the major costs head in which you can save money by reselling podcast launch services is staffing cost. Reselling podcast launch enables you to pay a flat rate for an entire team of professionals. Recruiting an editor, a sound engineer, a graphic designer, a content writer and more can exponentially increase staffing cost. And, that's only when the recruitment goes successful. In case of a bad hire, your agency would incur more costs. According to a survey conducted by Career Builder, three out of four employers get affected by bad recruitment. That's not all, you'll be shocked to know the average cost of a single bad hire. According to the same study, a single misfit recruit can cost an organization approximately $15,000 on an average. Just compare this cost of bad hire with the price to pay to a white label podcast agency and you'd know where you should invest your money.
Ensure Recurring Revenue
Maintaining a consistent recurring revenue stream becomes possible through reselling podcast launch. One of the ways in which reselling podcast launch ensures a steady recurring revenue stream is that it allows you to form long-term contracts with your clients. When short term contracts hurt your profits, choose white label podcast editing and form a long-term business relationship with your clients. While your agency may not be making headlines, but every missed sale opportunity and even a single client leaving your agency could cost you an arm and a leg. Therefore, it is imperative to forge a stable and long-term relationship with clients. Forming a prolonged contract ensures that the client would stay with you and would continue to avail your services, which in turn means, your revenue stream will be steady.
Having a recurring revenue stream gives you financial freedom as well as security. When you have this security, you as an agency can try out new strategies to expand the business and further increase the income. Some of the unique ways in which having a recurring revenue stream can help podcast agency owners to further increase their revenues are as follows:
It allows agency owners to retain their current clientele and identify and exploit up-selling opportunities.
It enables you to identify clients who are likely to switch and then take actions to make them stay as well as attract new ones.
It allows you to keep a track of metrics to analyze performance and take necessary actions.
Other Ways to Increase Revenue Through Reselling Podcast Launch Services
Above are some of the major ways in which an agency owner can increase his profit by doing less. Besides all these ways, one of the best benefits that you can reap by reselling a podcast launch service is that you can focus on your core competency and hence on the growth of your business.
When a white label podcast agency takes care of everything related to fulfillment, you free yourself from tedious and repetitive tasks. You can utilize this time to pay emphasis on the growth of your agency. You can think about things that are important to expand your business such as: getting more clients, adding more services, and adding value-added services.
Considering all these factors is immensely important for the growth of your business. If you do not opt for reselling of podcast launch, you'll stay indulged in the operational tasks and would never get time to work on the expansion of your business.
This is important because, we currently thrive in a competitive world. You will be lagged if you don't adopt a proactive approach. According to research conducted in 2017 by Hubspot, around 70% of brands regarded converting leads conversion and closing deals as their top priority. Focus on growth and make efforts to build a name for your agency while your partner white label agency takes care of the fulfillment task.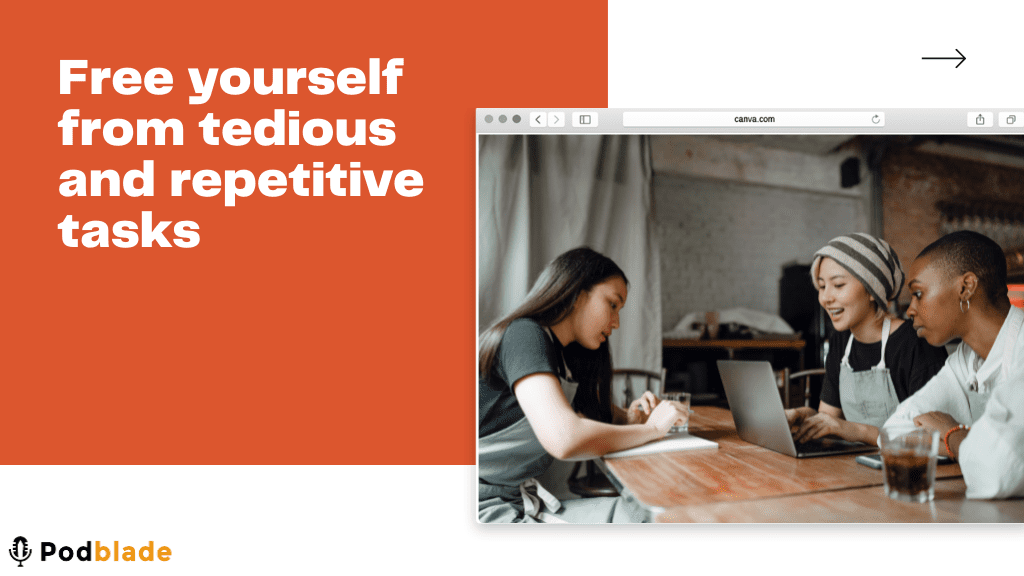 Another less highlighted way in which reselling podcast launch can help an agency owner to increase revenue is having access to all the analytics, stats and by being result-oriented. All the white label agencies who are known for their good reputation adopt the result-oriented approach. An agency that offers reselling podcast launch service understands that all clients aim for success, they wish to get new leads and ultimately want to increase their revenue streams. That is why a white label agency works on having processes that deliver all these results. On the contrary, an agency's experience with a freelancer or in-house employees wouldn't be the same. A freelancer only focuses on getting the job done by hook or by crook; he doesn't think strategically or makes any extra effort to render value-added service. When you have a systematic and strategically planned process in place and you are result-oriented, you can easily identify loopholes and areas that need improvement so that your overall performance improves and you make more profit.
Growth Mindset & The Idea of Earning More While Doing Less
Surely, opting for reselling podcast launch service can help you in increasing your revenue without doing a lot, but it is also very important that for these strategies to work, you must also have a growth mindset. When you approach your work and business with a positive frame of mind, it makes a positive impact on your earning potential. Of course, this doesn't mean that you trust the universe to bring all the lucrative opportunities to your lap, but you must be proactive and seek opportunities to grow your business.
While we are talking about mindset, we must also highlight the cynical belief that is attached to doing less and earning more. For many people, availing reselling podcast launch service to earn more while doing less seems unfair. But, that's not the case because you don't get reselling services for free, you have to pay for that. It's just that this strategy has more benefits at a fraction of the price. Also, focusing on your core competency, devising and executing well-planned strategies for growth is work that the agency owners do themselves. It is important to distance yourself from such cynicism and rather adopt a positive frame of mind. Some researches show that people with a high level of cynicism earn less in life.
This is mainly because cynical behavior can make you miss collaborative opportunities, refrain you from seeking help or make you spend all your energy on covering up your back rather than focusing on moving forward.
As we said in the beginning, don't think that pushing your boundaries, killing yourself, and working extra hard are the only keys to success and earn more. Rather, a positive and growth mindset and acting smart by availing reselling podcast launch service can also bring you fruitful and lucrative results without being hard on yourself.
To Wrap Up
There you go! Knowing how reselling podcast launch increases your revenue without making many efforts is all the information you need to change the face of your podcast agency. Plus, a light but enriching discussion on the idea of growth mindset and positivity prepares you well to prefer reselling podcast launch service.
All in all, it can be stated that you don't need to put a lot of effort, money, time, resources, and energy to grow your business if you opt for reselling podcast launch. This enables you to maximize your revenues while minimizing the efforts and work. The only thing that you need to be concerned about is that you must forge a partnership with a well-reputed white label agency.
Establishing your podcast agency and scaling it in a few months that too without making much effort wasn't possible a decade ago. But today, even if you have limited capital and no workforce, you can still start your agency and capitalize on it.
Interested in Reselling Podcast Launch Services?
Do you find the above-mentioned benefits appealing? Here at Podblade, we partner up with resellers to facilitate them with podcast launch. By getting on board with us, you can reap many benefits right from the beginning. Enjoy the liberty and rights of reselling podcast launch.
If you have questions in your mind related to reselling podcast launch and want to know how it works, we'd be delighted to explain you everything. Schedule a call with us and get to know about this lucrative option of reselling podcast launch.
If you find this article informative, we are sure, you'd love our other blog posts too. Check out our other blogs. We would love it if you share your favorite post with your podcast enthusiast buddy.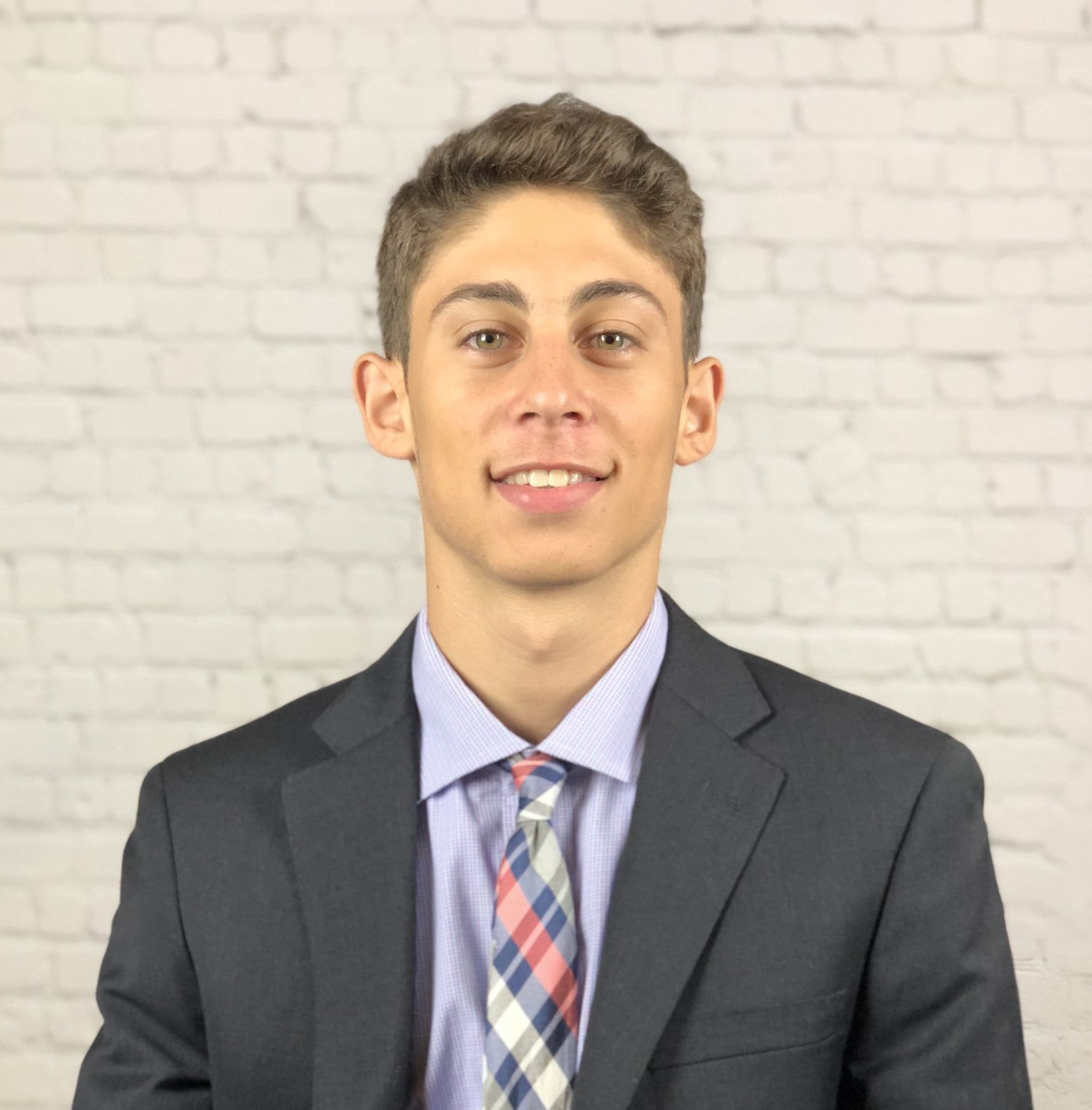 Rom is a podcasting specialist, ranking his show in the top 100 for all business podcasts in only his first 6 months since launching. He is also the co-founder of Podblade, creating an affordable yet professional editing solution for podcasters. When he isn't working, you can find him watching his favorite soccer team (Tottenham Hotspur) in action.