They say success is not always about greatness but, consistency and a podcast editing whitelabel service ensures just that!
Perhaps no one understands this better than you being a podcast editing agency at a time when the podcast industry is competitive and require high-quality deliverable consistently!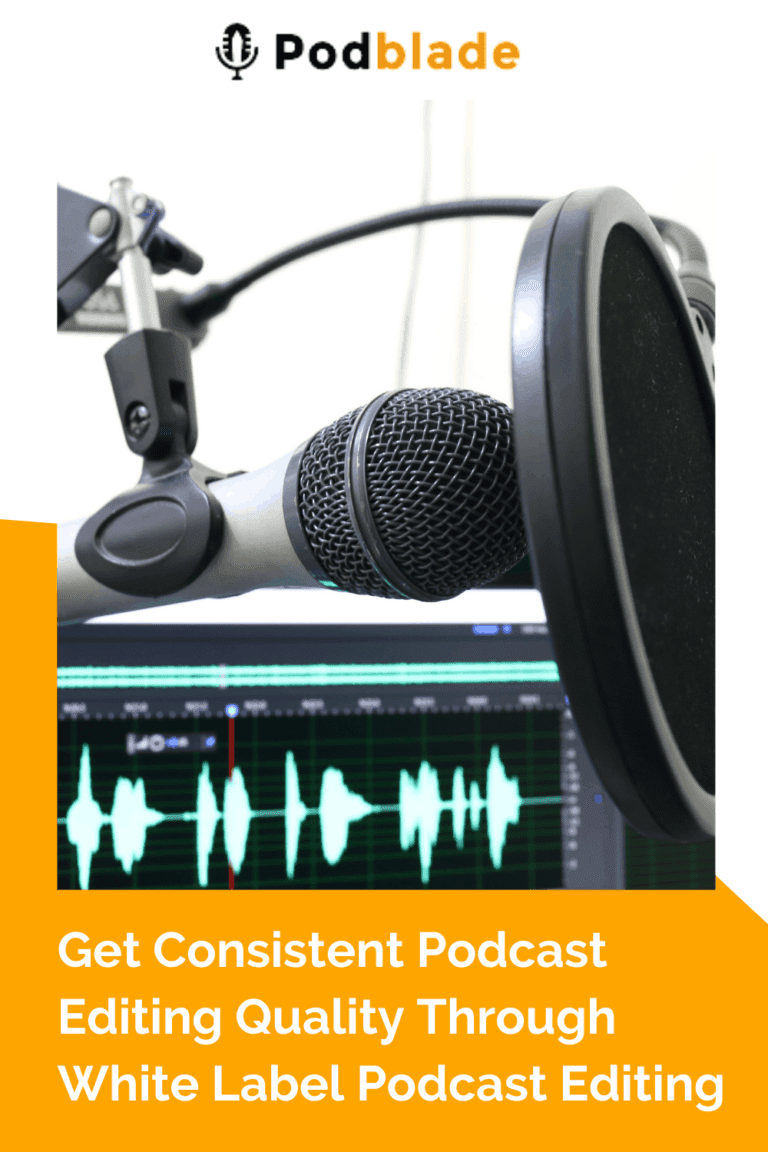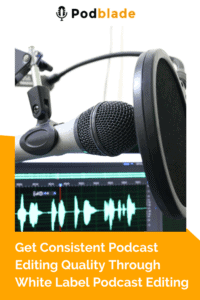 To achieve that, it's a common practice for podcast editing agencies to hire freelance editors that can share the burden of work besides their regular in-house team. Though this may seem convenient, things can turn challenging pretty soon if your freelance resource is not on the same page with you.

Inconsistent quality, mediocre standards, and chasing freelancers to meet the deadline is not only a headache but also impacts your brand value negatively. Not to mention, the frustration that you feel! Consequently, you might begin to lose clients due to low-quality work.

There is always a way around such challenges and to have the best quality, consistency, and timely deliverables it's smart to lean on a well-established and reputable podcast editing whitelabel service like Podblade.

Let's accept that delivering consistently good quality work is not only important to satisfy your clients but it also allows you to gain several business scalability benefits. We will talk about this more later in this article.
You may know how podcast editing whitelabel work and what's in it for you, but do you know how this service can help you in delivering consistent quality? Read on to find out how Podblade provides the best podcast editing whitelabel service and the different benefits you can gain by delivering consistent quality to your clients.
Podcast Editing Whitelabel Ensures That You Don't Have To Chase After The Freelance Editors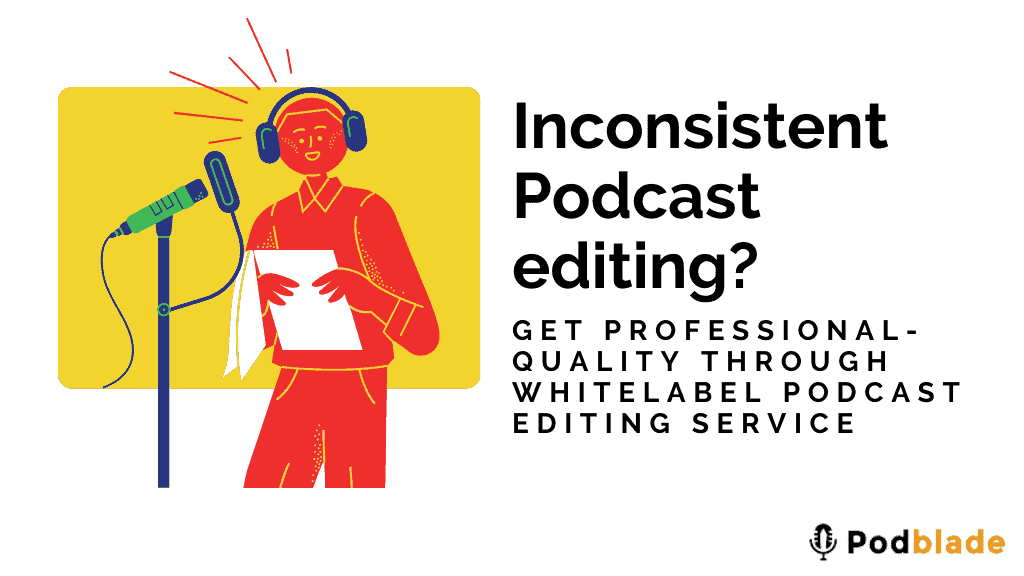 Your podcast strategy should include a well-planned branding blueprint and quality can be an integral part of your branding. If as a podcast editing agency, you are troubled with the hassle of going back and forth with freelancer editors to only end up with sub-standard work, then we've got some good news for you.

When you choose a podcast editing whitelabel service, you free yourself from performing the menial and repeated task of editing day after day without having to chase after freelance editors.

At Podblade, we are very passionate about helping editing agencies by delivering superior quality service that enables them to boost their business. We take pride in what we do and make sure that your clients never walk away disappointed. We can achieve high quality by enabling a customized portal and a dedicated team to your project. When you sign up with us, you get your own team of editors, designers, and writers, all dedicated to giving your clients a complete package. It's our top priority to deliver every project with exceptional quality.

Once you are done onboarding your clients and setting up personalized portals with us, we assign a consistent team to each client that renders impeccable podcast editing service. No matter how many projects or episodes your clients send, the same team caters to their requests. This means that your clients have to explain their theme, tone, overall persona, details, and specific requirements only once and the team working on their project gets to know the work on a deeper level. This aspect of the same team working with the same client enables Podblade to deliver the best and consistent quality every time.
How We Deliver Consistent Quality
Quality is something that is deeply embedded in our organization's culture and that is how Podblade is able to deliver the best services to its clients. The number of podcast editing whitelabel service providers is increasing day by day; so standing out in such a competitive environment is a daunting task. This norm of maintaining high-quality standards is what separates us from others. We have a number of strategies in place that helps us in delivering the best outcomes to clients and we are talking about some of them right here:
In-House Staff
The number one way that allows us to deliver superior and consistent quality work to your clients every time is that we have our own in-house team of editors and professionals. When your client submits their project, a team of professionals along with a personal podcast manager is assigned to them. The same team then works on all the subsequent episodes for that client.
Personal Manager For Each Client
We deliver a podcast editing whitelabel service by assigning a personal manager to each of your clients. After your client puts up the request for editing for their first episode, a personal podcast manager is assigned to them, who then work on all the episodes and makes sure that all the work is done to meet your client's requirements. This way, we make sure that your client gets the personal attention that their work and project deserves.
QA Department
In order to ensure that our team adheres to a high level of quality while delivering a podcast editing whitelabel service, we have a quality assurance system in place. It is this system that gives us confidence that nothing slips through the cracks. Our team of editors is assessed for quality on a regular basis.
Training And Development Of Staff
Training and development of our team is a catalyst for Podblade that derives quality in our services. It is a continuous exercise essential to deliver quality service to clients every time. If we look at podcast industry report, it's clear that the industry is growing by leaps and bounds, this, in turn, brings more work and business to podcast editing agencies. To cater to these overwhelming demands and work, every other day, there are new software and technological innovations that can bring finesse and ease in editing work, making podcast editing whitelabel a constantly changing field. So, it is indispensable for us to invest in training our staff. Not only that it is our top priority to make sure that our team of editors gets the right training and hands-on experience of the latest technologies but our editors themselves are also very keen on staying abreast of the latest trends in the field.
Interested in availing our podcast editing whitelabel service? Schedule a call here with our team now and get all the information that you need to get started.

Lifetime Support
There's no doubt that happy clients are the key to a successful business, and client support can play an integral part in it. In addition to our top-class and unmatched services, we also offer a 24/7 support system to make sure that your business runs smoothly.
At Podblade, the quality of client support is as important as the quality of our podcast editing whitelabel service. For us, our 24/7 support system is not only an afterthought but is an integral part of our offering and is deemed to the same quality standards as our operations and services.

The consistent quality that we provide to your clients is our competitive advantage and we are convinced that by availing our services you'd see remarkable results in your business growth.
Benefits Of Delivering Consistent Quality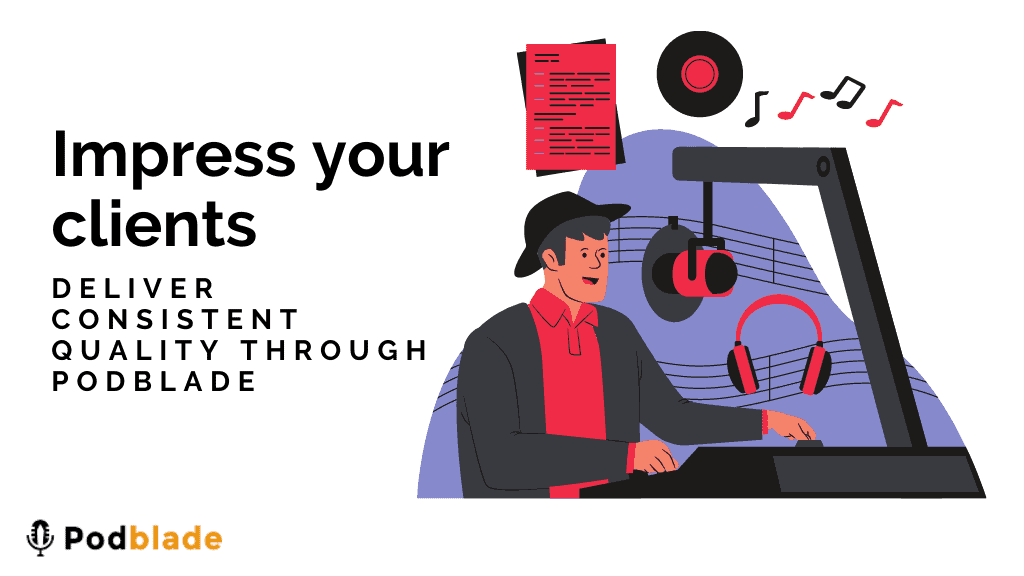 Ask any person and they'd simply agree that the quality of a product or service is important. But, not everyone is able to ensure this. At Podblade, we not only strive for quality consistently but also allow you to gain many benefits from our podcast editing whitelabel service. Let's have a look at some of the amazing ways you can reap benefits from delivering consistent quality by forming a whitelabel partnership.
Impress Your Clients
At Podblade, we have adopted a holistic approach to provide podcast editing whitelabel service. By availing our services, you can make your clients satisfied and keep them coming back to you. Wondering how we do it? It's our efficient system that enables us to produce superior quality deliverables.

We have a highly professional team of editors, writers, and graphic designers, who collaborate and work together to produce high-quality results for your clients. From editing to writing show notes and designing YouTube thumbnails, your client will get everything in one place. They all work passionately as a team to do all that your clients demand and make sure they deliver top-quality work, leaving your clients impressed.
No Back And Forth With Freelance Resource
Are any of the following situations seem familiar to you?
The deadline for your client's editing task is approaching and your editor is nowhere to be found.
You just casually had a look at the editing that your editor did and you're surprised that it's not the pitch and tone of your client.
Your client just submitted an urgent request for editing and your editor is not responding.
If any of these situations or perhaps all resonate with you, then we'd like to tell you that you can turn this situation around in your favor. Running your podcast editing agency in an effective and efficient way requires that you must have access to a reliable, affordable, competent, and responsive team of editors. Our podcast editing whitelabel service can provide you all these features.
In addition to quality editing service, our customer support team remains available 24/7 so that whenever there's an urgency, we can always cater to that too. Forget running after your freelancer and take a deep breath of relief with Podblade that will do all the tasks for you, while allowing you to work on other matters that are of utmost importance to your business.
Retain Your Clients
Mediocre quality editing service can not only make you lose clients but it can also be very costly, frustrating, and time-consuming. If your editing is sub-standard, your client will keep coming back with revisions and adjustments.
Research proves that retaining existing clients is much more affordable than acquiring new ones. On average maintaining, the satisfaction level of existing clients can be five times cheaper than acquiring new ones. Therefore, every business owner strives to deliver the best quality product or service to keep their customers. In your editing agency, podcast editing whitelabel service can be an anchor source to retain your clients by delivering consistently high-quality editing service time and again.
Get More Work Done!
Business growth and increasing your clientele is the ultimate purpose of every business and we are pleased to tell you that you can scale your business twofold if you are successful in delivering high-quality editing tasks consistently.
Wondering how? It's simple. When you deliver quality work over and over again, your clients' podcasts also grow, which makes them produce further, and they'd come to you for editing. Also, when your clients are super satisfied, they won't think twice to talk about your brand or refer you to their circle, which means, possible traction of new clients for you. So, don't rely on freelancers and other companies who compromise on quality but do not necessarily always deliver the results. Scale your business big with Podblade's whitelabel podcast editing and deliver quality service every time.
To Wrap Up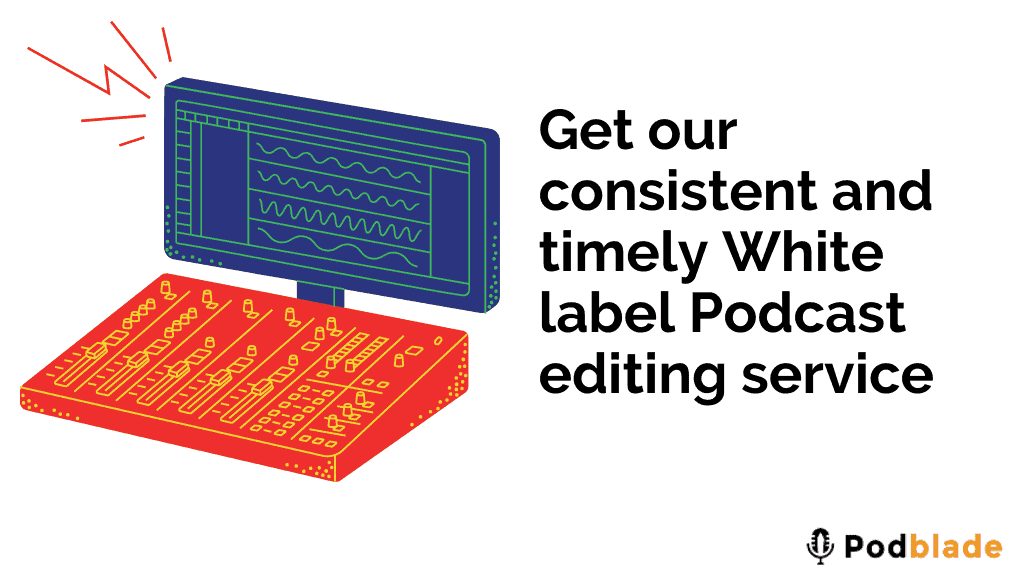 So, you see how Podblade is able to render top-class podcast editing whitelabel service consistently, and surely, it is the service that your podcast editing agency needs to foster and grow.

Indeed, the road to establishing a true quality culture and ensuring it's there in every deliverable isn't an easy task, but for Podblade, there's no other way around. We are a company that strives for quality and we are absolutely passionate about your growth as well!

Get our best, consistent and timely editing service and see your business move in the right direction. Schedule a discovery call with us here and get to know our offerings in detail.

If you want to know more about the podcast editing agency business and how to scale it big, our other blogs may help you out.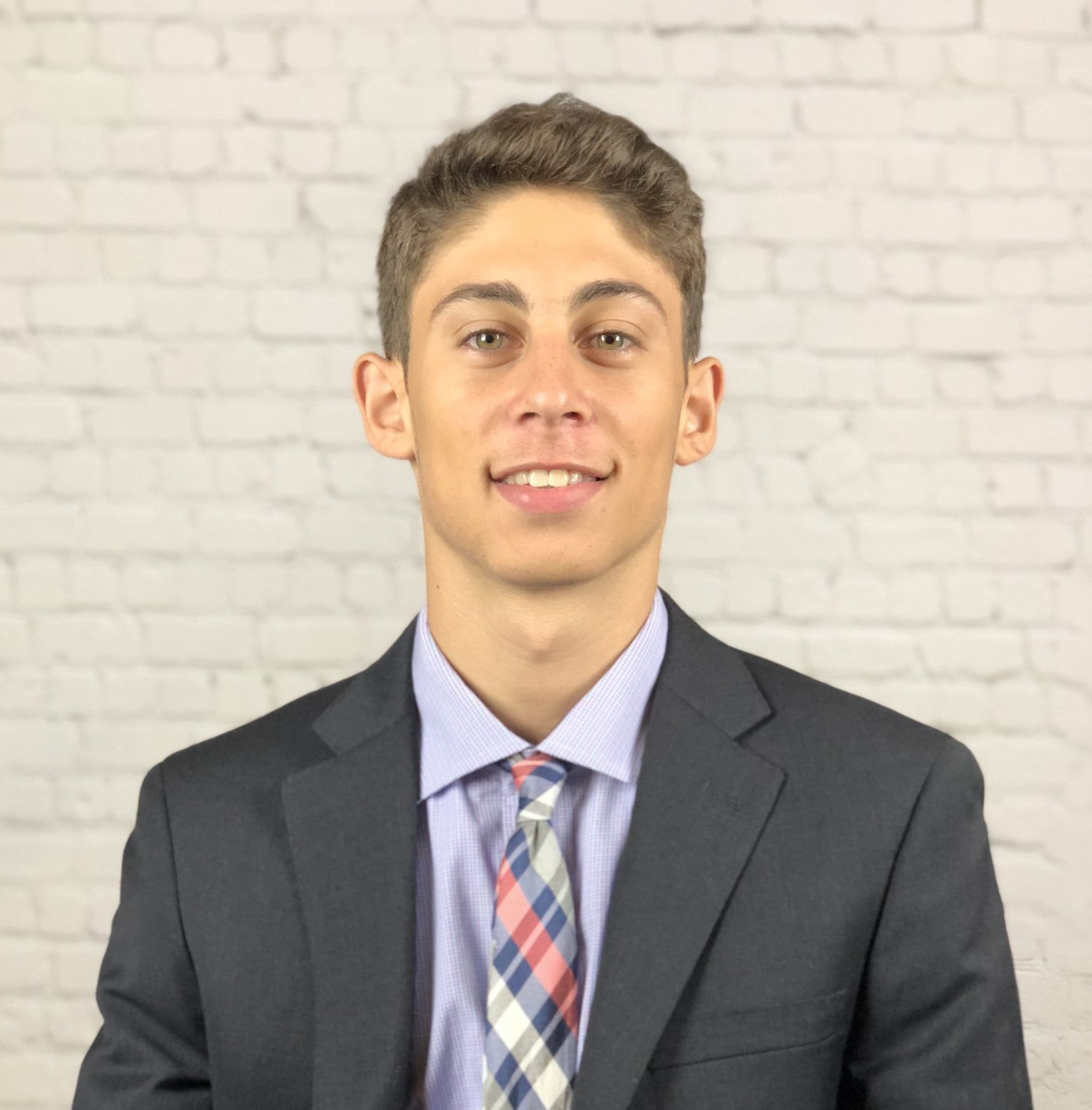 Rom is a podcasting specialist, ranking his show in the top 100 for all business podcasts in only his first 6 months since launching. He is also the co-founder of Podblade, creating an affordable yet professional editing solution for podcasters. When he isn't working, you can find him watching his favorite soccer team (Tottenham Hotspur) in action.