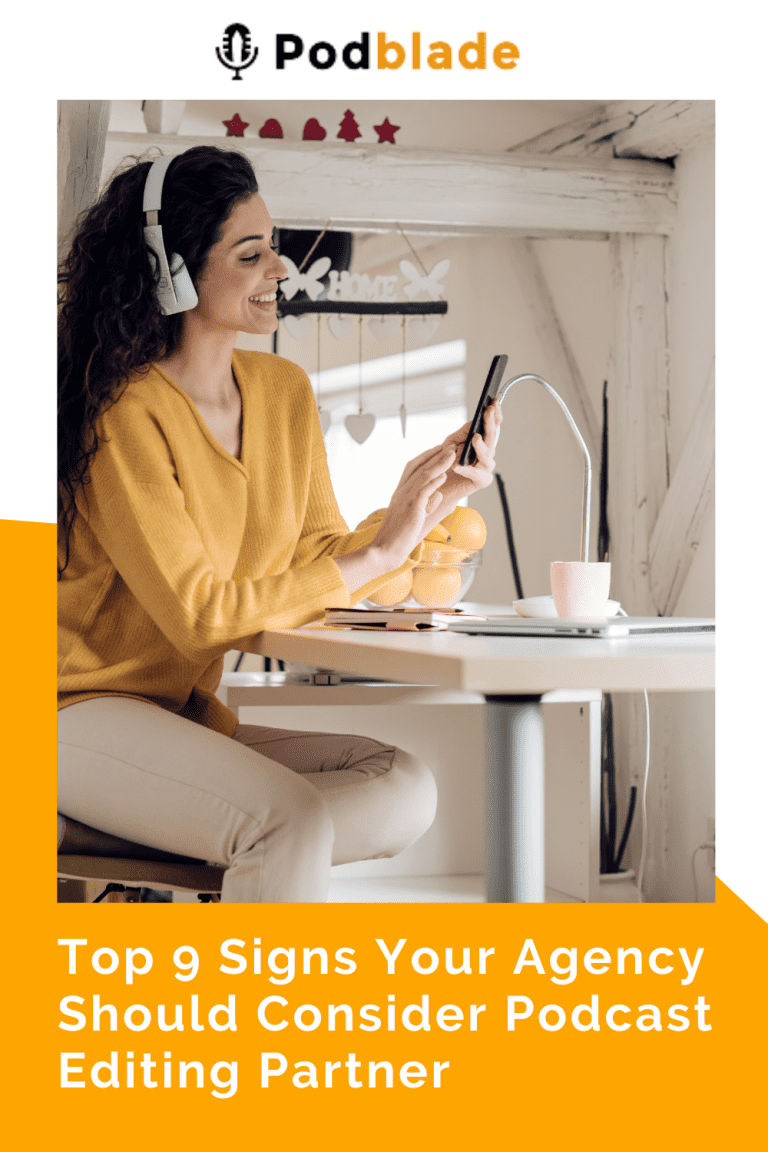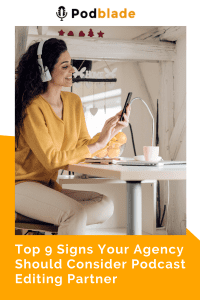 If you are wondering maybe opting for a Podcast editing partner is too early for your agency, read ahead to know better!
Running and managing a business on your own can be very empowering and rewarding, but overwhelming at the same time. In addition to the core responsibilities, there are various other menial tasks daily that take up a lot of time, leaving business owners with no time to focus on business growth and personal development. Also, when your business expands, all these daily tasks and core responsibilities increase.
If your agency business constantly keeps you occupied and you don't find leisure time or any space in your daily routine for personal development, then it's time that you should consider going for a white label podcast editing partner. It will help you perform core tasks for your clients on your behalf and you get the much-needed break. That way, you can have a lot of time to focus on aspects of your business that are important.
In addition to lack of time, there are many facets of managing a podcast agency that signal that your agency should make use of white label podcast editing services.
In this blog post, we are weighing a few signs that indicate that you should consider white label podcast editing partner for your podcast agency.
Your Business Is Scaling Rapidly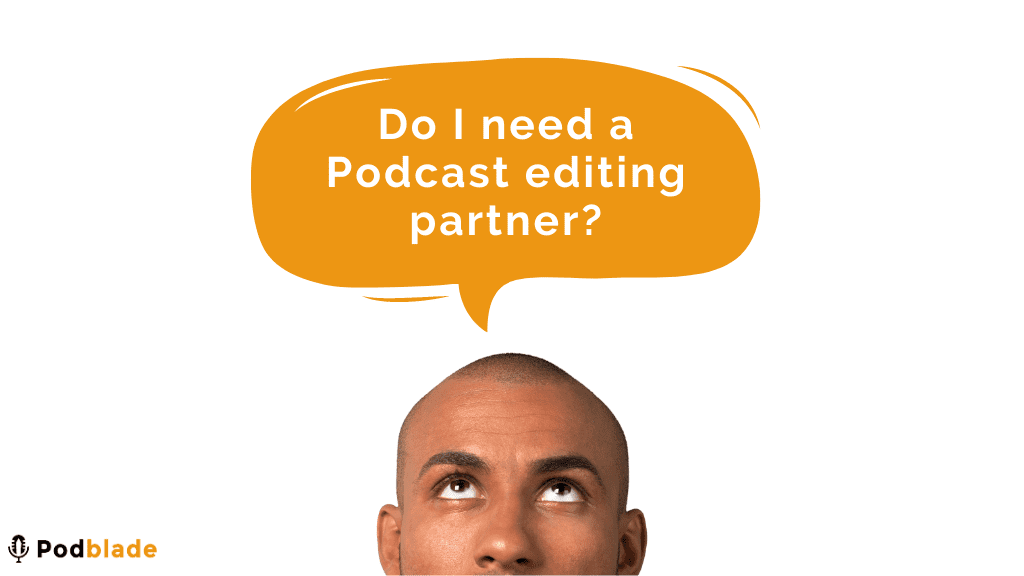 We all are familiar with the business scenario in which young companies and start-ups feel the fear of failure. The apprehension that there will not be enough demand for the product or service always surrounds them. But, do you know there's also a possible scenario that is exactly the opposite of this?
Yes, there is.
Oftentimes businesses scale up so rapidly and entrepreneurs remain unable to foresee that they won't be able to fulfill increased demand and that there will be delays or compromised quality.
As exciting as it may sound, scaling your business is equally challenging and encompasses several "growth pains." If your podcast agency is scaling rapidly and demand for your services is soaring high, but you are unable to meet those increased needs, this is a clear indication that you should find yourself a good white label podcast editing partner.
There are many effective strategies for scaling your start-up sustainably, but if you want to take your business to new heights and make the most of this increased demand for your services, a white label podcast editing partner can be your savior. Considering white label podcast editing to scale your business big is ideal as it requires minimal investment, time, and energy.
All you have to do is sign up with a trustworthy and reputable podcast editing partner and they handle every work of every client too without revealing their identity.
When we talk about growth at an agency that's scaling fast, the conversation usually revolves around "more:" more clients, more workers, more space, more services, more revenue, and more work. But, with all these things "more" you must not forget that they will be more expensive too.
As an agency owner, it is safe to consider establishing an in-house team or expand your operational procedures. But doing this will not be easy. In addition to investing a lot of time and money, you will also be spending a lot of your energy in managing the team. You can beat your team management blues while retaining all the benefits of having a skilled, diverse, and professional team through a podcast editing partner.
Podcast agencies that grow faster also need people and resources that grow along with them. To maintain success over time in such an environment, it is indispensable that your agency maintains the pace with the rapid growth, and this is possible with minimal investment of time, energy, and money when you partner up with a white label podcast editing service provider.
Inability To Meet Deadlines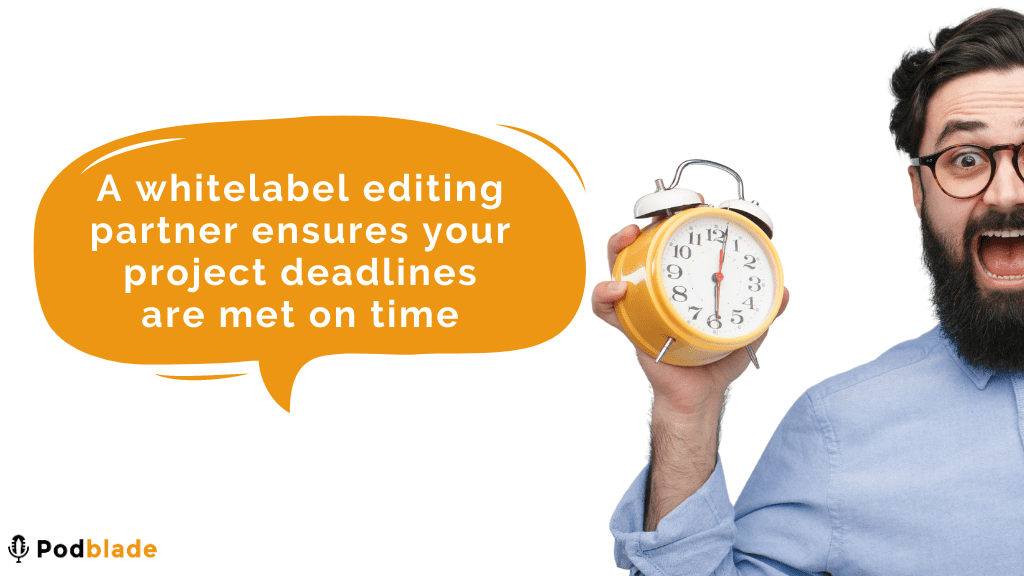 It is the final countdown!
No, we are serious. You have got a very short period in your hand before the deadline approaches for your project and you still have a lot of work to do. When your agency is growing and attracting new projects from new clients, the last thing that you'd want is to miss the deadlines and eventually lose your customers.
If you always find yourself in such a situation and look for ways to pump yourself up to get it all done before the buzzer sounds, this undoubtedly is one of the signs that suggest that you should consider having a white label podcast editing partner.
This usually happens when you attract a lot of new clients and fail to incorporate their new projects into your work schedule effectively. Also, when you have increased work from existing clients and a limited number of resources (workers and employees) to cater to that increased amount of work.
Also, when you get a project that requires more time or special skills, it sucks up all your time and all the other work in the pipeline gets affected.
These are some of the situations in which a podcast agency owner feels lagged behind the deadlines of the project. If that's the case, then even the obvious trick to meeting your deadline won't rescue you from this struggle.
The ultimate and most effective solution is to have a reliable podcast editing partner.
When you opt for a white label podcast editing partner, you don't have to worry about meeting the deadlines no matter how many clients you have and how much work they give to you. Your podcast editing partner takes care of everything. They perform all the tasks for your clients on your behalf.
Not only that but some good and reputable white label podcast editing partners even offer personal account managers who ensure that all the deadlines of your clients' work are met. For instance, Podblade's personal podcast manager always stays in touch with an agency owner's team and keeps a close eye on the quality of work and deadlines.
If you opt for a white label podcast editing partner, you no longer have to cut downtime from your personal life or from the time you dedicate to other important aspects of your business. This is indeed a sure-fire way to meet deadlines most effortlessly. All you have to do is give it a try and you'll see how meeting deadlines become a breeze of a task every single time.
Lack Of Skills And Expertise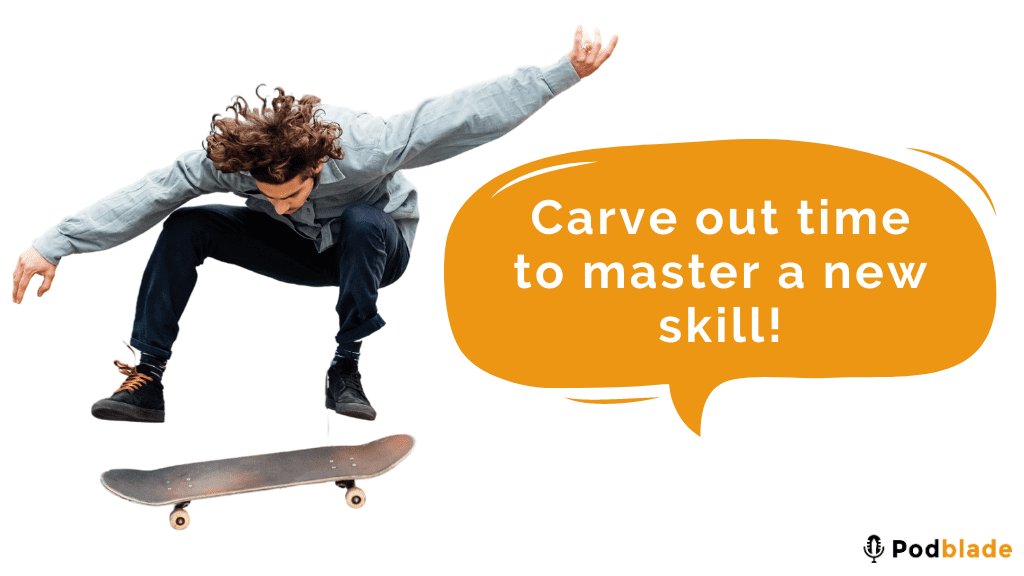 When it comes to podcast editing or production, there is always a skill out there that can boost your cache in business. But for a podcast agency owner carving out time to master a new skill is not easy. Even if you have ample time, learning a new skill is not possible in a few weeks. We all know the significance of acquiring new skills and its lack can cause many hurdles in your business.
If you have clients on board who give you work that you or your existing team do not have skills, expertise, and tools to work on that project, then it simply signals that you need to ally up with a white label podcast editing partner.
Podcasting is a diverse field with a lot of variety and versatility. So, it is no wonder how different clients can have different needs and requirements. Therefore, podcast agency owners also need to have an enriching, innovative, and updated set of skills. However, having a pool of resources with a diverse set of skills and expertise may seem impossible when you are just starting as an agency. When you are an established agency even then maintaining and paying staff with variegated skills can be costly.
Not having enough skills and inability to get access to tools and equipment make agency owners turn down many projects and clients. Of course, you would not want to accept the work for which you don't have skills and resources.
If you know, you need a lot of assistance or if you have to invest a mammoth amount in acquiring tools and then in training your team to use those tools, then you must consider a white label podcast editing partner to solve this problem.
A white label podcast editing partner will allow you to cater to all sorts of clients with all sorts of work. Your podcast editing partner already has a pre-existing solution, tools, equipment, and skilled resource that can do the work of your clients. You don't need to invest time, resources, and energy in establishing a system from scratch.
This means that if you are signing up with a white label podcast editing partner, you no longer have to think about what sort of skills and tools you need for the fulfillment. It also means that this partnership can prove to be your ultimate guide of earning more revenue and doing less as it allows you to extend your services to different clients with different requirements.
If you are interested in utilizing the services of a highly skilled and professional team at a white label podcast editing agency, schedule a call with us here and our team will guide you everything about our services.
Limited Capacity
In business, supply and demand go hand in hand. When demand increases, the business needs to increase its supply. But, it is easier said than done. Increasing supply to meet the increased demand is not a mean feat for a podcast agency owner.
More supply simply means there would be more work to do. There are two ways to solve the issue of more work. First, an agency owner can hire more employees. Second, the agency owner can give more work to the existing employees.
If your existing team is maxed out in their capacities, but your business is witnessing a burst of growth and projects are keep flowing in, it is a great indication that you need to consider a white label podcast editing partner. This white label partnership will relax everyone and keep everyone moving forward including you, your agency, and your team.
You need to adopt a strategic approach while considering opting for a podcast editing partner. Adding more work to existing employees or hiring new resources will only cost you a lot of money, time, and energy; whereas, white label podcast editing partners can provide you all the services with the help of their team to cater to all your clients' work at a fraction of cost and without spending any time and energy on their management and training.
Not only that, partnering up with a white label podcast editing firm will give you a strategic advantage but it will also allow you to create a more human workplace where employees and businesses thrive.
When Your Existing Team Lacks Specialization
Working in a podcast agency with a faster scalability scope often pushes its personnel to accept roles beyond their core competencies. In a podcast editing agency that is scaling rapidly, people are often asked to perform tasks that are out of their area of interest and expertise. As an agency owner when you ask your current team to take on a new challenge, you must have your feet firmly placed in the real situation.
This is because this sort of work setting can only work for a shorter time and may hurt your business growth and expansion down the road. It is the focal reason why agency owners only form short-term contracts with clients who require specialized tasks. So, when short-term contracts hurt your profits, choose a white label podcast editing partner.
While weighing the option of white label partnership concerning the specialized task, you can consider two things. The first thing is that if your existing team is taking more time than usual to complete a project, it only makes sense to give that task or project to an expert at your white label podcast editing partner firm, especially if that project or client comes in regularly. This usually happens when your existing team does not enjoy working on the project or they lack specialization in that field.
The second thing that you should consider is if the project or task is highly specialized. It is wise to hand over that project and task to someone who remains engrossed in that particular field or task all the time and is an expert.
For instance, most podcast editing agencies provide different editing and production services, but when a client comes with a request to run paid ads for their podcast, they get stuck in there. If you don't run paid ads or only do it part-time, then there are chances that you may not be updated about the latest practice in that area.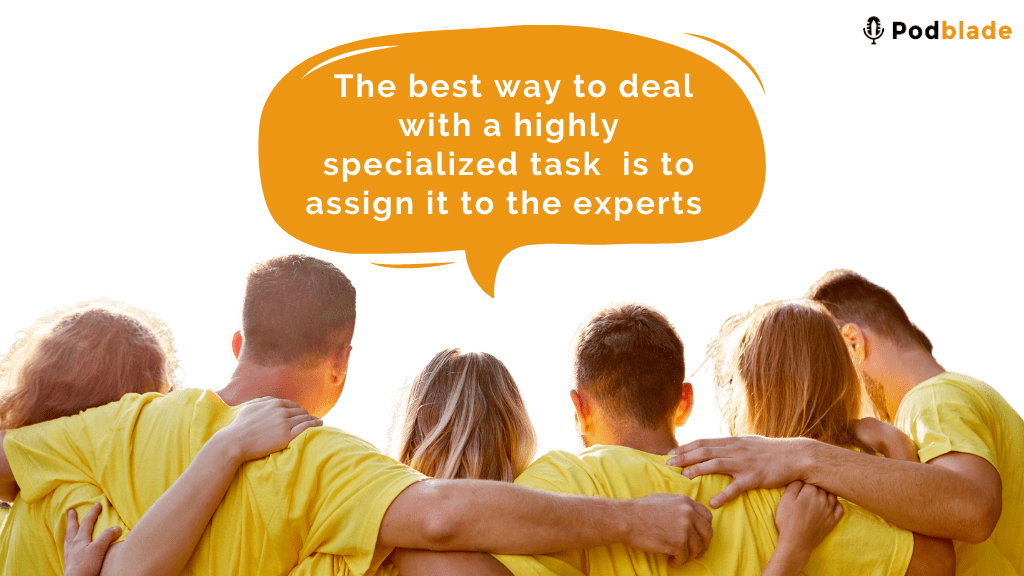 But, if you have a dedicated department to look after marketing and promotion (which most of the white label podcast agencies have) and you do manage paid ads every day, it will be a lot easier for you to handle that task. This suggests that the best way to deal with a highly specialized task or work is to give it to the experts and professionals at your white label podcast editing agency.
If we look at this reality, we would realize that specialization is usually the byproduct of regular and repetitive tasks and operations. If you work on the same sort of work and solve the same problems day in day out, you are likely to get a lot of experience in that area and develop expertise.
A white label podcast editing partner works with a large number of clients and does various tasks for them. This is what gives a white-label podcast editing partner an edge when it comes to specialization. This is the reason why a white label podcast editing partner can easily cater to your clients' specialized work and projects and carry out business in a highly specialized economy.
When You Can't Offer New Services Without Discontinuing Your Current Ones
For a podcast editing agency owner, one of the best strategies to increase revenue is to offer more services to clients. In the podcast industry, every other day a new technology comes in and a new tool is introduced to make the audio quality sound better. With this rapidly changing field, it is obvious that different clients may have different requirements. To entertain more clients, you need to be the master of new and variegated skills and services.
If you are well aware of new trends, practices, and tools that are being used in the field, but you are unable to add to your roaster of service offerings, this is the time when you have to decide whether you want to continue with the current services, drop some of the existing clients or discontinue some services to offer new ones or want to opt for white label podcast editing partner.
With a reputable white label podcast editing partner, you can expand your service offerings. As you don't have to care about operational aspects and resource requirements, you can offer as many services to your clients as you wish and your white label podcast editing partner takes care of everything.
When You Are Tight On Budget
When it comes to effectively managing business finance, reducing cost is of utmost importance. This factor of cost control allows companies to earn profit and ensure the lucrative operation of the business.
In some industries, cost control is so imperative that it can even result in rapid business growth. The podcast is one such industry that can yield great profits and scale up very fast if you take stringent cost control measures. Yet at the same time, keeping a tight control on cost tends to be very difficult owing to the industry's expansion and nature of work.
So, what's the way out?
The answer is simple.
Keep your overhead cost in check through a white label podcast editing partner. This will ensure that you are focusing more on business development instead of getting stuck in the repetitive regular operational tasks. And more business development means an opportunity to scale your agency business further.
A white label podcast editing partner can provide you a cushion to exercise overhead cost control while allowing you to grow your podcast agency business.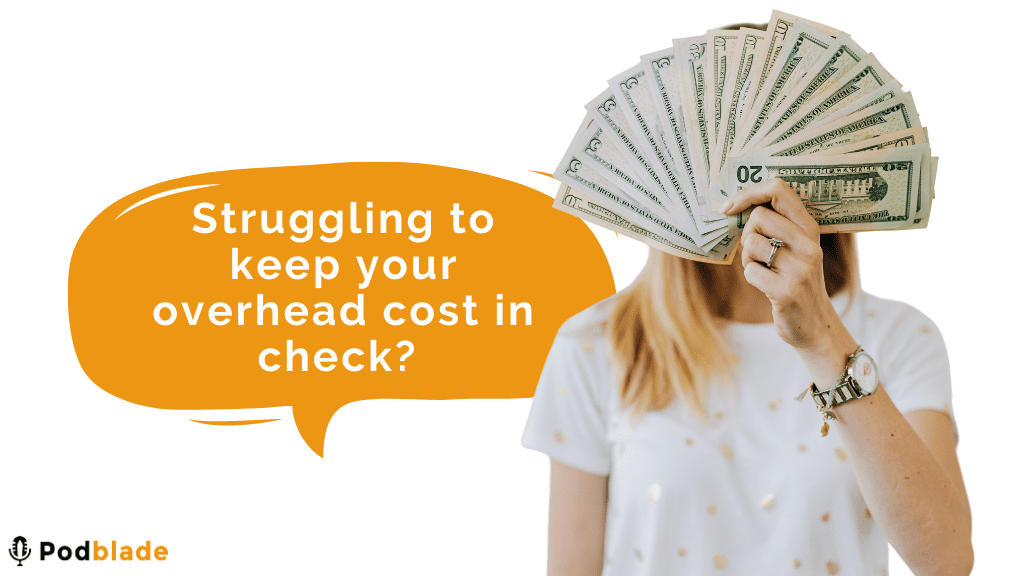 Partnering up with a white label podcast editing agency allows you to keep things predictable as well as gives you complete control over the expansion process. Not only that using a white label podcast editing service can significantly lower down your operational cost but one of the greatest advantages of using a white label service is that you can also avoid costly mistakes.
For instance, you can avoid the cost of hiring an unsuitable employee or you can nullify the cost of acquiring a technology that doesn't serve you well or doesn't yield enough return on investment. Your white label partner does it all for you.
A white label podcast editing agency usually has a highly professional team of editors, writers, and graphic designers, who collaborate and work together to produce high-quality results for your clients. From editing to writing show notes and to designing YouTube thumbnails, you can get everything from your white label podcast editing partner without worrying about the budget and overspending.
No Competitive Advantage To In-House Task
For any business operating in any industry, competitive advantage can be regarded as a constant moving target. No matter how large or small your business is, your focus should be not to be stuck with a single idea of its source of advantage. All the highly successful companies and businesses always know how to keep on navigating forward and they always remain on the cutting edge.
In today's fast-paced era, time and money are on the cutting edge. How does your podcast editing agency manages time and money – in offering quality services, in 8ntroducing new services using the latest tools, gadgets, and equipment, in marketing, promotions, and communication- shows the most dominant sources of competitive advantage.
The core factor of competitive advantage can also be an indicator that tells you to look for a strategic podcast editing partner. If in-house tasks do not give your agency a competitive advantage, it is best to hand it over to your white label podcast editing partner.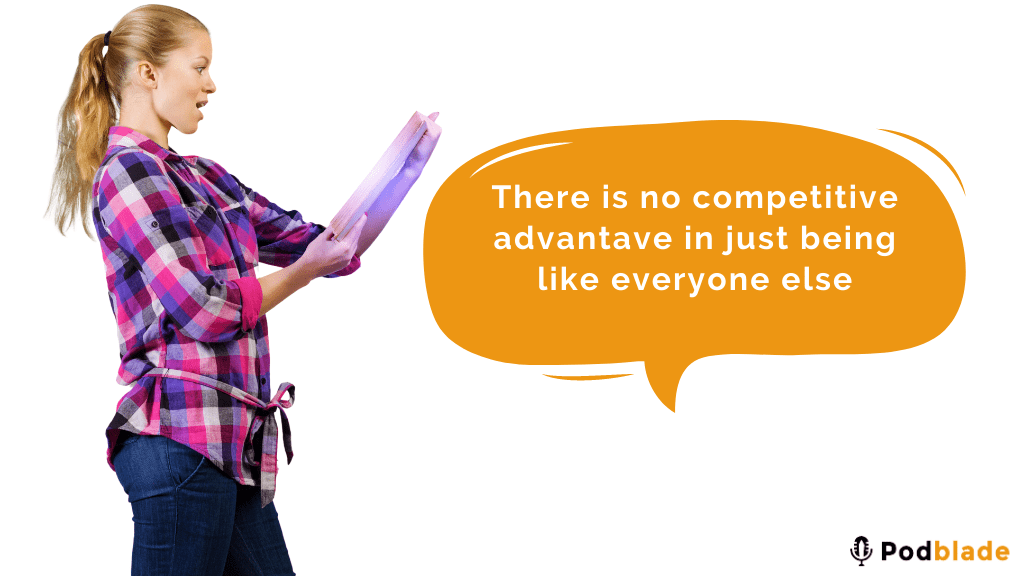 The best way to analyze whether you should use white label editing services or not is to look at the time and money you lose on tasks that you could otherwise pay someone else to do. Scrutinizing this situation can reveal how much money and time you are losing by not utilizing white label podcast editing service.
For instance, if you are keeping all the operational aspects in-house, you can exercise a lot of control and manage everything with a small team only when you have a handful of projects. But, when your business grows and you get a lot of clients, then you are bound to hire more resources to manage the load of the work.
In this case, you will be incurring a lot of costs in terms of salaries and subscription payment for all those tools, software, and equipment that your new hires would be used to perform the task as well as other miscellaneous expenses. Adding more resources would only add more expense and require more time and energy to train and manage them. Instead of attracting more clients, you'll be spending all your time managing your personnel. It simply won't give any competitive advantage. Hence, the best idea here is to opt for white label podcast editing service and keep all your focus on the growth of the business.
When Innovation Is The Ultimate Answer
The podcast industry is all about creativity and innovation. It won't be wrong to state that the industry came out from its nascent stage and entered into its burgeoning phase as a result of the digital revolution. Undoubtedly, innovations are taking podcasting into the future that shines bright.
Keeping this thing in mind, it is safe to say that in this industry no matter what you do and what your business is, you can only thrive if you keep innovating.
However, it is also true that the industry is on a fast track of growth and that there is a lot of work that it will be hard for a podcast agency owner to have time for bringing the innovative spin in the business operations.
We all know that time is of great value in business, but the dilemma is that if all your time is being consumed in routine work and menial tasks, then it's probably time to reconsider your work processes. Sustaining the growth and expansion of your podcast agency is not easy without innovating things and major operations and various aspects of your business.
Innovation can be a catalyst for your business that can accelerate and deescalate the growth of your company. If you keep putting innovation on the back burner, your agency inevitably has to sustain low growth and even failure.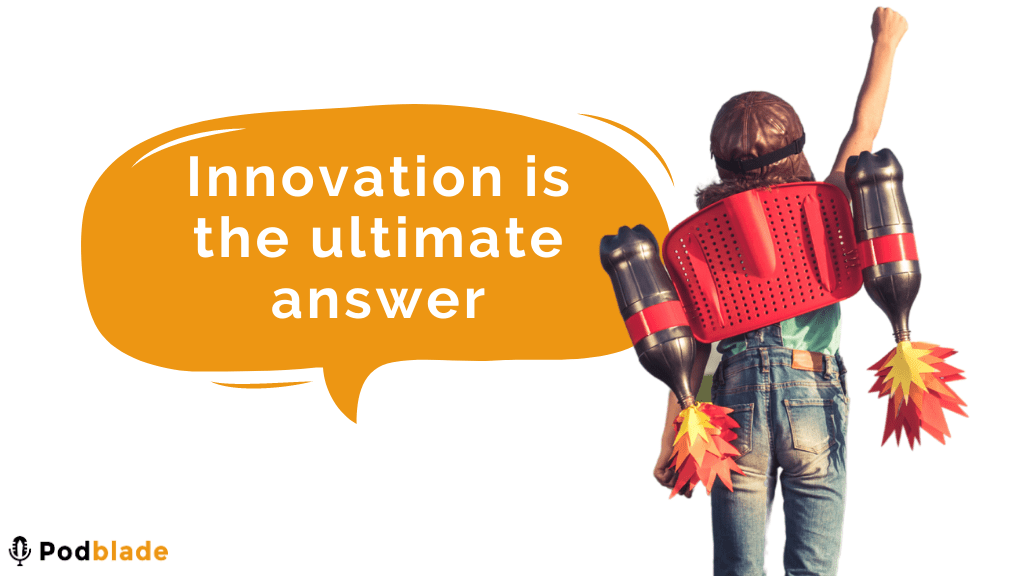 Therefore, you mustn't waste your agency time in doing mundane work. Instead, you can look for a white label podcast editing partner. Through a white label podcast editing partner, you can wipe off all the major and menial operational tasks from your plate. As a result, you'll have ample time for innovation.
You can think of innovative growth and expansion strategies, or you can bring an innovative twist into your marketing and promotion. There are myriad ways in which you can practice innovation in your podcast agency business to keep the beats of your business going. But, you can only do that when you give your fulfillment work to a white label partner and free yourself up to work on the innovation aspect of the business.
To Wrap Up
Running and managing every aspect of your business requires a lot of your time and commitment. As a podcast agency owner, your topmost priority is to complete all your clients' work on time with the best quality and customer service. But, the problem occurs when you begin to get more work than time.
This is the point you begin to think about to take the support of the white label podcast editing partner. But of course, making this decision is not easy. The advantage of having authority on everything and overseeing everything on your own can make agency owners dubious. Different indicators that we have mentioned above can serve as a guideline to the agency owners to decide whether they should opt for a white label podcast editing partner or not.
Different agencies have different needs and they go through different phases, but if your agency has even one or more than one indicator from the above-mentioned list, then white labeling can be your best option.
A white-label solution is easier than building your own and it is the smartest and most intuitive choice for your editing agency. It is indeed a service that provides you with the right editing solutions and lets you cater to the diverse needs of your diverse clientele.
The system of white-label editing is designed in such a way that it makes all your business chaos disappear. All you have to do is just sign up with us and you are ready to witness dramatic growth in your business too without making any effort.
If all these indicators seem familiar to you, schedule a call with us. We'd love to discuss all these indicators in detail with you to better understand your needs and will offer you customized services to suit the needs of your agency.
Also, if you like this article and would love to get to know more about the podcast editing business and how white label editing can solve your business's major issues, you must check out our other blog posts. We are sure you'd find every article very useful and informative.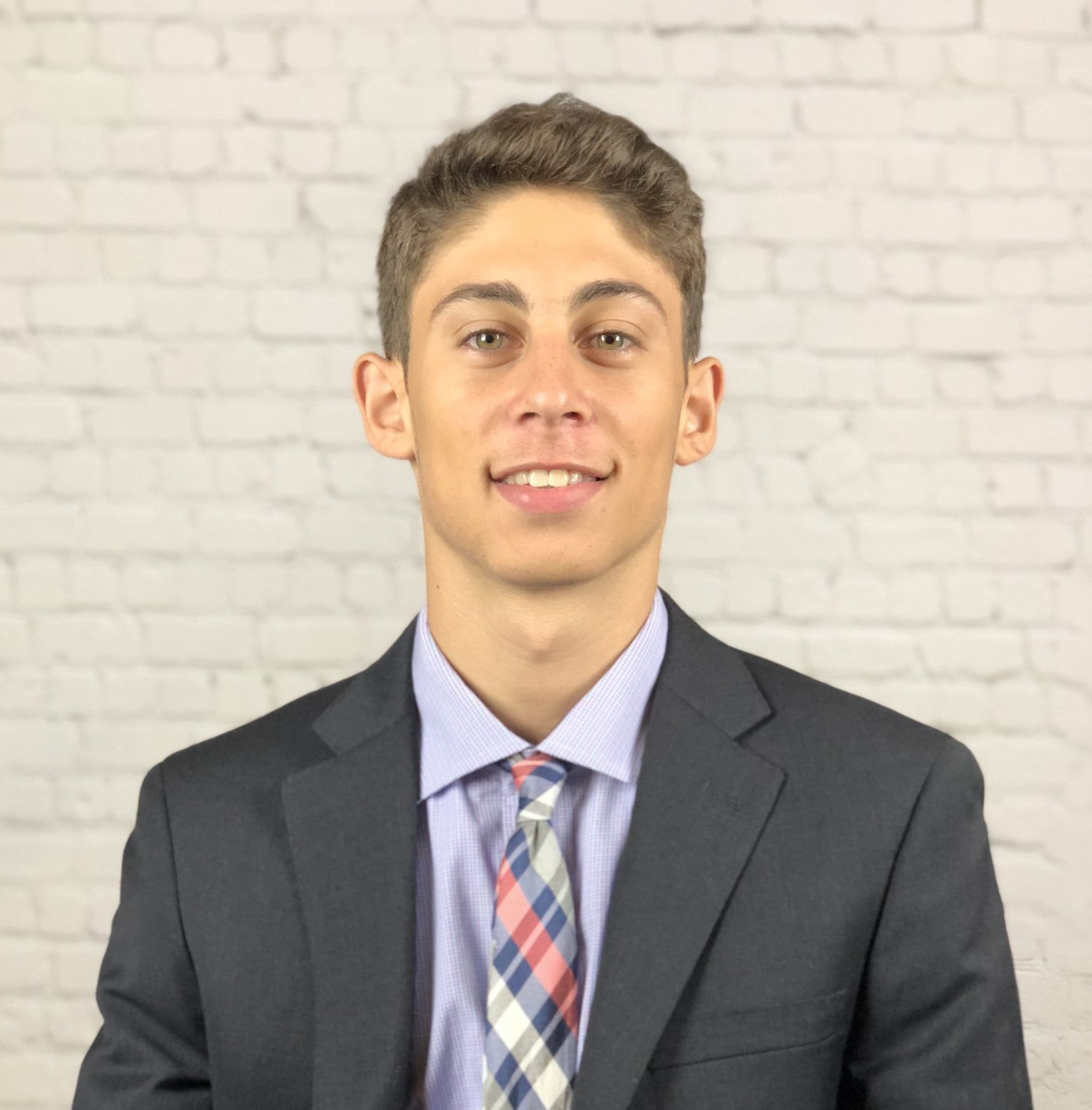 Rom is a podcasting specialist, ranking his show in the top 100 for all business podcasts in only his first 6 months since launching. He is also the co-founder of Podblade, creating an affordable yet professional editing solution for podcasters. When he isn't working, you can find him watching his favorite soccer team (Tottenham Hotspur) in action.