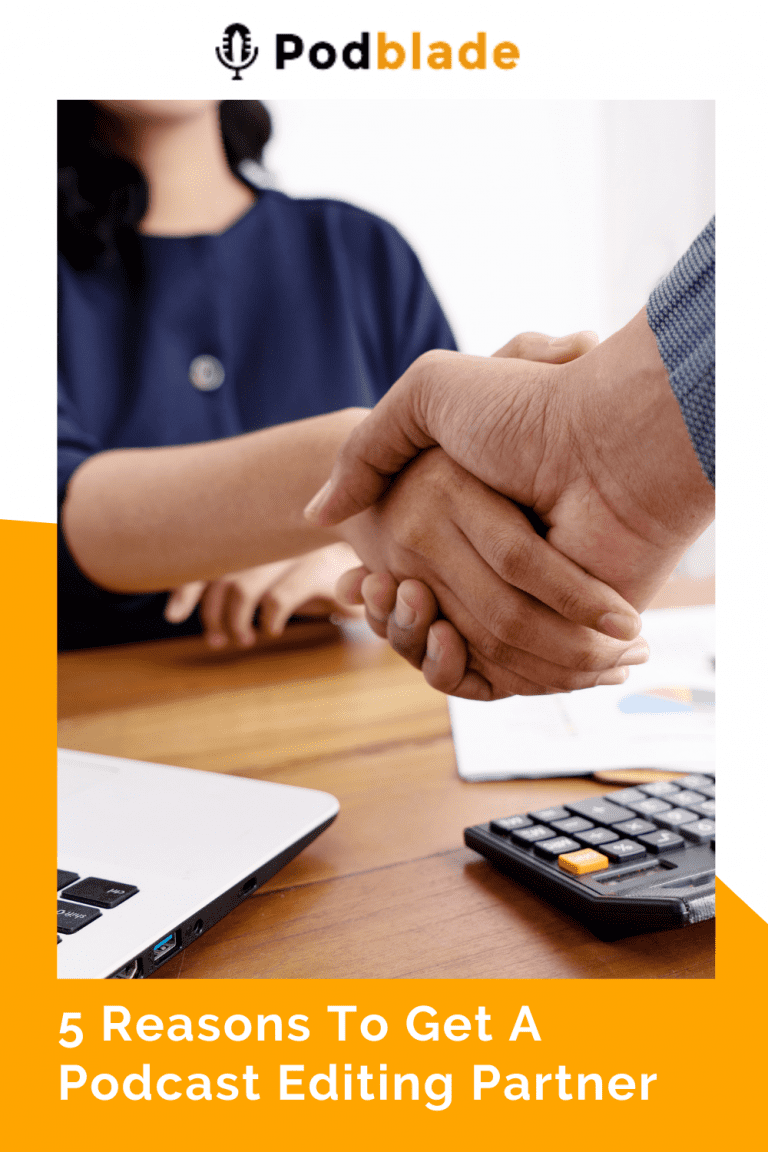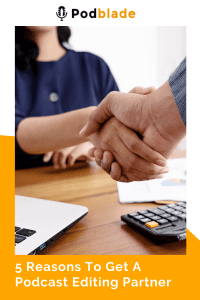 As a podcast agency owner or a podcaster, do you often get thoughts that someone magically appears in your life and takes away all the menial operational tasks that you do repeatedly?
We have got an answer to this question!
And the answer lies in getting a podcast editing partner for your podcast or agency business.
White label podcast editing is a miraculous service that can revolutionize the way you run and manage your podcast.
If you are wondering how having a podcast editing partner can serve you, read on to find all the amazing ways in which this service can help you.
Reduce Workload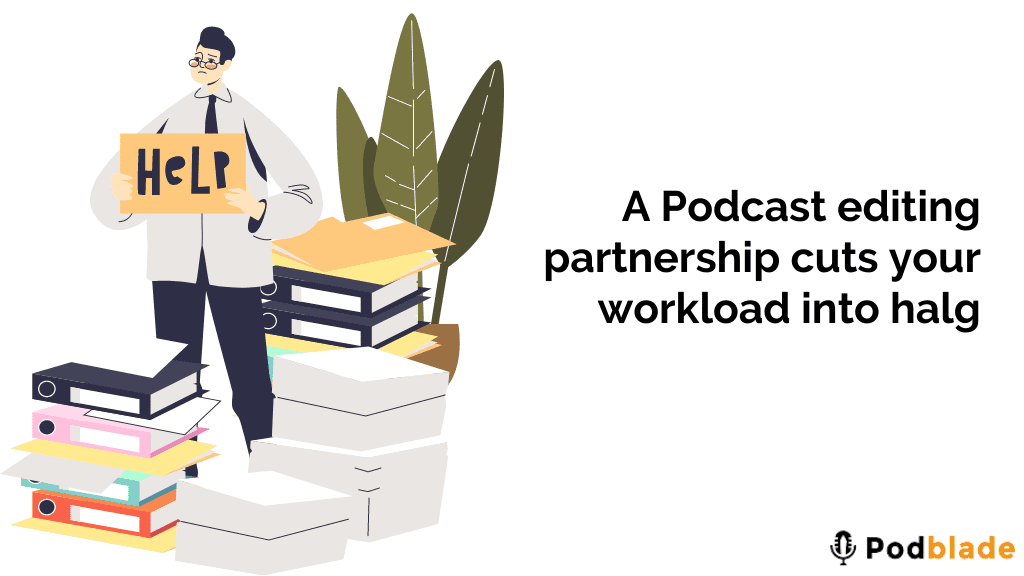 When you try to do it all on your own, you often catch yourself tightly tied up in pending tasks, urgent deadlines as well as in the pile of work that you keep on putting on the back burner for later. If this is the case, you may not get time for growing your podcast business and personal life.
Having a reliable and reputable podcast editing partner wipes away all the major podcast production tasks from your plate, giving you ample time to focus on your business growth and other important matters. Bid farewell to menial and repetitive tasks by opting for a good podcast editing partner so that you have time to constructively spend on the growth of your business.
Deliver High-Quality Work
Whether you run your podcast, look after a business account, or manage a podcast agency, quality is one common denominator that can help you set yourself apart from the competition. In the sea of podcasts, creating and publishing high-quality episodes makes all the difference. It serves you in ways unimaginable.
When you opt for a podcast editing partner, you get the services of highly professional, experienced, and skillful editors that bring finesses and quality to your work.
Not only that but you also get a personal podcast manager who looks after all the work you assign to your podcast editing partner and ensures that all the work that you assign is delivered timely and reflects top quality consistently. Availing the services of a podcast editing partner enables you to deliver or publish supreme quality work and impeccably serve your audience.
Ensure Recurrent Revenue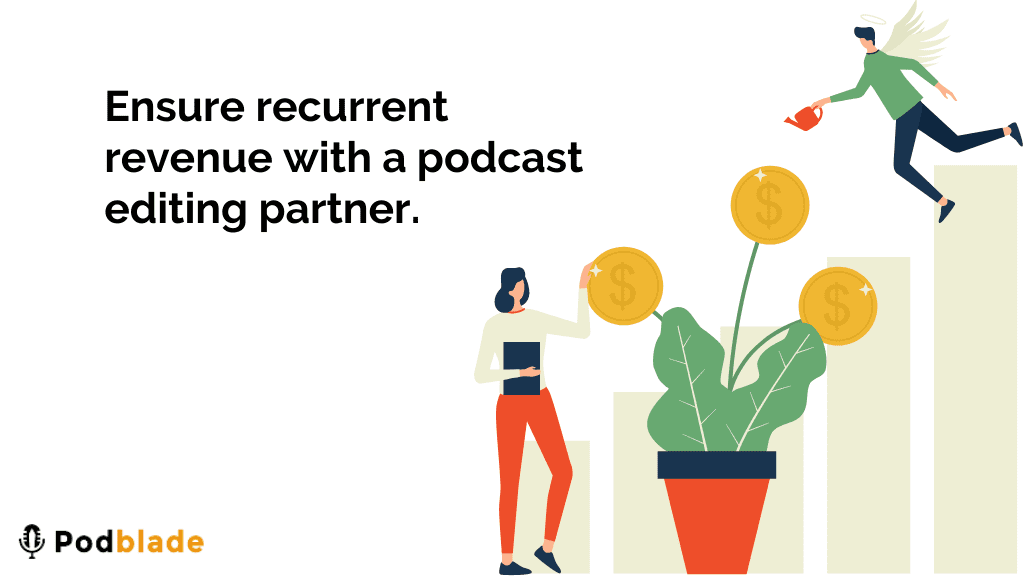 In addition, to save time and money while delivering high-quality work, you can also ensure recurrent revenue with a podcast editing partner.
Yes, that's true!
Wondering how?
Let us explain.
As we just discussed above that a podcast editing partner allows you to deliver high-quality work consistently, it serves you as a way to ensure that you maintain a recurrent revenue stream.
How? You may ask.
Well, it is quite simple. If you run an agency or even manage your podcast and remain successful in delivering or publishing content with the same good quality the clients or audience keep coming back to you either to consume your product or to avail of your editing services.
This pattern of clients and audiences who keep relying on your services allows you to maintain your revenue stream.
Enticed by these super amazing benefits already? Get to know more details about how a podcast editing partner can solve many of your podcast woes by scheduling a call with us. We are a reputable white label podcast agency and proudly serve many high-profile podcast agencies, coaches, and podcasters. Schedule a call with us here to know more.
No Hassle of Managing a Team
When you decide to get a podcast editing partner, you don't need an army of editors and an in-house team to work on your podcasts. Meaning, no more team management woes.
With a podcast editing partner by your side, you don't need an operation department. All your editing and even production tasks are done by your podcast editing partner and take away all the worries you have regarding team management, hiring, logistics, technology, and much more.
So, you can save all the money, time, space, and other resources that you spend on managing a full-fledged team and instead focus on growing your clientele, and as a result, growing your podcast agency.
Client Communication and Management Made Easy
If you run a podcast agency or even have your podcast, you know the pain of constantly communicating with clients or advertisers. Your clients first approach you, then share their requirements, when you finally form a contract, the real deal of communication thread starts that just seems never-ending.
The good news is that you don't need to stay tangled in this long thread of communication with your clients or advertisers.
Your podcast editing partner can do that too. When you onboard a reputable podcast editing partner, they provide you with a portal and link it up with your website. Your podcast account manager at your podcast editing partner agency engages and communicates with your clients through that portal. All your clients' queries, requirements, and feedback are entertained by your podcast editing partner.
Did you ever think that podcasting could be this easy?
The podcast editing partnership made it so!
Wrapping Up
So, you see how you can make a smart time and resource choice by having a podcast editing partner. These are only some of the major gains, there are many other benefits too that you can reap from having a podcast editing partner. All you have to do is choose a trustworthy and reputable podcast editing partner and you are all set to make the most of their services.
Looking for a podcast editing partner? Look no further!
Podblade is a reputable and established name in the white label podcast arena and our team will be happy to guide you about the services we provide. Schedule a call with us and get to know how we can provide all these benefits and more to your podcast business.
Did this blog post serve you well? Do check out our other blogs revolving around the podcast and managing podcast business.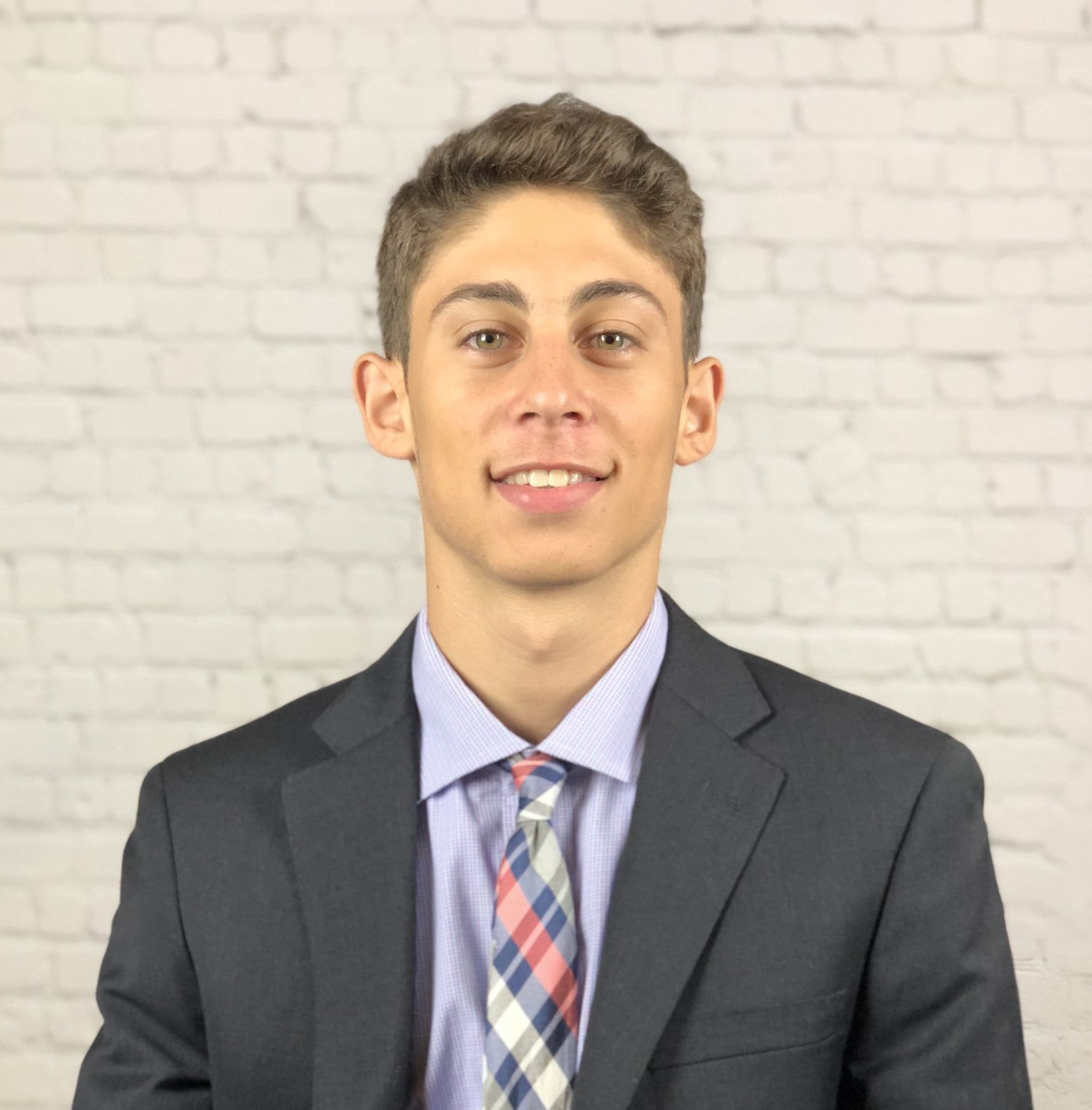 Rom is a podcasting specialist, ranking his show in the top 100 for all business podcasts in only his first 6 months since launching. He is also the co-founder of Podblade, creating an affordable yet professional editing solution for podcasters. When he isn't working, you can find him watching his favorite soccer team (Tottenham Hotspur) in action.