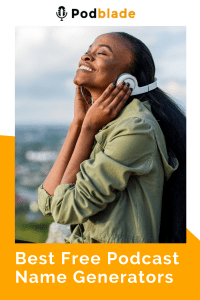 A lot goes into creating a successful podcast. From producing impeccable quality podcasts to marketing and promoting it, taking your podcast business to the heights of success and popularity needs your undivided attention.
Would you believe if we tell you that all your efforts and hard work will pay off and, would require a little less effort to make your podcast successful if you have a good podcast name?
Seems unbelievable? We thought so!
Podcast name ideation is probably one of the hardest parts of podcast creation, therefore we strongly recommend you use a podcast name generator.
According to recent statistics, 41% of people in America listen to podcasts. They are always looking for a new podcast to binge on, owing to which it's important that you have a catchy podcast name.
In this article, we are sharing some great resources that will help you generate impactful podcast names.
Why Naming Your Podcast Carefully Is Important?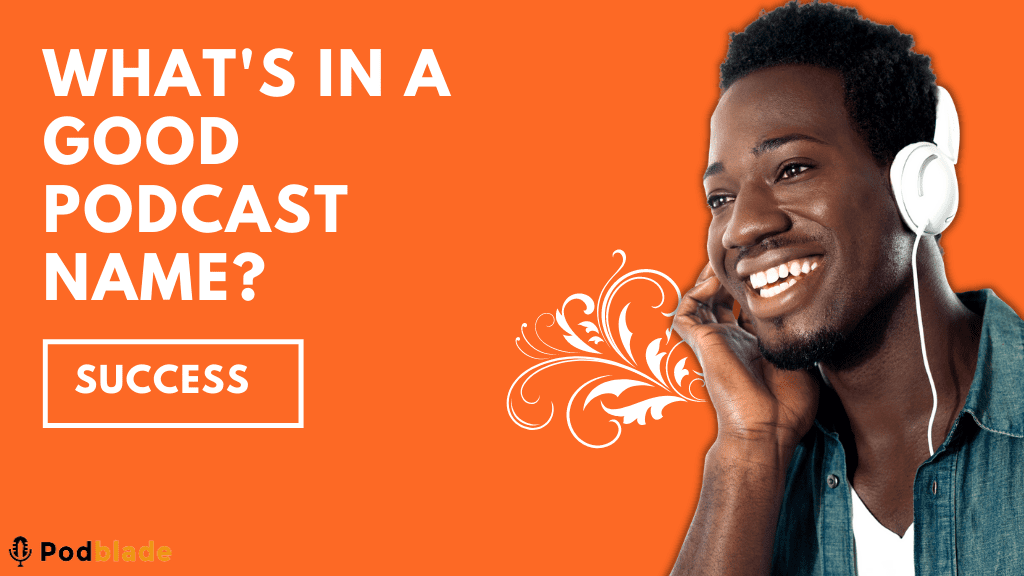 What's in a good podcast name?
Success!
Your podcast strategy should include a well-planned branding blueprint including the brand name. Remember that the name of your podcast is the first and one of the most important factors of your branding. A good podcast name can easily be memorized, understood, and spoken. Also, it is smart that your podcast name communicates what your podcasts are all about.
You have got the perfect idea for your podcast and you are super passionate and enthusiastic about producing podcast episodes. But, to launch your podcast officially, you would be needing a name that can become your brand identity.
Strategically naming your podcast is important for your business growth because it is this element of name that would play an integral part in:
Letting your customers make the first impression of your podcast
Becoming identity of your voice, brand, and theme
Attracting the right kind of listeners.
The new year is a great time to start new things. If starting a podcast has always been on your mind, we suggest, turn your dreams into reality this new year. Now that we are almost a month and a few days away from commencing a new year, you can take this time to prep up for the big launch. And yes, you know that you don't have to worry because we are with you every step of the way to help you launch your podcast successfully.
If you have been thinking about starting your podcast, we are pretty sure, you may have an idea what your podcast should be about. So, the next technical and concrete step that you should take is to name your podcast.
The podcast name is the most important element in your overall branding as it signals who you are and what your show is all about. It is for this reason, your podcast name should be such that it gives a peek to listeners about what to expect from your podcasts.
While naming your podcast, it is also important that you should consider a few technical aspects as well such as searchability, memorability, the inclusion of keywords, and other important elements.
What Is A Podcast Name Generator?
A podcast name generator is a tool that helps you in naming your podcast venture. As the name suggests, this tool generates names for your podcast when you provide relevant information about your podcast idea.
The Internet offers an ocean of podcast generators. Just search for podcast name generators in Google and you'll get a never-ending list. Here, we aim to give you reviews of different podcast name generators so that you can make an informed decision to use a name generator that can serve you the purpose in the best possible way.
Is it wise to use a podcast name generator?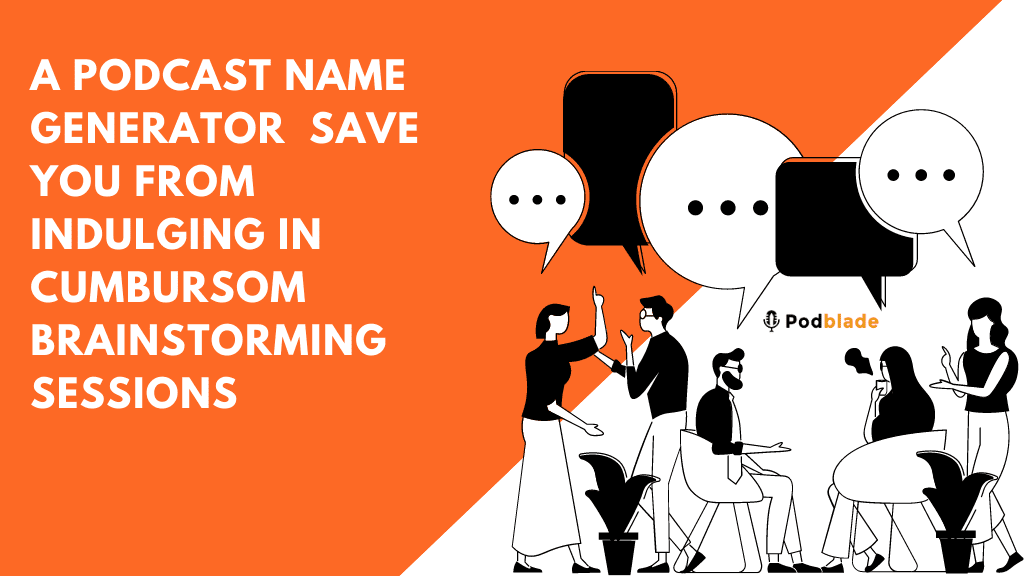 Before we begin our review of different podcast name generators, we think it's really important to address all the apprehensions people have about using these podcast name generators.
Many people also believe that when someone picks up a name from these generators and when you search for names in the same category with the same keywords, it will still show the name that you have already picked up.
We believe that just like anything else, using a podcast name generator also has its pros and cons. What you can do is try the reputable ones, reviewed and known for providing quality names. Also, there are so many podcast name generators that along with the name suggestions also provide information about the domain availability, which can give you an idea of whether a name is already taken or not.
Above all, we think that using these podcast name generators is good even when you want to come up with a name on your own or with your team. Going through a list of names is great to brainstorm and work on different ideas. You can draw inspiration and refine it to come up with a unique and perfect name for your podcast on your own.
More importantly, most of these podcast name generators are free so there is no harm in trying these out.
Relevant: If you want to know more about different white label services and are interested in availing those services, get in touch with us here and our team will answer all your queries.

Useful Tips To Name Your Podcast
Let's imagine this scenario: Among the plethora of podcasts, people stumble upon a podcast that urges them to click and discover what the content is all about.
It is obvious that there was something that hooked them and it won't be wrong to guess that it could most probably be the catchy and relatable name.
Don't you want the same for your podcast? Do you want people to see your name or logo and click on it to listen to your podcast?
Following tips and tricks can help you come up with a name that helps you get more listeners. Let's look here how!
Simplicity Is The Best Policy
As much as you'd want to maximize on keywords and convey the theme of your podcast, it is equally important to keep things short, easy, and simple. Simplicity is a sure-fire way to gain people's attention. Simple and easy names that also deliver the meaning and theme of your podcast always strike the right cords.
Avoid Adding Podcast
Though there is nothing wrong with using podcast in your business name, it may seem a little redundant. This is the mistake that most rookies made in adding the word "podcast" to their podcast name. If we look at it carefully, we'd realize that many listeners would already know that they are going to listen to a podcast. So, adding "podcast" to your podcast name would simply take away the space of an important keyword.
Incorporate Keywords
This tip is a no-brainer. Incorporating words that are common in your field into the name of your podcast can help a great deal in the marketing and promotion of your podcast. Not only that, but it is also good for optimizing organic search visibility. Many listeners run the search by typing sentences that contain keywords related to your niche, this helps them in discovering your podcast. Also, using a keyword in your podcast name improves ranking on Google.
Do Competitors Analysis
This is one of the most effective and useful exercises that you'd conduct for your podcast. It will not only allow you to come up with a unique and relatable name, but this exercise would also land strategic value. You can perform competitors' analysis by looking and analyzing how their podcast name works for them and how you can incorporate those same strategies and techniques while developing your podcast name.
Reflect Personality And Tone
Try to come up with a name that reflects the personality and tone of your brand. Coming up with a name according to the tone of the content is important. This way, the name of your podcast alone can convey a lot about the kind of content you produce. For instance, if you produce light-hearted content, then you can opt for a playful name. On the other hand, if your podcast is about criminal stories, you should opt for a simple and serious name.
Best Podcast Name Generators
Picking up a perfect name for your podcast can be cumbersome and time-consuming. However, many name generators can help you in the process.
That's right. These websites do the task of generating names for your podcast. But, before you take the plunge and start using these tools to get ideas for your podcast names, you must first know what these tools are and how they help you.
Podcast name generators are useful tools that save a great deal of your time. If you are using a name generator, you save yourself from indulging in brainstorming sessions. You just directly get the list of suggested names from these name generators and then you can pick the one that resonates the most with your brand.
There are many podcast name generators available on the internet. Some are free and some charge nominal fees to do the job.
No matter which tool you use to generate names for your podcast, just make sure that you use the correct words or industry. When you put in the right information, you get the right results.
If wracking your brain still hasn't given you a perfect name, you can draw inspiration from these amazing podcast name generators. The internet is flooded with websites that can help you generate names for your podcast. But, you would want to use a platform that is authentic, easy to use and that can give you sound options at the first attempt. Below, we are sharing some of the most popular and effective tools that can help you in finding out a perfect name for your podcast.
AI-Powered Podcast Name Generators
Our world has been overtaken by technology. There is not even a single field, where technology has not shown its miraculous inventions. The latest AI technology is also wide-spreading and showing unlimited ways to revolutionize the way things and systems work. In fact, the technology is also being used in podcast name generation systems. Yes, you read it right. Now you can generate a name for your podcast by using AI technology. Below, we are reviewing a few websites that offer AI-powered podcast name generators.
Welder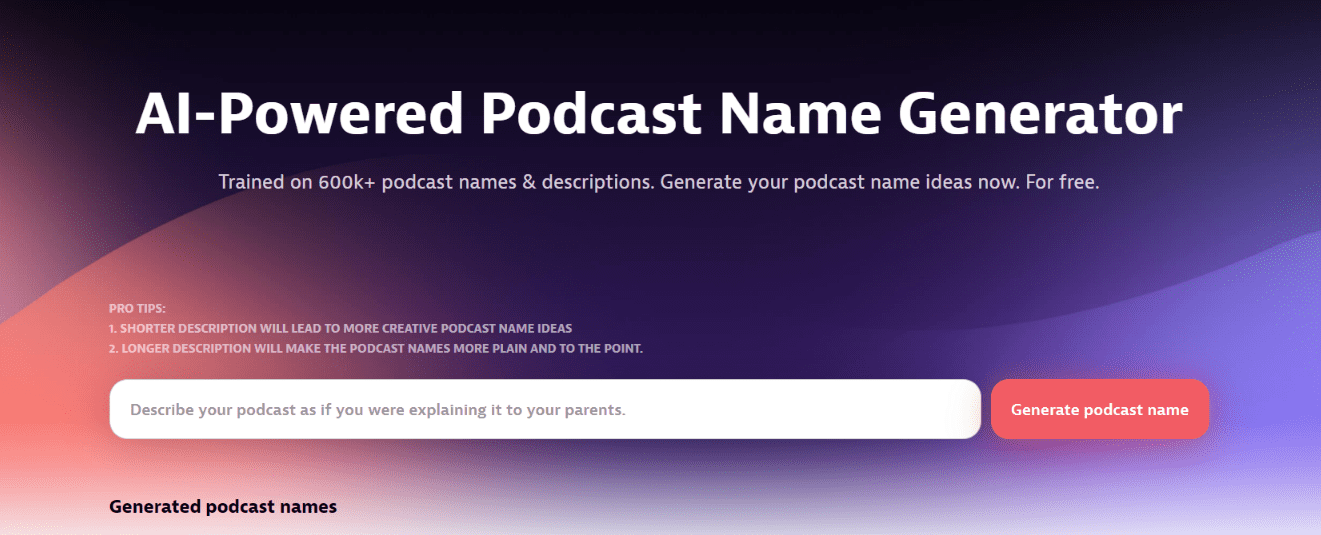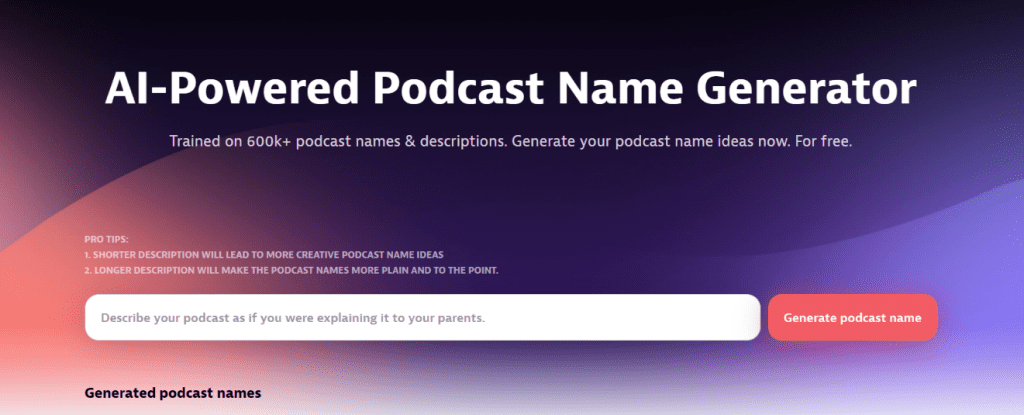 Welder is relatively a newly launched business, but it is emerging as a superstar. It ticks all the boxes of must-haves and provides you with more services than merely generating names for your podcast.
What really sets Welder apart and brings it into the limelight is that it is an AI-Powered podcast name generator. Its website claims that the system has been trained on more than 600k podcast names and descriptions and you can generate a unique name for your podcast using this technologically advanced system.
This podcast name generator is absolutely free. To generate names for your podcast, you are required to describe your podcast. If you provide the system with a shorter description, you will get creative and unique names; whereas, if your description is lengthy, you will have name suggestions that are to-the-point and we'd rather say plain.
In addition to a name generator, the website also offers a few resources and guides that can help you in naming your podcast as well as in starting your podcast professionally. As mentioned above Welder also provides other services related to podcasting. If you have a name for your podcast, the next thing to do is start recording and Welder can help you with that too. Welder is a platform that allows you to record high-quality videos remotely and not only that but all your interviews get automatically transcribed. If that's not a cherry on top, then what is?
TRUiC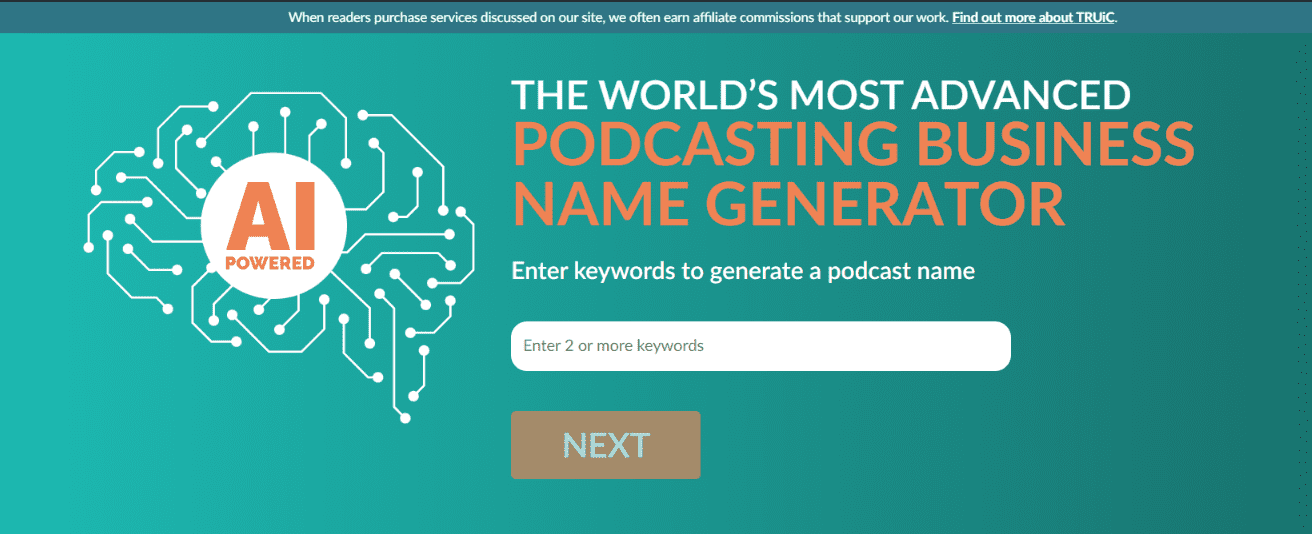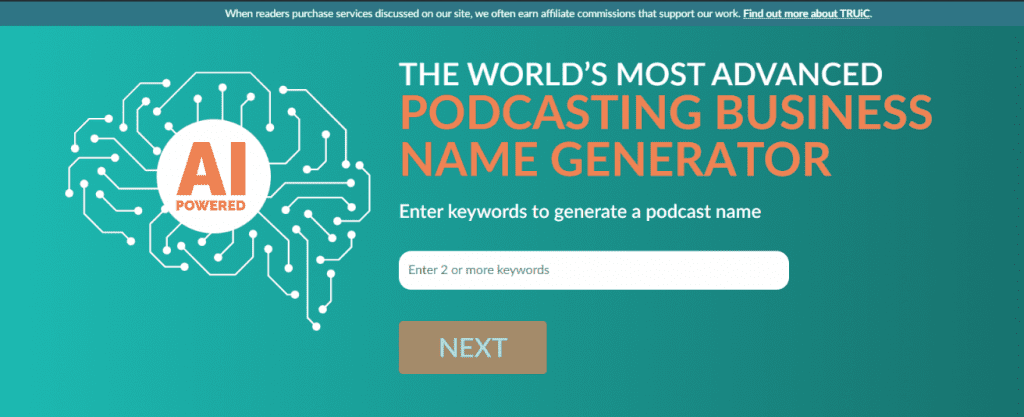 The Really Useful Information Company (TRUiC) provides a great podcast name generator. According to the brand's own claim, this is the world's most advanced and effective podcast name generator tool.
It is again an AI-powered name generator that helps you come up with a unique and relatable name for your podcast. To get the name options, you are required to provide 2 or more keywords related to your podcast idea and then hot the "Next" button. Then, it asks you what type of podcast you want to produce and gives you many industry options to choose from, for instance, it asks whether your podcast is about coaching, finance, sports, etc.
Once you select your industry, then the next thing that this generator asks is your location. If you think your location is important for your podcast, you can choose to enter your location or you can skip this part and jump to the next. And the next step is where you get all the results.
This podcast name generator provides some great options. We are quite impressed. One of the unique features of this podcast name generator is that you can favorite the names that appeal to you as you go through the long list of names and then further refine your favorite ones until you have that one name that is perfect for your podcast. If you think that is all, we'd like to bring it to your attention that there is another great feature of this podcast name generator i.e., with each name it provides information about the domain availability. Nothing like it, right?
Like any other professional and good website, this forum also provides a number of guides and resources for budding podcasters. And, as the name of the website suggests, there are very useful and informative articles available on starting a business. From covering legal aspects to devising an effective plan, you will find several articles on this website.
So, if you have plans to turn your podcast into an LLC, you need to bookmark this website.
Namify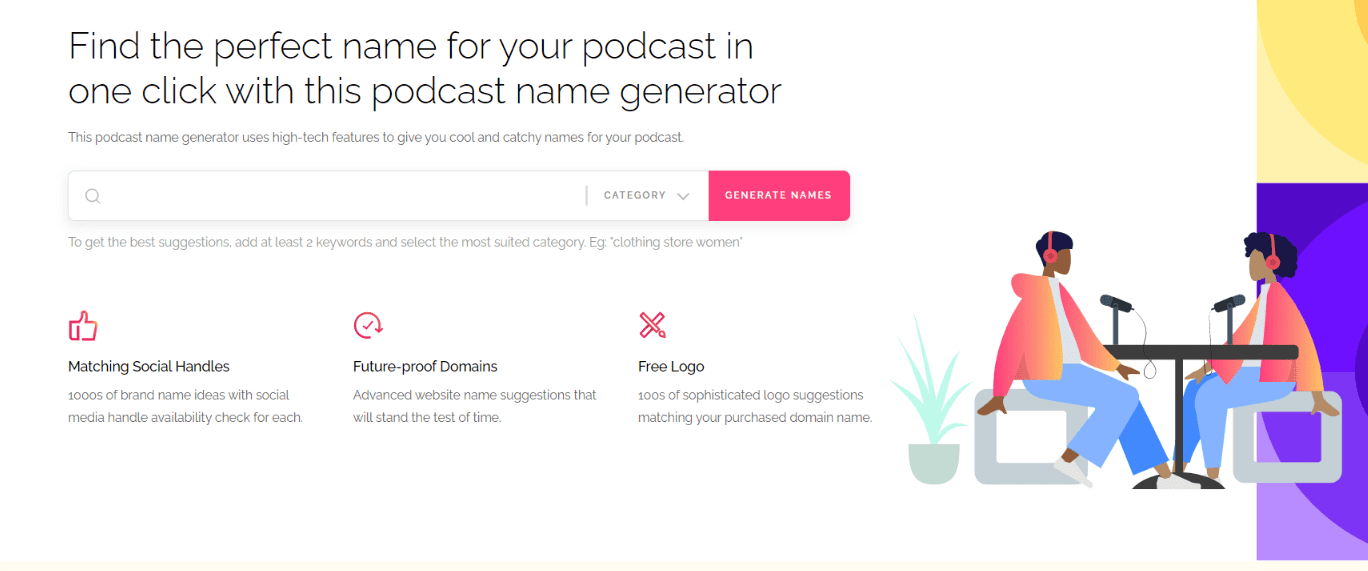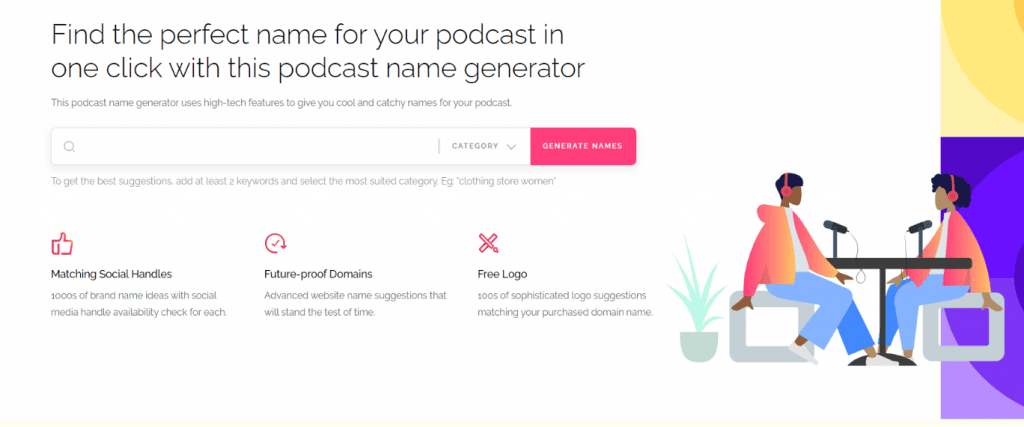 In today's era, everything has been revolutionized by technology. The above two names generators that we suggested you are AI-powered. Another podcast name generator that utilizes smart technology intelligence is Namify.
Using high-tech features, Namify allows you to generate the perfect name for your podcast in just one click. To get name suggestions, you are required to enter two keywords, select your industry, and then hit the "Generate Name" button and then you get a long list of suggested names.
In addition to the name generator, there are other features of this website that must be highlighted. There are many name generators that along with the name also suggest domain availability, but Namify takes it to another level through advanced website name suggestions. If you are wondering what this advanced website name suggestion is, let us explain.
The website suggests that you can get a domain for your podcast name even if it is unavailable by simply adding an extension to your name. This new phenomenon of domain extensions such as ".tech" and ".store" (ces.tech and emirates.store) allows many brands to leverage some great names to create a strong and impactful brand identity. In addition to domain availability, Namify also tells you about whether the name is available on various social media platforms.
Another great feature of Namify is that in addition to domain availability, it also quotes the best prices at which you can get the domain. Meaning, less research work for you. Namify already curates possible best prices and suggests you so that you can buy the domain name right there and then.
When you use Namify and select a podcast name using their podcast name generator, you can get a logo made for your selected name for free. If you were thinking to design the logo yourself, then save your time and in case, you wanted to get it made by a professional designer, you can save your time, energy, and money too.
In a nutshell, if you are using Namify, you will get a name for your podcast, you can check the domain and social media handle availability and to top it all you can also get a logo made for your podcast, all of this without spending any money.
VadooTV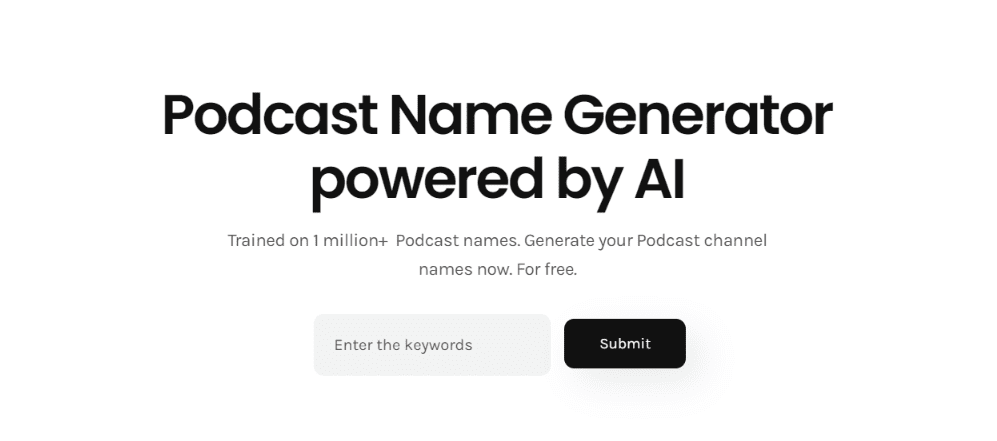 VadooTV is basically a video hosting platform that in addition also provides the service of podcast name generation through its technologically updated system. When we say technologically updated, yes we mean that this is another AI-powered podcast name generator. The brand claims that its system is trained on more than a million podcast names.
Using VadooTV tool, you can use your podcast name for free. All you have to do is enter a keyword related to your podcast and you'll get a long list of name suggestions. We tried this podcast name generator to write this review and honestly, we think that although you get a long list of suggestions, most of them are quite irrelevant.
But, it is always a good idea to have a look at a list, you may stumble upon a name that you like and with a little bit of tweak, it is ready for you to be your podcast name.
Name Station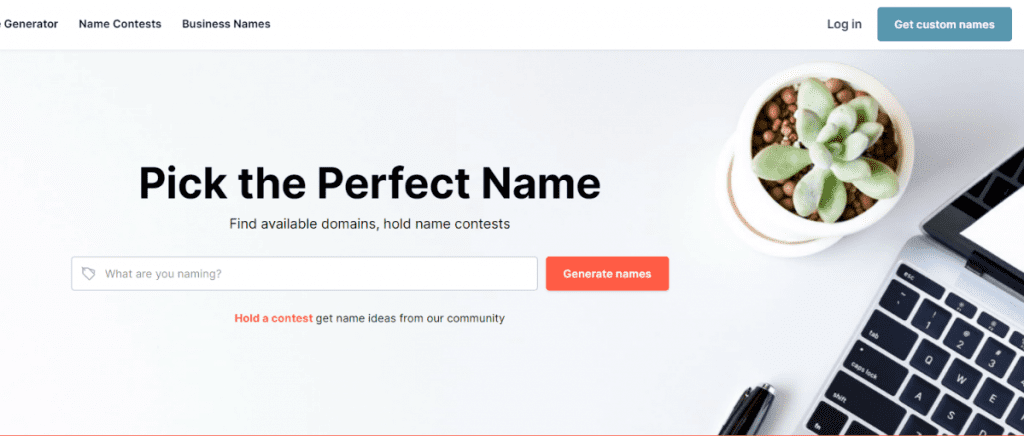 This site is fully dedicated to name generation services. Unlike other brands that offer podcast name generation tools as an addition to other main services, this website is solely for name generation, hence the name "Name Station."
Now, let's talk about the functionality and performance of this brand. This website offers some interesting features. Name Station offers two versions; one is free and the pro version is paid.
To use the free version, you are first required to log in by entering your email and password. Then its name generator asks what arey ou naming, when you enter podcast, it takes you to another page and asks you to enter a keyword. When you enter the keywords, you get the results. You can refine your results based on top picks, one-word names, multiple-word names, etc.
Along with the name, the tool also tells you about domain availability. If you like a name and its domain is also available, you can go to the domain hosting company right with a click and register your domain name.
In the pro version, which is a paid version, you can get a custom name by holding a contest. They charge from $40 to $50 to hold a contest. To hold this contest, you provide them information about your podcast theme and a description about it including target audience, requirements, preferred words, words to avoid, etc.
When you provide all this information and publish a contest, you start getting entries. On average, you'll get 150 name ideas in about a day or two. The entries you get are quite good and you may end up finding a perfect name for your podcast.
Namelix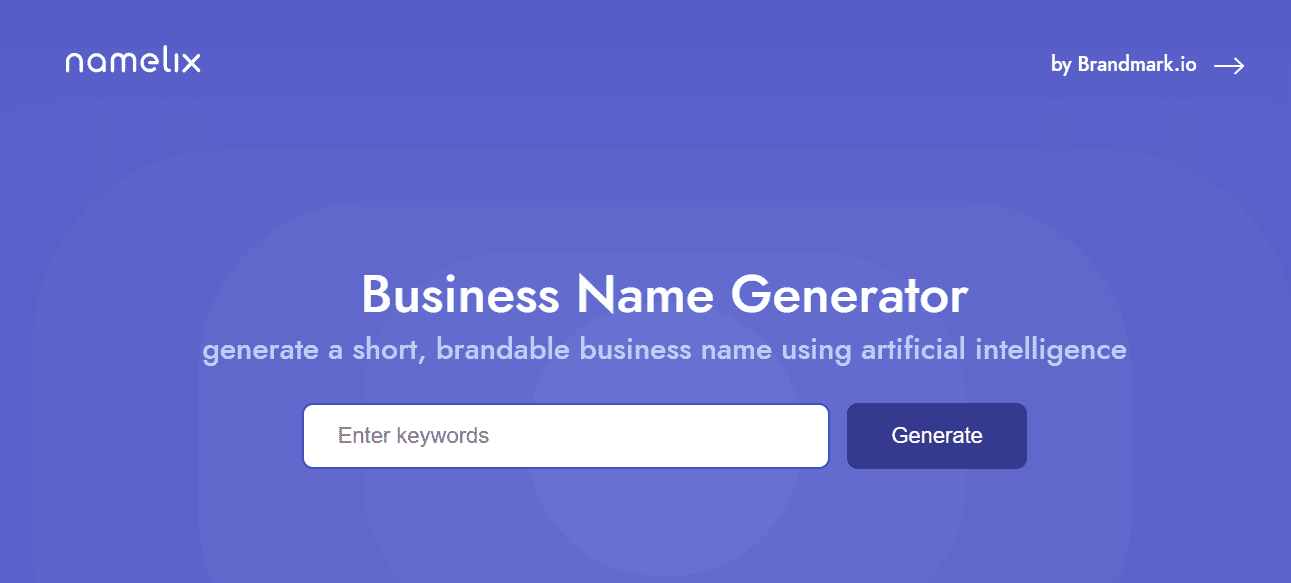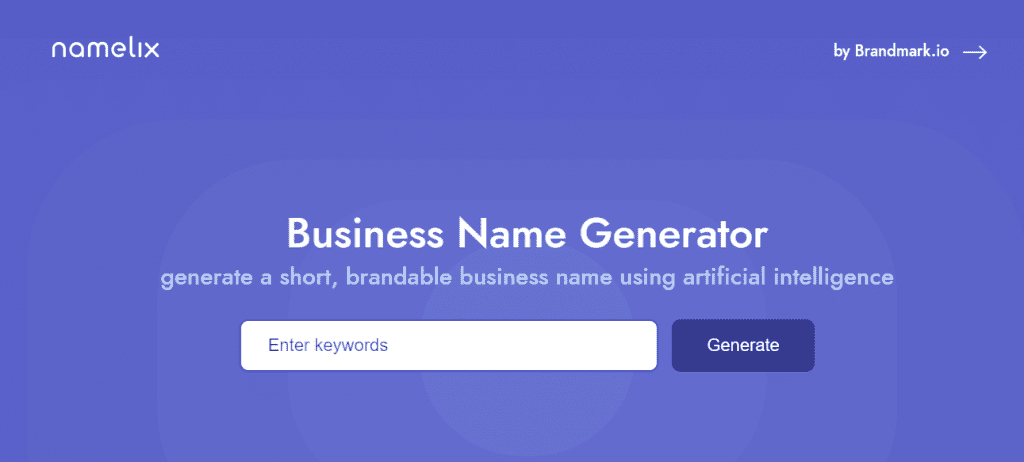 Namelix is a business name generator that you can use to generate names for your podcast. This tool utilizes modern artificial intelligence technology to provide you with names. To get the list of possible names, you are asked to enter keywords related to your podcast and hit generate. The more accurate your keywords would be the better results you'd get.
Most Commonly Used Podcast Name Generators
There are some websites and podcast name generation brands that are very popular. These are the brands people take the name of as soon as you mention podcast name generator or business name generator.
These are the brands that are in the business for so long and have carved out an impressive reputation. Below we are talking about some of these well-known and popular podcast name generators. These are also the brands that we have covered earlier and talked about them in detail in our Free Podcast Name Generator 2021 post.
Copywriting Course Podcast Name Generator
Copywriting Course podcast name generator is developed by an agency that renders training to copywriters, content writers, and entrepreneurs. This podcast name generator makes your task of coming up with a unique name quite a breeze. You just fill up a form and as a result, you get 100+ options related to your niche.
BNG Podcast Name Generator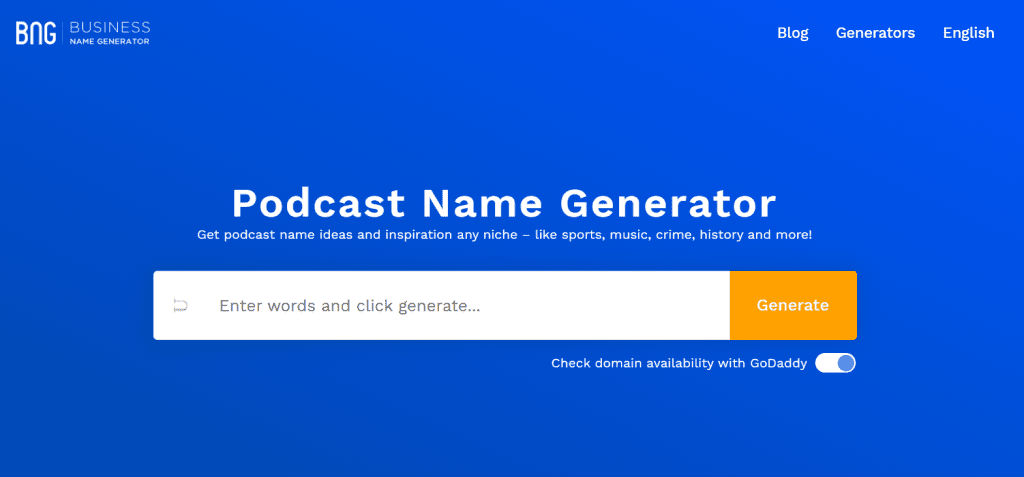 Business Name Generator (BNG) offers a free and easy-to-use podcast name generator. Based on keywords, this podcast name generator gives you a myriad of options. In addition to the name options, you can also check domain availability and even purchase the domain right away.
SquadHelp Podcast Name Generator
Through SquadHelp you can generate a unique name for your podcast in two ways. The first way is quite fun-filled too. You hold a contest in which SquadHelp community members and contributors suggest names for your podcast. In return, you give a cash reward to the winner. Another way to get a perfect name for your podcast is to pick up a name from a list of names.
SquadHelp has a various list of names in different categories, you can go through this list and pick up a name that resonates with your podcast idea. This way of picking up a name is absolutely free.
BizName Wiz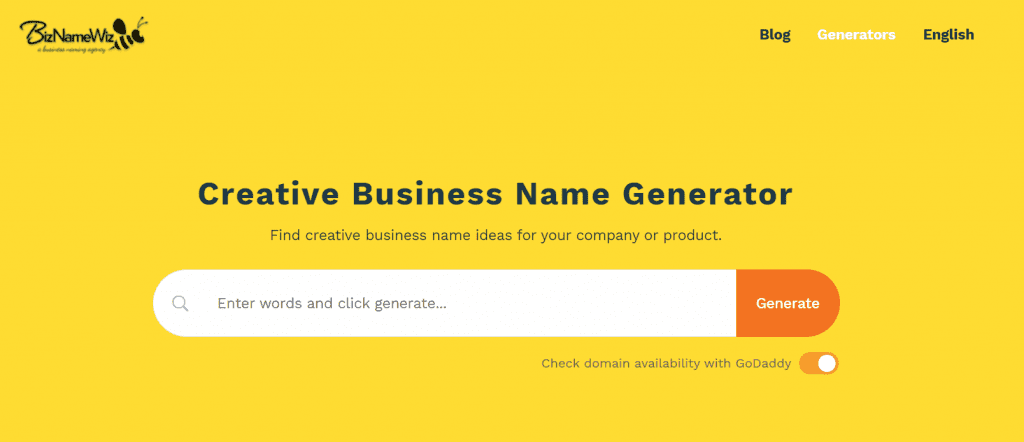 BizName Wiz or BNZ is quite a popular website that generates a pool of creative possible names for your podcast. This website is specifically important for you when you want to launch a podcast for your already established business.
In this name generator, you are required to enter keywords and then you get a long list of options. You can then use an industry filter to refine your results and only have name options that are relevant to your industry. The website also tells you about domain availability so that you can purchase your domain right away.
Protent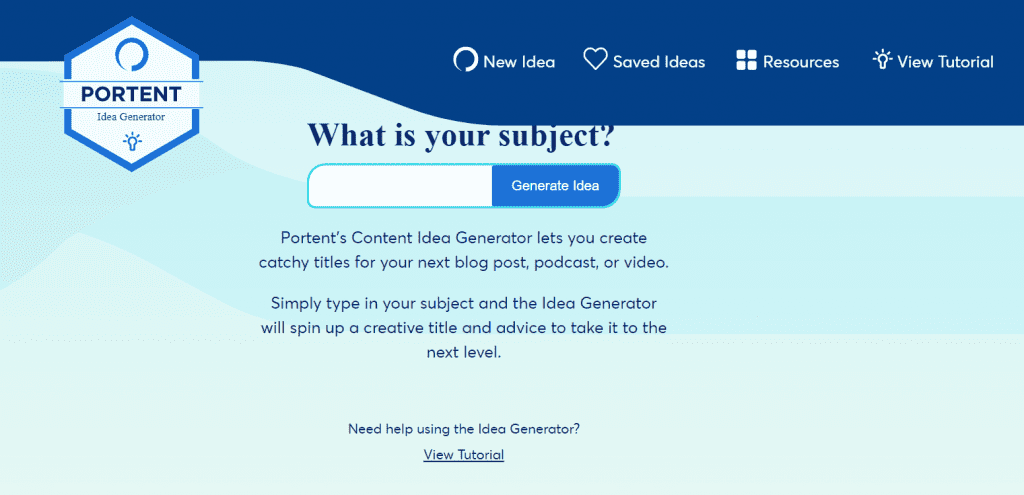 Protent is not merely a podcast name generator; rather, it is an agency that can help you in the most important aspect of your branding i.e., in naming your podcast. You can also get content ideas and a strategy brief when you use Portent.
Crowdspring Podcast Name Generator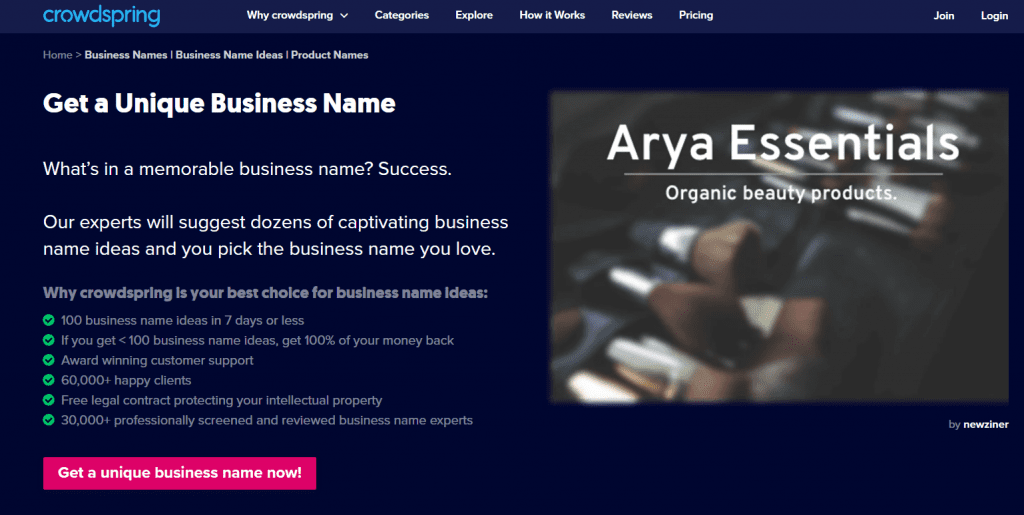 Crowdspring can be your go-to option for all your branding needs including generating and deciding your brand name.
You can generate names for your podcast as well as avail other services of Crowdspring, but the catch here is that it is not a free tool. You are required to pay a nominal fee to get a unique name for your podcast.
They have highly professional and experienced consultants on board who guide you to select a name that attracts the right listeners and adds strategic value.
NameBoy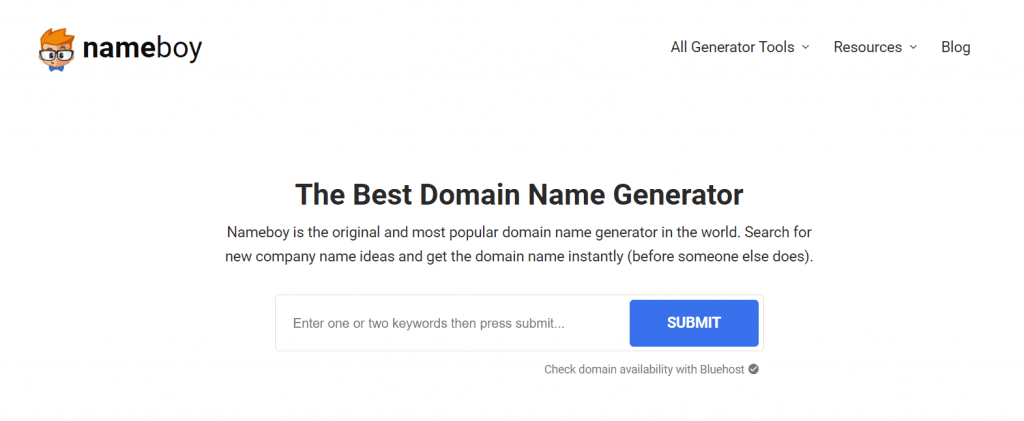 This is another popular and perhaps one of the oldest forums to generate business names. Initially, NameBoy was famous for checking domain available, later on, they expanded and began to offer a name generation tool as well. They offer the service of generating business names for different industries and fields.
NameMesh
This is a great platform that aids you in discovering a good name for your podcast. NameMesh incorporates a classification program and intelligent ranking systems to generate the best name options for your podcast.
Shopify's Podcast Name Generator
Shopify is a popular e-commerce platform, but it also offers other services. Business name generation is one such service of Shopify. The website describes its name generation tool as simple yet creative that gives you a myriad of brand and domain names options. The tool is free to use for everyone and you can run as many searches as you want.
Websites that provide an already curated list of names without a generator
Many websites do not have a typical generator where you have to enter keywords or define your podcast. Rather, these websites provide an already developed list of names that you can go through and pick up a name for your podcast.
Starter Story
We understand that many people have apprehensions about using a podcast name generator thinking that these automatic generators provide common names and oftentimes, you have to work to further refine the suggestions. Also, these name generators are commonly used by a lot of people, so there's always a risk of running into the case of copyrights. That is why many aspiring podcasters chose to coin the name of their podcast on their own.
If you do not want to use a podcast name generator, but at the same time scouring the internet to get inspiration, Starter Story can be your spot. Starter Story is a platform that can act as a great source to draw inspiration to name your new podcast.
The forum lists down almost 500 unique podcast names. The plus point of this list is that it is categorized well into different types of names so that you can directly hop over to the kind of name you are looking for. For instance, there are categories of unique podcast names, cute podcast names, clever podcast names, fun podcast names, and so forth.
In addition to this, you can also use that similar and conventional name generator that we see on different websites. But, this name generator is not as effective as other websites. This is because it gives you very general options and if it's your lucky day, you will get the name that reflects the idea of your podcast in the first go; otherwise, you'll have to keep asking this generator to give you more options.
This happens because the generator does not ask for any sort of keywords related to your podcast and not even its description. Also, when you use this name generator, the results do not come in the form of a list; rather they just keep on appearing on the screen and go like a GIPH, meaning, you need to pay a lot of attention and be vigilant. Moreover, the generator only gives a handful of options on each try.
All in all, we can say that this website is only good when you are only looking for inspiration while you want to name your podcast on your own. But, if you really want to rely on a name generator, then other websites can do a better job than this one.
Names Bee
Names Bee is another website that provides a curated list of names for your podcast. There is no generator, where you can enter keywords or descriptions about your podcast, and then it would give you the result.
Rather, this website has a long list of names in different categories. There are different categories like creative podcast names, catchy podcast names and cool podcast names, and many other categories. You can go through the category according to the theme of your podcast or according to your preference. In addition to these lists of names, the website also provides information about naming your podcast the correct way and also gives you a few strategies to pick up a perfect name for your podcast.
The Next Big Step After Finding a Podcast Name
Congratulations if you have decided on a name for your podcast and search for information about what to do next brought you here. And bravo to us too, if you have used one of the generators we suggested above and found the best name because we achieved our purpose to help you out in your journey of being a podcaster.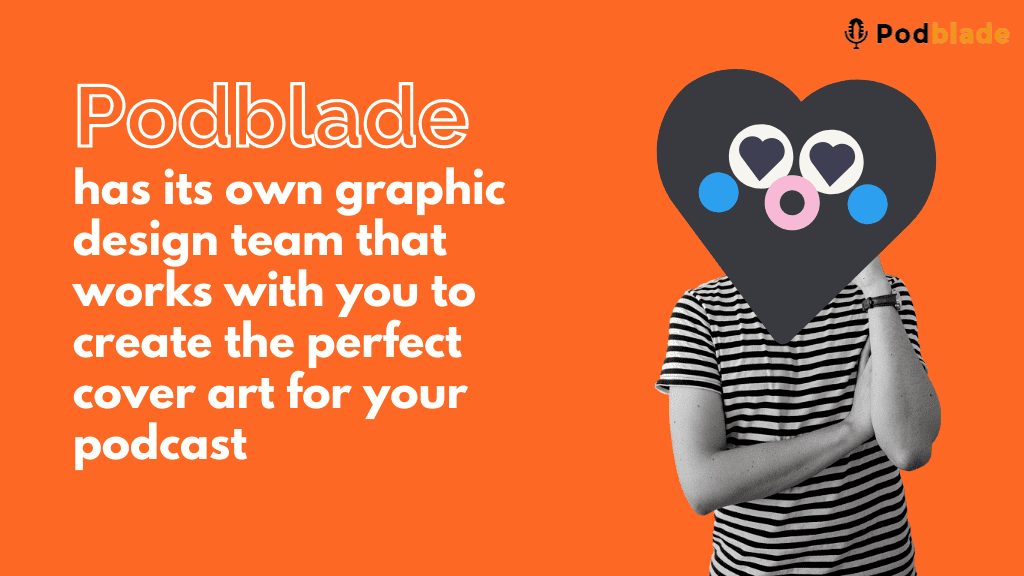 Now the big question is that what to do next?
Well, to be precise and accurate, a lot to do. Your job just started. Once you have a name and you are completely sure about it, then the next important step is to check domain availability. In fact, it would not be wrong to state that you cannot select a brandable podcast name until you check the domain availability. This is especially very important if you want to have a digital presence for your podcast and turn your podcast into a lucrative online business.
Once you have the name with domain availability, you are good to take practical steps to start the second phase. In this second phase, you will be working on developing brand identity by designing a logo, working on social media presence, creating a website, writing compelling copy to communicate the purpose, mission, and reason of your podcast.
After all this, you are ready to start producing and airing your podcasts.
Wrapping Up
Starting a new journey is always very exciting. Naming your podcast or business is an important step in your journey of being a podcaster. It is because it is the first and the most significant way to communicate the "why" behind your podcast and attract your target listeners.
In this post, we tried to help you out in this very first thing that you have to do to be a podcaster by giving you some well-known, some under-the-radar, and some technologically advanced name generators. We really hope that you would find this guide helpful in naming your podcast.
Once you picked up a perfect name for your podcast and find yourself all ready to take the next step i.e., to launch your podcast, you can consider Podblade to avail our editing services or our podcast launch service. Schedule a call with us and our team will tell you all about our services according to your requirements.
If you think this blog post can serve well to someone you know, you can share it with them. Also heck out our other guides that cover various facets of podcasting. We are sure, you'd get valuable and useful information from our platform.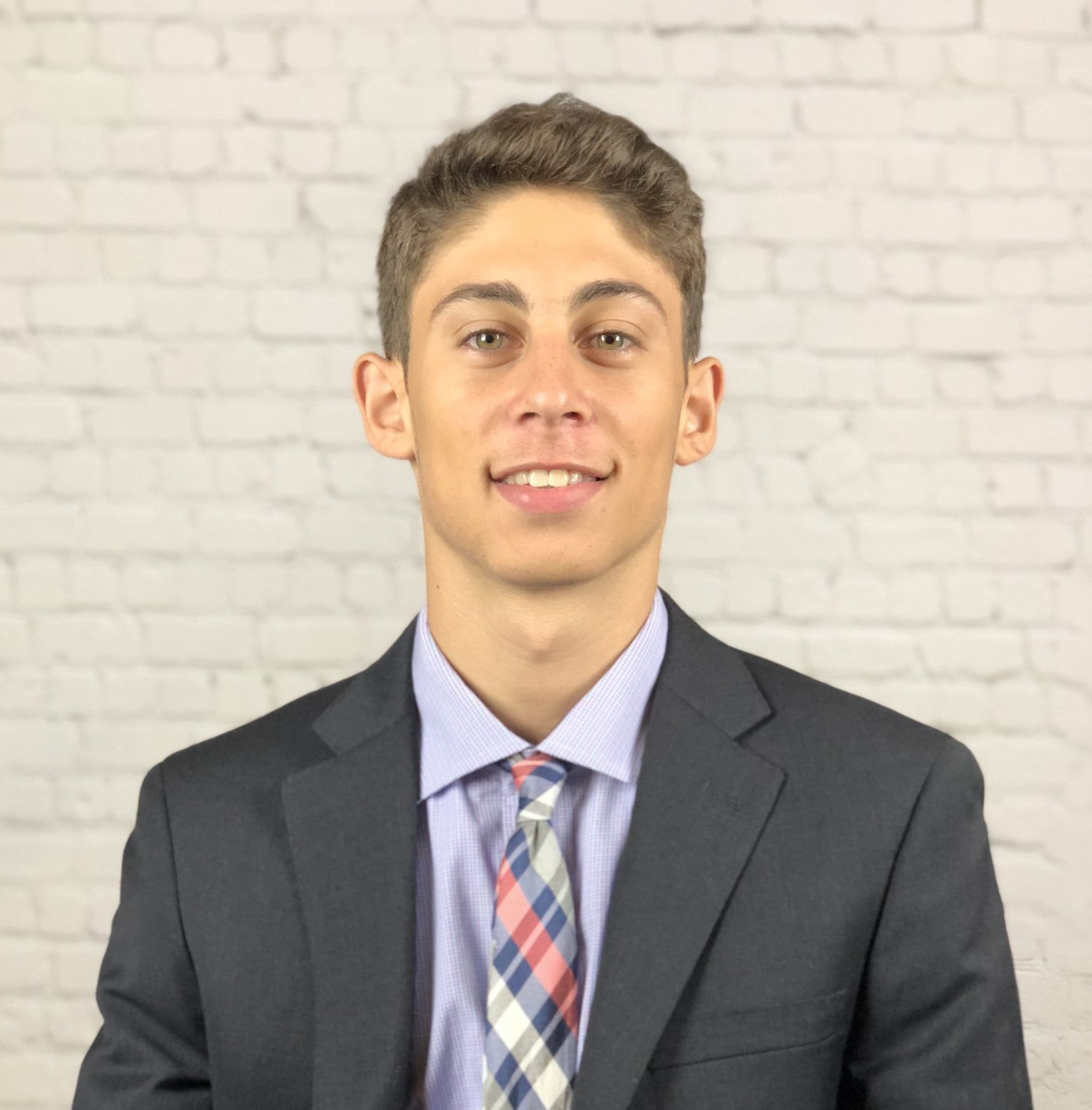 Rom is a podcasting specialist, ranking his show in the top 100 for all business podcasts in only his first 6 months since launching. He is also the co-founder of Podblade, creating an affordable yet professional editing solution for podcasters. When he isn't working, you can find him watching his favorite soccer team (Tottenham Hotspur) in action.